August 10 Birthday
Personality, Zodiac Sign, Compatibility, Ruling Planet, Element, Health and Advice
---
Is your Birthday on August 10 ? Know the Sun Sign, Personality, Compatibility and more….
---
August 10 Zodiac sign
Leo

August 10 Ruling Planet
Sun
August 10 Element
Fire
August 10 Lucky day
Sunday
August 10 Lucky Colors
Orange, Red, Gold
August 10 Lucky Numbers
1, 10, 19, 28
August 10 Birthstone
Peridot , Sardonyx, Spinel

August 10 Zodiac Compatibility
Most Compatible with Sagittarius and Aries

More about Compatibility
---
August 10 Zodiac Sign: Leo
For People born on August 10 the Zodiac sign is Leo.
Leos have a magnetic personality. They are generous, loyal, enthusiastic, optimistic and passionate about their work.. In turn, as a negative note of their personality, they are people who tend to be somewhat arrogant, stubborn and attention seeking.
The Leo zodiac sign is usually associated with Sunday as its day of the week and Orange, Red & Gold as its color. Leo is associated with planet Sun and its related element is 'Fire'.
---
What Does your Birthdate Say About you
---
August 10 Birthday: Personality
August 10 Birthday Positive Traits:
Generous
Magnanimous by nature
Loyal
Optimistic
Honest
Leadership
Protective
Confident
Ambitious
August 10 Birthday Negative Traits:
Dominating
Stubborn
Arrogant
Inflexible
Jealous
Constant desire for Recognition
August 10 Birthday: Personality
Born 10 August endowed with ambitious nature and can be aggressive. They are not devoid of the creative potential realized in music, theatrical activity, and painting; they can be carried away by mystical and occult phenomena.
They have good organizational skills, they are able to become ideological inspirers, who are interested in their plans and leading ideas. They are easily carried away, so those born on August 10 should learn a serious and responsible attitude to life.
Then they will be able to properly dispose of their abilities, direct energy in the right direction and achieve what they want.
Those born on August 10 are characterized by the projection of their image on the surrounding reality. It is important for them to be heard. And even a change in timbre, pitch of the voice is evidence of the importance of the meaning of their statements.
Therefore, the main thing in the methods of communication for those born on August 10 is the technical side and style of speech.
Born 10 August they are cheerful and kind. They tend to depend on other people's assessments and are devoid of all frivolity. They are easy to communicate and bestow positive on others, so their society is pleasant and interesting.
The feeling that their actions are approved, delights them and gives an impetus to an even greater return of their emotions to others, not only to loved ones, but simply to be nearby.
But this aspiration for bestowal has another side, often it is a means to avoid hard work on oneself and to understand past events that are necessary for the further growth of the personality born on August 10, for its full disclosure.
Enlightened individuals gradually realize the importance of this process and the need for reflection in solitude. For some, such self-knowledge will become a priority. Born 10 august do not make rash acts, they will preliminary analyze and evaluate, weigh all aspects and then get down to business.
This planning tactic allows you to not take on unnecessary obligations and eliminates thinking from far-fetched and illusory. Born 10 August love to apply their verbal talents, therefore, professions in which you can realize them are suitable for them.
If this is work in the company, then it is advisable to give them the scope of finding new customers and establishing cooperation and friendly relations in the team, and it would be better if they spend a minimum amount of time at the desktop.
Support is important for them in any circumstances: at home and at work, this is an important element of their growth and development, especially when those born on August 10 can constructively approach friendly criticism.
Such criteria may be met by work on television, radio and other media, as it will require the improvement of knowledge and skills in order to be successful. The ambitious nature of those born on August 10 at the moment of bright victories can take them to heaven and manifest themselves in arrogance. Such behavior annoys others, so excessive pride should be pacified.
The soul of births 10 August is hidden from strangers, it can be difficult to open it. Born 10 august, an audience is needed, but professional implementation is hard for them. They attach too much importance to the attitude of others around them. Those underestimated or criticized in the direction of their work born on August 10 are taken to heart and suffer from it.
If their activities are not re-evaluated, those born on 10 August can take a cynical life position that nullifies all previous efforts. Therefore, they need to strengthen their self-confidence in order not to depend on other people's opinions and develop the ability to open up to other people, to trust them and share their feelings with them.
As a rule, born 10 August calmly relate to money, for them moral satisfaction from professionally performed work is more important. This is good for the quality of labor, but such a position is fraught with inadequate pay for their labor.
---
August 10 Birthday : Compatibility with other Zodiac Signs
People born on August 10 have Leo Sun Sign.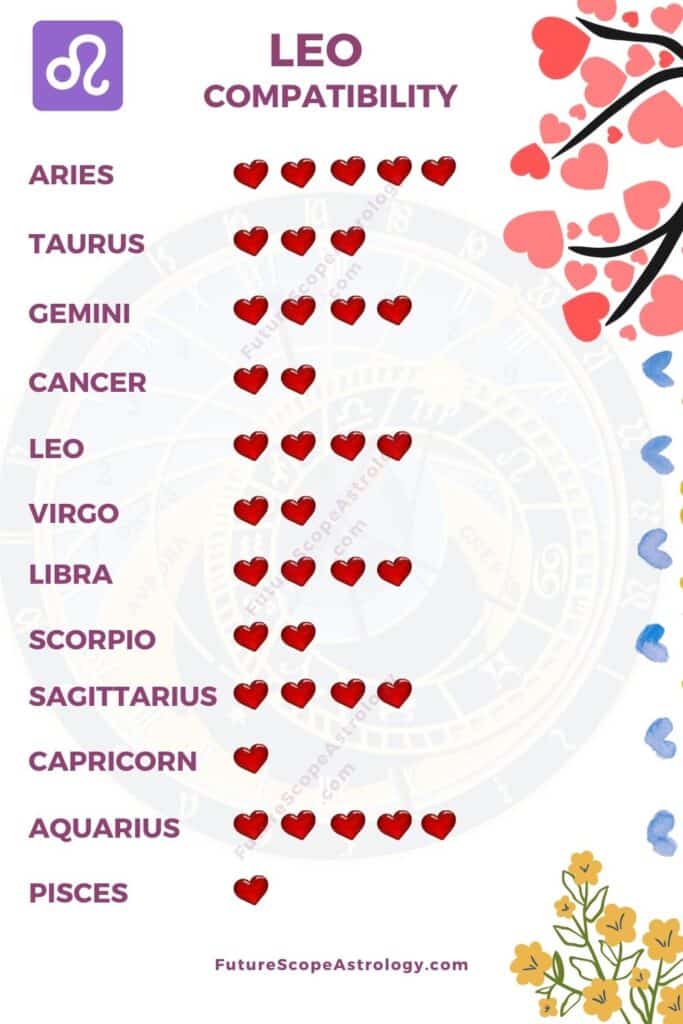 Zodiac Signs Most Compatible with 10 August birthday (Leo)
The zodiac signs best compatible with Leo are
Aries (82%)
Gemini (77%)
Leo (72%)
Libra (75%)
Sagittarius (75%)
Aquarius (85%)
Leo is a fire sign. Aries and Sagittarius are also fire signs. Hence, Aries and Sagittarius are best Compatible with Leo.
Zodiac Signs Moderately Compatible with 10 August birthday (Leo)
Zodiac signs moderately compatible with Leo are:
Zodiac Signs Incompatible with 10 August birthday (Leo)
Zodiac signs incompatible with Leo are:
Cancer (33%)
Scorpio (33%)
Capricorn (32%)
Pisces (18%)
10 August : Zodiac Love Compatibility
Aries
Gemini
Leo
Libra
Sagittarius
Aquarius
Click here to check the compatibility of Leo with various other Zodiac Signs.
---
August 10 Birthday : Health
For those born on August 10, appearance means a lot. Caring for the figure, hair, skin and teeth is given much more time and energy than internal health. Even being not in their best shape, those born on august 10 can look great. Also closely monitor the voice, the health of the throat and larynx.
Like the rest, they need to avoid worries, experiences that adversely affect the work of the heart, the condition of the spine, blood circulation and the nervous system.
They are recommended moderate drinking and smoking. And they need to direct social instincts to sports – tennis, rollers, skis. For adulthood, a diet rich in vitamins and vegetables is recommended to avoid being overweight.
---
Advice for People Born on August 10
Rethink attitudes toward external values. Strengthen your inner faith in your own strength in order to free yourself from other people's opinions and approvals.
Learn to be careful and develop selflessness in love for others. Learn to accept someone else's point of view, because sometimes you can get good advice from the outside.
---
Know about Zodiac Signs:
Aries, Taurus, Gemini, Cancer, Leo, Virgo, Libra, Scorpio, Sagittarius, Capricorn, Aquarius, Pisces