August 17 Birthday
Personality, Zodiac Sign, Compatibility, Ruling Planet, Element, Health and Advice
---
Is your Birthday on August 17 ? Know the Sun Sign, Personality, Compatibility and more….
---
August 17 Zodiac sign
Leo
August 17 Ruling Planet
Sun
August 17 Element
Fire
August 17 Lucky day
Sunday
August 17 Lucky Colors
Orange, Red, Gold
August 17 Lucky Numbers
1, 10, 19, 28
August 17 Birthstone
Ruby, Peridot
August 17 Zodiac Compatibility
Most Compatible with Sagittarius and Aries
More about Compatibility
---
August 17 Zodiac Sign: Leo
For People born on August 17 the Zodiac sign is Leo.
Leos have a magnetic personality. They are generous, loyal, enthusiastic, optimistic and passionate about their work.. In turn, as a negative note of their personality, they are people who tend to be somewhat arrogant, stubborn and attention seeking.
The Leo zodiac sign is usually associated with Sunday as its day of the week and Orange, Red & Gold as its color. Leo is associated with planet Sun and its related element is 'Fire'.
---
What Does your Birthdate Say About you
---
August 17 Birthday: Personality
August 17 Birthday Positive Traits:
Generous
Magnanimous by nature
Loyal
Optimistic
Honest
Leadership
Protective
Confident
Ambitious
August 17 Birthday Negative Traits:
Dominating
Stubborn
Arrogant
Inflexible
Jealous
Constant desire for Recognition
August 17 Birthday: Personality
This day gives the world hard-working and modest people with a light character. They can become happy if they learn to deal with difficulties, but, unfortunately, they often hesitate at the crucial moment of making certain decisions.
Accordingly, because of this, they lose a huge number of great opportunities. They should learn to be more confident in themselves and their abilities, and also take responsibility when necessary. Otherwise, each time losing luck, they will have to do hard and ungrateful work all their lives.
People born 17 august are extremely impulsive and explosive. They seemed to have absorbed part of the energy that was given to those who appeared the day before, but, unlike them, they really think about how to manage their lives.
Despite this, the basis of their desire for power and management is a steady earthliness, in some situations, able to extinguish their incredible energy, which directly hits the edges.
Those who appeared on this day are so used to managing even the smallest little things that they are extremely negative about any hint of disobedience from others, and it doesn't matter from whom — relatives, colleagues or friends.
Unfortunately, people, of course, can get tired of such a totalitarian regime, organizing real riots, as a result of which those born on August 17 may be on the verge of a nervous breakdown, after which they need rehabilitation in a place completely isolated from society.
But, no matter how surprising this may sound, people who appeared on this day are able to demonstrate a rather calm and even prone to solitude character. In addition, they often have a great need to protect their private life from the predatory views of the near, eternally idle public.
When it comes to social events or work, they prefer to be at ease. Despite this, some of them can sometimes show a real interest in communicating with other people, but at the same time they do not want to waste their energy on too large audiences.
From birth, they have a certain ball and refinement and enjoy it very much when they see how others like them. Moreover, they prefer to communicate more with those people who are looking for closer contact with them, and not at arm's length.
These individuals like to argue, and if they are wrong, they will continue to uphold deliberately false truths. They may suffer, they may repent of their excessive ardor, but they will never beg forgiveness to those who have become free or involuntary victims of their impulsiveness.
Their friends try to understand and accept this fact by forgiving them, but it often happens that they completely exhaust their patience with friends who were born on August 17.
Most of the problems of individuals born on this day can be explained by the fact that they are trying to get rid of their inferiority complex, which begins to develop in their childhood, by their ferventness.
When they reach a transitional age, often difficulties begin in understanding with one of the parents (usually of the same gender), whom they can love and hate at the same time. In addition, they completely lack the ability to analyze what is happening around, as a result, they can give up at the time of difficulties.
But they must remember that solving difficult situations undoubtedly entails valuable experience that can come in handy in the future.
The main task of these personalities is, as a rule, in the ability to calm the light wind even before it turns into a hurricane. If they learn to keep their emotions under control, they will be able not only to know themselves, but also to find application for their many talents, which were laid in them long before they were born.
---
August 17 Birthday : Compatibility with other Zodiac Signs
People born on August 17 have Leo Sun Sign.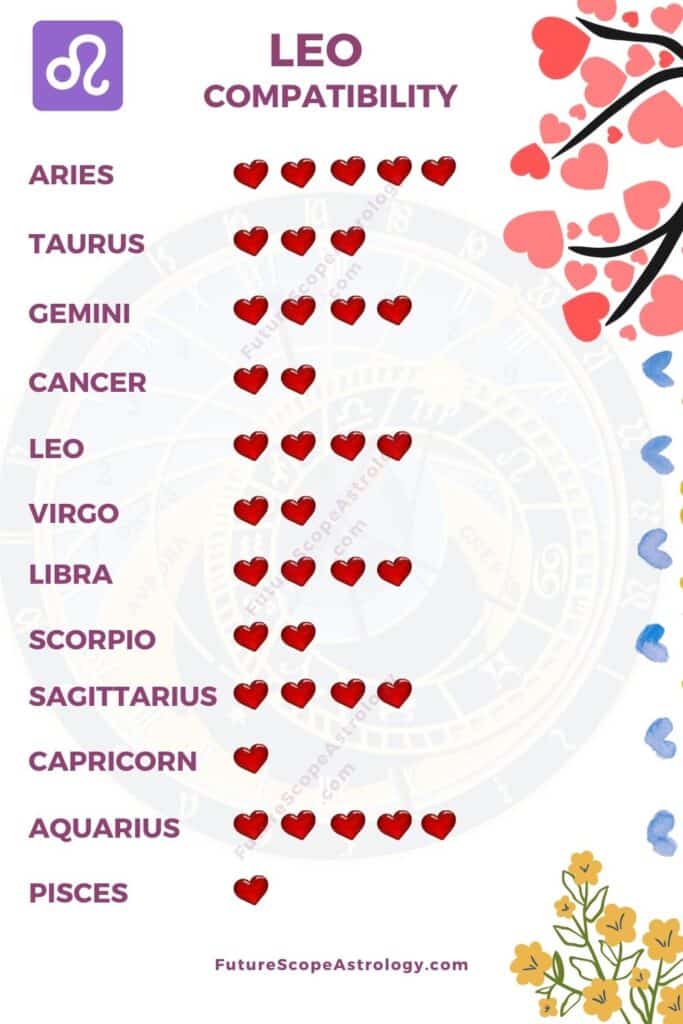 Zodiac Signs Most Compatible with 17 August birthday (Leo)
The zodiac signs best compatible with Leo are
Aries (82%)
Gemini (77%)
Leo (72%)
Libra (75%)
Sagittarius (75%)
Aquarius (85%)
Leo is a fire sign. Aries and Sagittarius are also fire signs. Hence, Aries and Sagittarius are best Compatible with Leo.
Zodiac Signs Moderately Compatible with 17 August birthday (Leo)
Zodiac signs moderately compatible with Leo are:
Zodiac Signs Incompatible with 17 August birthday (Leo)
Zodiac signs incompatible with Leo are:
Cancer (33%)
Scorpio (33%)
Capricorn (32%)
Pisces (18%)
17 August : Zodiac Love Compatibility
Aries
Gemini
Leo
Libra
Sagittarius
Aquarius
Click here to check the compatibility of Leo with various other Zodiac Signs.
---
August 17 Birthday : Health
The biggest health hazard that lies in wait for these people is diseases caused by repressed aggression. If people born on this day do not learn how to cope with their hot temper, they can get a stomach ulcer or even malignant tumors of various types.
It is advisable for these people to engage in all types of activities that open the world for them – eating in good company, group physical exercises, and social activity of all kinds. If you begin to notice the first signs of depression (which is the result of suppressed fits of anger), you need to respond to it as quickly as possible.
In this case, it is worth remembering that drug treatment in this case is not recommended.
---
Advice for People Born on August 17
Try to limit your excessive activity in those situations when it is required. It is advisable to use downtime in a particular area of ​​life as an excellent opportunity to explore your personal abilities and talents. Just try to know yourself and your life.
You can observe some points in your daily life by learning to discern the early signs of destructive rage. Learn to relate to life easier without focusing on negative events alone. Thanks to this, you can improve your relationships with people and also maintain your health.
---
Know about Zodiac Signs:
Aries, Taurus, Gemini, Cancer, Leo, Virgo, Libra, Scorpio, Sagittarius, Capricorn, Aquarius, Pisces