July 1 Zodiac (Cancer) Birthday
Personality, Zodiac Sign, Compatibility, Ruling Planet, Element, Health and Advice
---
Is your Birthday on July 1 ? Know the Sun Sign, Personality, Compatibility and more….
---
July 1 Zodiac sign
Cancer

July 1 Ruling Planet
Moon
July 1 Element
Water
July 1 Lucky day
Monday
July 1 Lucky Colors
White, Silver
July 1 Lucky Numbers
1, 2, 7, 11, 16, 20, 25
July 1 Birthstone
Ruby

July 1 Zodiac Compatibility
Most Compatible with Scorpio and Pisces

More about Compatibility
---
July 1 Zodiac Sign: Cancer
For People born on July 1 the Zodiac sign is Cancer.
People born on July 1 are usually are loving and full of emotions. They believe in deep emotional connections with people rather than general socializing. Only chosen few can be a part of their inner circle. They make very good friends. In turn, as a negative note of their personality, they are people a little moody, suspicious and over protective.
The Cancer zodiac sign is usually associated with Monday as its day of the week and White and Silver as its color. Cancer is associated with planet Moon and its related element is 'Water'.
---
What Does your Birthdate Say About you
July 1 Birthday: Personality
July 1 Birthday Positive Traits:
Caring
Loyal
Protective
Intuitive
Creative
Family Oriented
Generous
July 1 Birthday Negative Traits:
Moody
sensitive
Sometimes Vindictive
Suspicious
Insecure
Pessimistic
July 1 Birthday: Personality
On this day, people with great vitality are born. Born 1 July from childhood are gifted individuals. Often they have psychic abilities, a craving for mysticism, occultism and everything secret and mysterious in this world.
People born 1 July are very sociable, focused, have a strong-willed character. Usually they attract everyone's attention with their conversation and demeanor. Success and luck, one might say, from birth are inherent in them.
It is thanks to qualities such as perseverance and determination that they can achieve in this life all that they want. High status at work, love in the family and recognition in any simpler way.
Born 1 july – very sensitive natures, easily find an approach to people and quickly adapt to new situations. It is easy for them to make new acquaintances and communicate in unfamiliar companies, as they are very kind, nice and open people. But often this does not save them from emotional distress and suffering.
Although, ultimately, they are always able to pull themselves together, and with renewed vigor to begin life from scratch. Women born July 1 very often experience internal discord. Internal conflict begins to grow when the question of motherhood and career arises.
That is why the topic of emancipation is acute for them. Men born on July 1 often experience stress related to their internal state. They often see their inner self as the most real and worst enemy. Despite universal acceptance, and success, people are often prone to depression. If a person does not feel understanding and does not hear praise from the outside for his labors, he may feel anxiety and rejection. Even if he is on the crest of a wave.
Born July 1 people know their life path. They can carefully listen to all offers related to work, relations, and conducting various affairs. But in the end, they will make their choice, based on this only on internal feelings and their logic.
They like to look for meaning in everything, even a simple at first glance case, they are examined from all sides. At the same time they are looking for hidden meaning and deep secret. Superficial soaps and words are not about them. In adulthood, these are interesting, multifaceted personalities.
Whose inner world is sometimes very complex and not always understood by people around. For a stranger, this is just a mysterious person. But, in spite of all this, people born on July 1, love communication, and with great zeal, great desire to help people. They know firsthand what charity is firsthand. People came to this world more "give, give" than "take and receive."
Such people are distinguished by kindness and sympathy for others. But when disaster happens on their own or depression just appears on the horizon, helping them is very, very difficult.
The danger to such individuals is self-denial. Sometimes this leads to the fact that a person locks himself in a negative framework. To get out of this situation, they need a change of scenery or even an extreme shake.
It is at such moments that people can cope with their internal problems. Then they leave a cozy nest, and begin to actively engage in business, and continue to enjoy life. Often, such people can combine social activity with household chores and flirting.
---
July 1 Birthday : Compatibility with other Zodiac Signs
People born on July 1 have Cancer Sun Sign.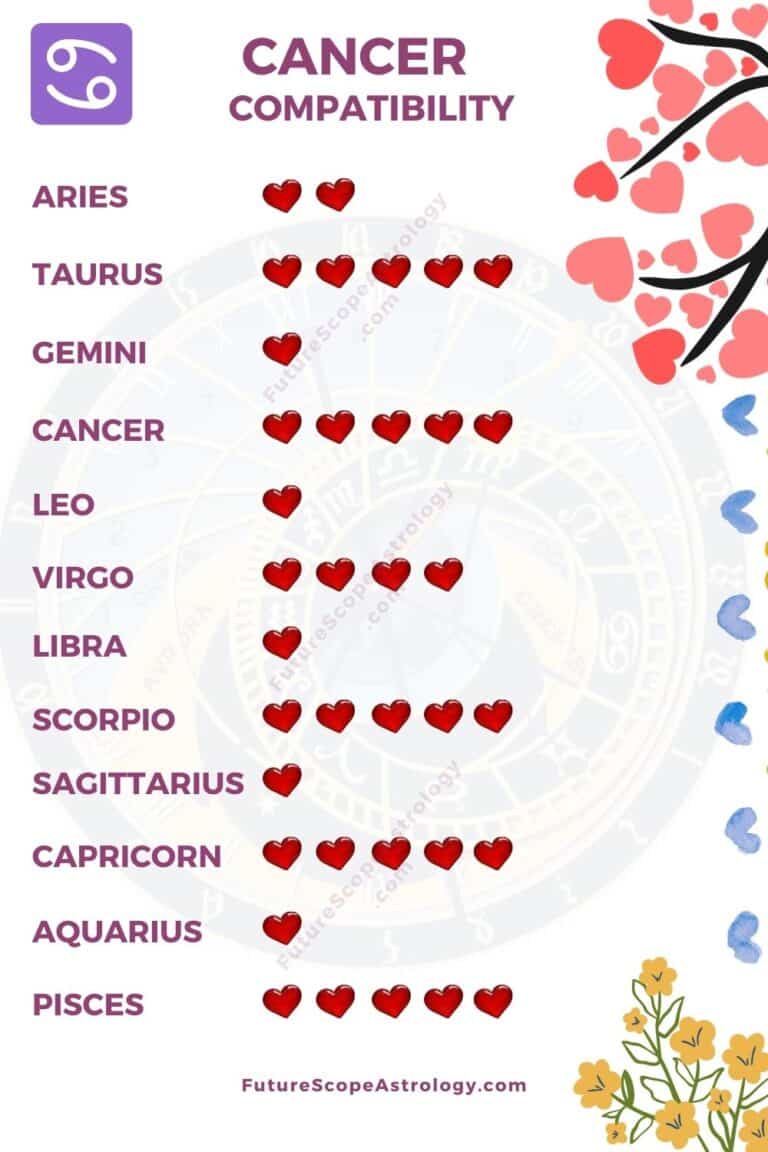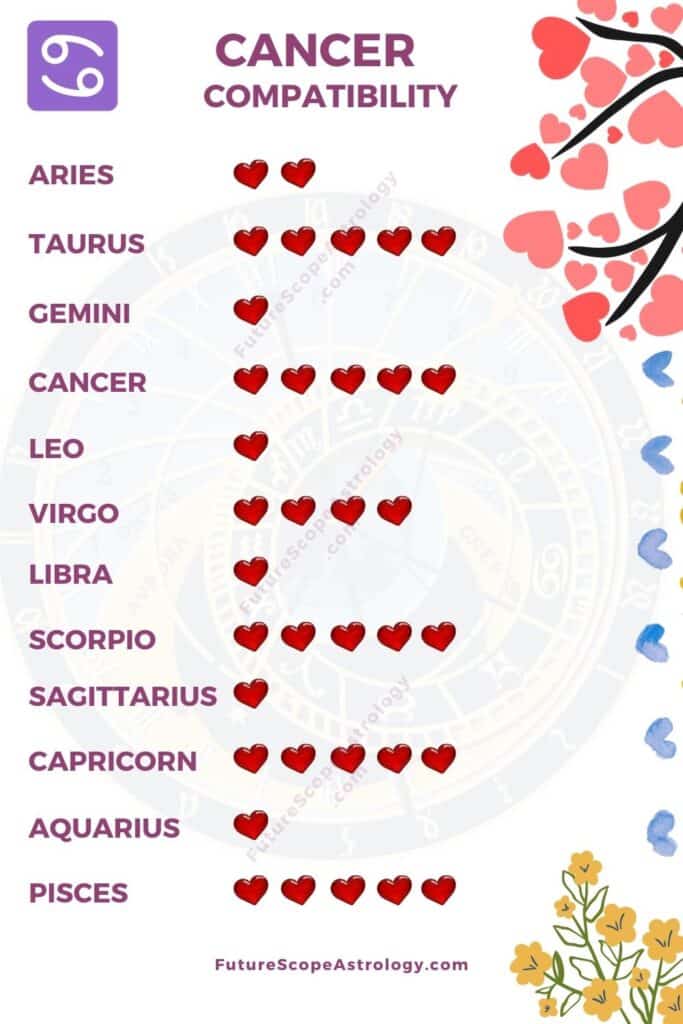 Zodiac Signs Most Compatible with 1 July birthday (Cancer)
The zodiac signs best match for people with Cancer Zodiac are
Taurus (86%)
Cancer (85%)
Virgo (75%)
Scorpio (88%)
Capricorn (78%)
Pisces (82%)
Cancer is a water sign. Scorpio and Pisces are also water signs. Hence, Scorpio and Pisces are best Compatible with people with Cancer Zodiac sign.
---
Zodiac Signs Incompatible with 1 July birthday (Cancer)
Zodiac signs incompatible with Cancerians are:
Aries (38%)
Gemini (30%)
Leo (33%)
Libra (32%)
Sagittarius (32%)
Aquarius (30%)
---
1 July: Zodiac Love Compatibility
In love relationship, following zodiac signs are most compatible with Cancer
Taurus
Cancer
Virgo
Scorpio
Capricorn
Pisces
Click here to check the compatibility of Cancer with various other Zodiac Signs.
---
July 1 Birthstone: Ruby
Ruby is the birthstone for those born on 1 July.
Ruby has been long considered a symbol of love and passion. Ruby is said to enhance the wearer's vitality and promote health, while also providing protection from misfortune.
Ruby is a July birthstone that is associated with happiness and joy. This gemstone is believed to bring good luck to its wearer and promote positive energy.
Know More about July 1 Birthstone (Ruby) …
---
July 1 Birthday : Health
Those born on July 1 can often experience discomfort from their own bodies. Although mostly these are people with excellent external data. They are smart and mobile. The most dangerous and frequent ailment that occurs in people born on this day is depression.
Unfortunately, when the moment comes when a person is unable to cope with mental pain on his own, then you have to turn to specialists for help. Such people definitely need a close friend, or a person who is able to support and cheer up at the most difficult moment.
People born on this day love refinement. Sometimes they are happy to change their tastes and diets. These are people who love experiments, from which they sometimes have to suffer.
---
Advice for People Born on July 1
Do not be afraid to go forward. See the world wider. If you feel magical abilities in yourself, do not be alarmed. Feel free to go to the world, so you can help people.
Do not worry if suddenly you are alone, use this time for spiritual growth. Relatives and friends will always understand and support you.
Learn to accept the good that people give you. It's time for you to receive gifts in this world. Do not allow people with bad intentions towards your person into your life.
---
Know about Zodiac Signs:
Aries, Taurus, Gemini, Cancer, Leo, Virgo, Libra, Scorpio, Sagittarius, Capricorn, Aquarius, Pisces