July 11 Zodiac (Cancer) Birthday
Personality, Zodiac Sign, Compatibility, Ruling Planet, Element, Health and Advice
---
Is your Birthday on July 11? Know the Sun Sign, Personality, Compatibility and more….
---
July 11 Zodiac sign
Cancer

July 11 Ruling Planet
Moon
July 11 Element
Water
July 11 Lucky day
Monday
July 11 Lucky Colors
White, Silver
July 11 Lucky Numbers
2, 7, 11, 16, 20, 25
July 11 Birthstone
Ruby

July 11 Zodiac Compatibility
Most Compatible with Scorpio and Pisces

More about Compatibility
---
July 11 Zodiac Sign: Cancer
For People born on July 11 the Zodiac sign is Cancer.
People born on July 11 are usually are loving and full of emotions. They believe in deep emotional connections with people rather than general socializing. Only chosen few can be a part of their inner circle. They make very good friends. In turn, as a negative note of their personality, they are people a little moody, suspicious and over protective.
The Cancer zodiac sign is usually associated with Monday as its day of the week and White and Silver as its color. Cancer is associated with planet Moon and its related element is 'Water'.
---
What Does your Birthdate Say About you
---
July 11 Birthday: Personality
July 11 Birthday Positive Traits:
Caring
Loyal
Protective
Intuitive
Creative
Family Oriented
Generous
July 11 Birthday Negative Traits:
Moody
sensitive
Sometimes Vindictive
Suspicious
Insecure
Pessimistic
July 11 Birthday: Personality
This is the birthday of pretty secretive people who tend to be careful about everything. The main features of their nature include patience, hard work and rationalism. This day strengthens the basic qualities of character.
What will be the life of a person in adulthood depends on himself. If, having coped with karmic debts, a person will be able to understand his mistakes, then, being purposeful and hardworking, he will be able to achieve prosperity.
The life of people born on July 11 in their young years will be difficult, karmic debts will affect the conditions and events of his life, but, despite this, the further life is built by the person himself.
Therefore, his living conditions will depend on what his attitude to himself and to the entire surrounding world will be. To gain treasured happiness will help the ability to forgive other people and hard work.
Born on July 11 is characterized by a high degree of social activity, their interests extend to all areas of life. They consider themselves experts in everything, are ready to express their opinion on any issues and are proud of it.
Even the most secretive of those born July 11 have a small circle of friends with whom they can always share their thoughts. Their inner world is carefully hidden from all prying eyes, they will not let those who are not trusted into their souls.
At the same time, they like to keep secrets, and in the future they like to share their secrets with the elect.
Their actions always strive to correspond to what has been said, even if it is a rumor or gossip, regardless of whether this happens at home or at work. Born 11 july they always want to keep abreast of all events, and even being high-class professionals, they are ready to pick up all the speculation.
Having this knowledge in their arsenal, they easily turn it to their advantage. If necessary, they can even become very skilled deceivers who, in the name of overthrowing rivals and opponents, can skillfully sow misinformation.
If this is necessary for the cause, then they can pretend to be unarmed, malleable and submissive.
Born 11 July consider pride in their artistic inclinations. But it also happens that the opponent can reveal them and see the truth covered by their lies. Then born July 11 threatens to be exposed in deception.
Those of them those who did not particularly comprehend the art of deception, run the risk of earning themselves notoriety, thereby gaining the complete distrust of everyone around them. As partners or so-called team players, these people will be able to achieve the greatest success.
They do not tend to be leaders among other people, as they are afraid to take on unnecessary responsibility.
Many of those born on July 11 do not spend the bulk of their energy on work, since private life is very important for them, it prevails over work, they are willing to spend a lot of energy trying to realize their fruitless dreams.
They are constantly waiting for such a moment when they will have the opportunity to take a fateful step, while they are constantly fantasizing and planning something. They want to always be in the right place at the right time, but, unfortunately, this is far from always possible.
Born on July 11, narcissism is characteristic, so in their lives a very important role is played by preoccupation with their appearance, as well as the arrangement of their own homes.
They consider that for the full development of the personality, it is imperative to develop an individual taste, often this becomes the most important part of their life.
In order for the furniture to be perfectly matched in the house, its arrangement was correct, they can spend a lot of time, sometimes it can drag on for years.
The main thing is not to forget that in addition to the material world, there is also a world of spiritual values, which also needs to be developed in itself.
---
July 11 Birthday : Compatibility with other Zodiac Signs
People born on July 11 have Cancer Sun Sign.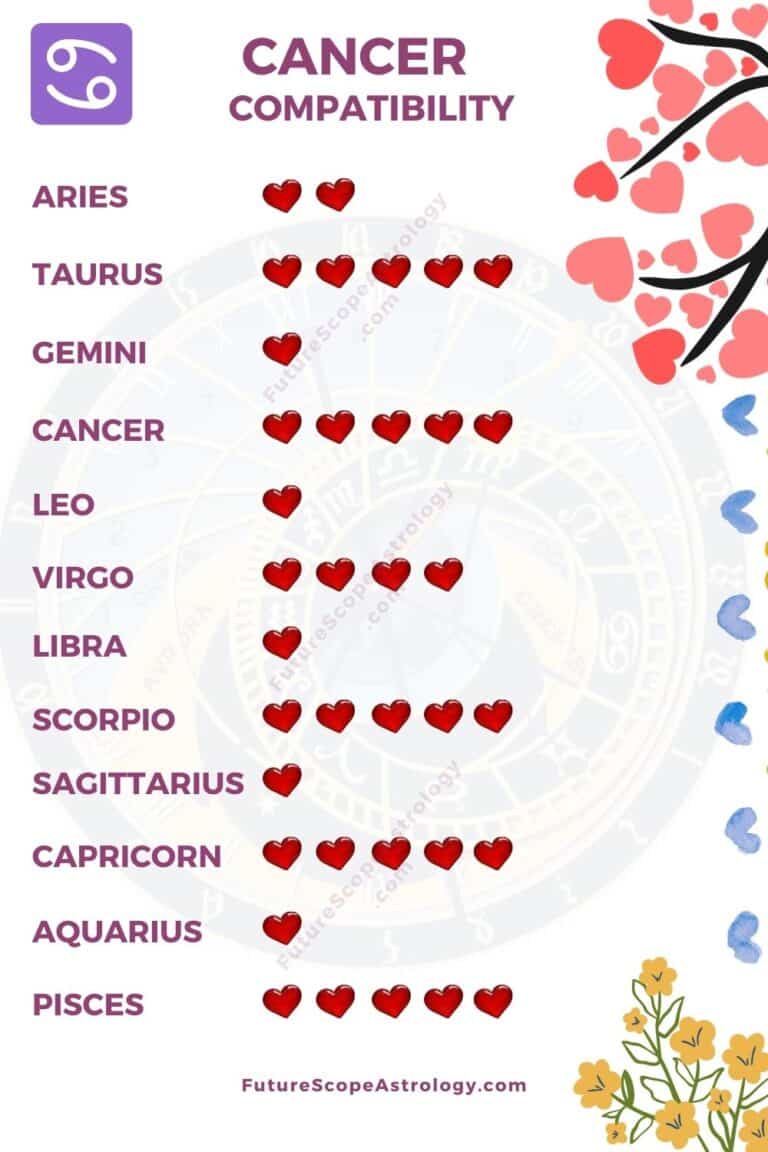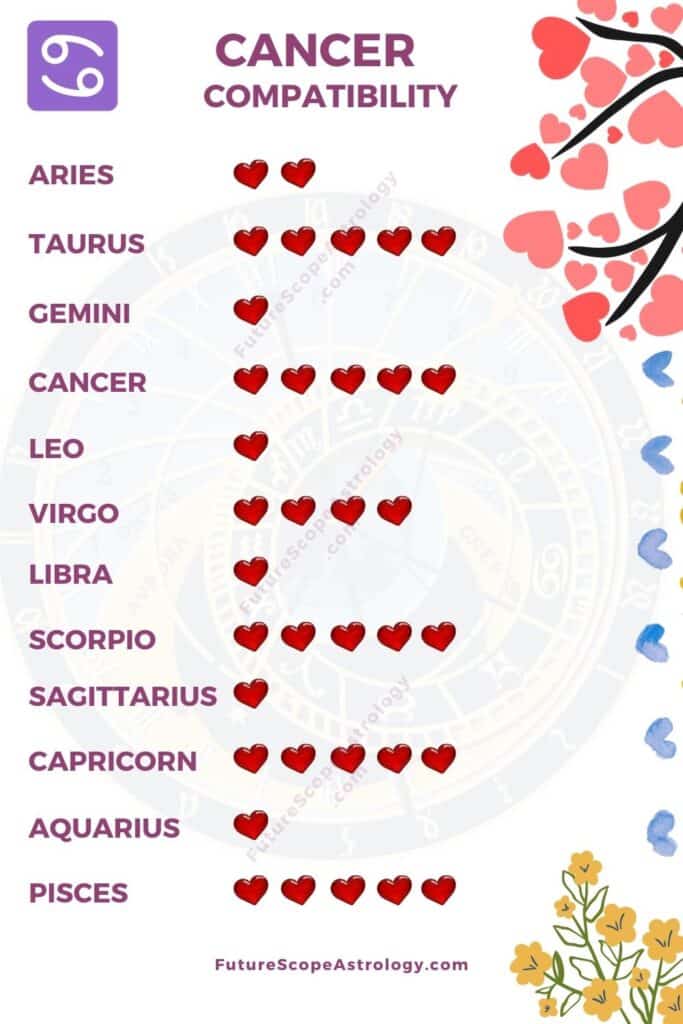 Zodiac Signs Most Compatible with 11 July birthday (Cancer)
The zodiac signs best match for people with Cancer Zodiac are
Taurus (86%)
Cancer (85%)
Virgo (75%)
Scorpio (88%)
Capricorn (78%)
Pisces (82%)
Cancer is a water sign. Scorpio and Pisces are also water signs. Hence, Scorpio and Pisces are best Compatible with people with Cancer Zodiac sign.
---
Zodiac Signs Incompatible with 11 July birthday (Cancer)
Zodiac signs incompatible with Cancerians are:
Aries (38%)
Gemini (30%)
Leo (33%)
Libra (32%)
Sagittarius (32%)
Aquarius (30%)
---
11 July: Zodiac Love Compatibility
In love relationship, following zodiac signs are most compatible with Cancer
Taurus
Cancer
Virgo
Scorpio
Capricorn
Pisces
Click here to check the compatibility of Cancer with various other Zodiac Signs.
---
July 11 Birthstone: Ruby
Ruby is the birthstone for those born on 11 July.
Ruby has been long considered a symbol of love and passion. Ruby is said to enhance the wearer's vitality and promote health, while also providing protection from misfortune.
Ruby is a July birthstone that is associated with happiness and joy. This gemstone is believed to bring good luck to its wearer and promote positive energy.
Know More about July 11 Birthstone (Ruby) …
---
July 11 Birthday : Health
Born 11 July are more likely to be concerned about the health of others than their own. They are interested in health development trends. But in spite of everything, sometimes one still has to apply the acquired knowledge to oneself.
Just do not be too overconfident, as new trends in treatment methods may not always be suitable for every person unconditionally. For delicates born on July 11, various delicacies and other excesses are weakness, which can lead to unpleasant consequences in the future.
In order for the body to fully and stably work, nutrition must be balanced and consist of traditional dishes. The presence of regular sex and exercise is very useful, because it will be able to land a little consciousness born on July 11, which is constantly in dreams.
---
Advice for People Born on July 11
Do not overuse cunning too much, because it can result in those around simply ceasing to take your words seriously.
It is worth moderating your narcissism. It is important to maintain a balance between the thoroughness and dreaminess of your human nature.
---
Know about Zodiac Signs:
Aries, Taurus, Gemini, Cancer, Leo, Virgo, Libra, Scorpio, Sagittarius, Capricorn, Aquarius, Pisces