July 26 Birthday
Personality, Zodiac Sign, Compatibility, Ruling Planet, Element, Health and Advice
---
Is your Birthday on July 26 ? Know the Sun Sign, Personality, Compatibility and more….
---
July 26 Zodiac sign
Leo

July 26 Ruling Planet
Sun
July 26 Element
Fire
July 26 Lucky day
Sunday
July 26 Lucky Colors
Orange, Red, Gold
July 26 Lucky Numbers
1, 8, 10, 19, 28
July 26 Birthstone
Ruby

July 26 Zodiac Compatibility
Most Compatible with Sagittarius and Aries

More about Compatibility
---
July 26 Zodiac Sign: Leo
For People born on July 26 the Zodiac sign is Leo.
Leos have a magnetic personality. They are generous, loyal, enthusiastic, optimistic and passionate about their work.. In turn, as a negative note of their personality, they are people who tend to be somewhat arrogant, stubborn and attention seeking.
The Leo zodiac sign is usually associated with Sunday as its day of the week and Orange, Red & Gold as its color. Leo is associated with planet Sun and its related element is 'Fire'.
---
What Does your Birthdate Say About you
---
July 26 Birthday: Personality
July 26 Birthday Positive Traits:
Generous
Magnanimous by nature
Loyal
Optimistic
Honest
Leadership
Protective
Confident
Ambitious
July 26 Birthday Negative Traits:
Dominating
Stubborn
Arrogant
Inflexible
Jealous
Constant desire for Recognition
July 26 Birthday: Personality
Born 26 july are very dual natures. It is believed that these people work out the debts of karma due to the special vibration of this day. This means that the conditions and circumstances of life will depend only on their relationship to the world.
Having chosen the evolutionary path for themselves, together with joy and love, they will create wonderful conditions for themselves, find true happiness, wealth and love. However, developing the negative qualities of their character, the desire to "go over their heads" and sow only evil, they risk dooming themselves to a bleak and dull life
Born 26 July – extremely dominant personalities. However, their authority is not limited only to physical or financial power. They perfectly understand the truth of life and the essence of what is happening.
They actively participate in various events, so they have exceptional experience on which their reasoning and comments are based. Some of the prominent personalities born on July 26 are capable of being excellent leaders that followers will always reach for.
Sometimes they can go deeper into learning something or concentrate all their forces on any particular activity that others will consider them too straightforward. Most of these people have a fairly strong influence on their immediate environment.
This is because they are able to express the feelings and emotions of other people, while becoming some kind of symbols of subconscious sensations. However, this is a serious threat to the development of their own inner world of such people.
Someday there will come a time when those born on July 26 will have to make a difficult decision to leave the honorary throne, which often biased fans put them on, and never sit on it again.
Born 26 July often differ in very bold judgments that others are not always ready to accept. However, due to their self-confidence, no judgments of external sources will make them doubt themselves and their goals.
Most of these people are players, often overwhelmed by their craving for false and dangerous situations. Due to their nature, tremendous willpower and endurance, they will never retreat,
Born 26 july do not like to embellish reality. They always tell the truth as it is, without worrying about the feelings of another person. For them, the main thing is that truth is always truth without embellishment.
And yet, those people who find the strength in themselves to know themselves, to feel belonging to the world, to gain a sense of compassion and to eradicate aggression are ready to fully reveal themselves to the outside world.
---
July 26 Birthday : Compatibility with other Zodiac Signs
People born on July 26 have Leo Sun Sign.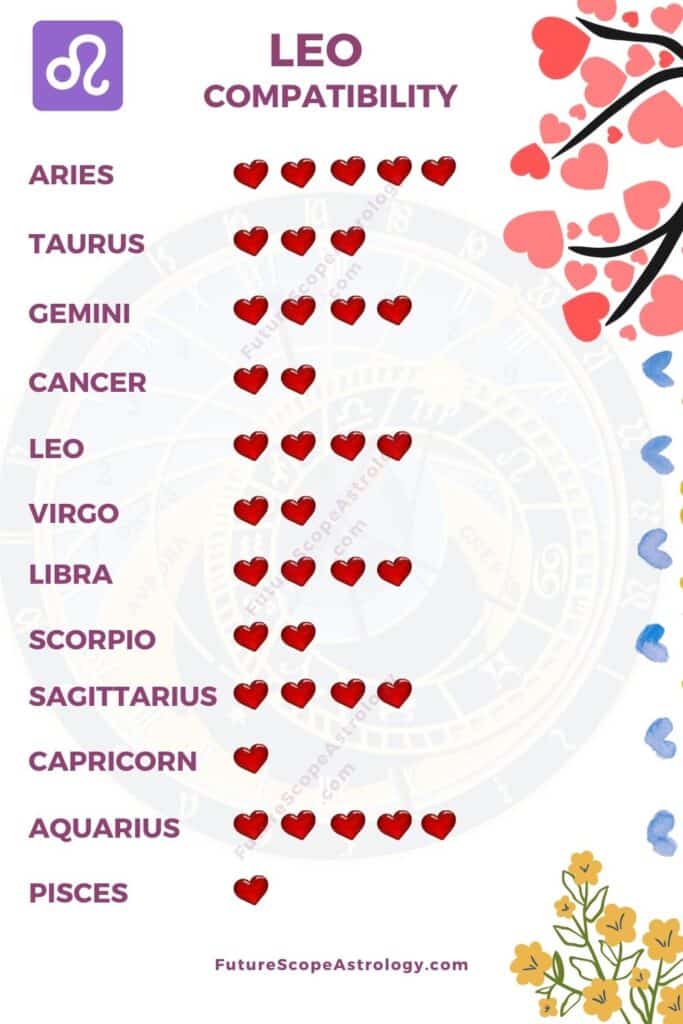 Zodiac Signs Most Compatible with 26 July birthday (Leo)
The zodiac signs best compatible with Leo are
Aries (82%)
Gemini (77%)
Leo (72%)
Libra (75%)
Sagittarius (75%)
Aquarius (85%)
Leo is a fire sign. Aries and Sagittarius are also fire signs. Hence, Aries and Sagittarius are best Compatible with Leo.
Zodiac Signs Moderately Compatible with 26 July birthday (Leo)
Zodiac signs moderately compatible with Leo are:
Zodiac Signs Incompatible with 26 July birthday (Leo)
Zodiac signs incompatible with Leo are:
Cancer (33%)
Scorpio (33%)
Capricorn (32%)
Pisces (18%)
26 July: Zodiac Love Compatibility
Aries
Gemini
Leo
Libra
Sagittarius
Aquarius
Click here to check the compatibility of Leo with various other Zodiac Signs.
---
July 26 Birthday : Health
Born 26 July very dynamic people, and they should always be in excellent physical shape. Otherwise, they simply can not withstand the energy intensity.
Due to the incredible pace of life, they quite rarely can afford a healthy full sleep or a proper diet. Lack of regular sex can lead to irritability and physical ailments.
Many born on July 26 have a special craving for vegetarianism. Hiking or swimming is ideal for this type of people.
These people just need warm communication with family and friends to maintain psychological health.
---
Advice for People Born on July 26
Try to relax from yourself and provide this opportunity to your loved ones. Develop humanity and nobility in yourself, and also remember that you are a small part of one big Universe.
---
Know about Zodiac Signs:
Aries, Taurus, Gemini, Cancer, Leo, Virgo, Libra, Scorpio, Sagittarius, Capricorn, Aquarius, Pisces