July 5 Zodiac (Cancer) Birthday
Personality, Zodiac Sign, Compatibility, Ruling Planet, Element, Health and Advice
---
Is your Birthday on July 5 ? Know the Sun Sign, Personality, Compatibility and more….
---
July 5 Zodiac sign
Cancer

July 5 Ruling Planet
Moon
July 5 Element
Water
July 5 Lucky day
Monday
July 5 Lucky Colors
White, Silver
July 5 Lucky Numbers
2, 7, 11, 16, 20, 25
July 5 Birthstone
Ruby

July 5 Zodiac Compatibility
Most Compatible with Scorpio and Pisces

More about Compatibility
---
July 5 Zodiac Sign: Cancer
For People born on July 5 the Zodiac sign is Cancer.
People born on July 5 are usually are loving and full of emotions. They believe in deep emotional connections with people rather than general socializing. Only chosen few can be a part of their inner circle. They make very good friends. In turn, as a negative note of their personality, they are people a little moody, suspicious and over protective.
The Cancer zodiac sign is usually associated with Monday as its day of the week and White and Silver as its color. Cancer is associated with planet Moon and its related element is 'Water'.
---
What Does your Birthdate Say About you
---
July 5 Birthday: Personality
July 5 Birthday Positive Traits:
Caring
Loyal
Protective
Intuitive
Creative
Family Oriented
Generous
July 5 Birthday Negative Traits:
Moody
sensitive
Sometimes Vindictive
Suspicious
Insecure
Pessimistic
July 5 Birthday: Personality
A person born on this day is waiting for an exciting and interesting life. Qualities such s as patience, incredible industriousness and inexhaustible energy are inherent in them.
Talent will not pass by people born on July 5, but it will have to be defended. Fate has prepared many difficulties for them, but if they manage to pass them and maintain human high qualities, sincere kindness and love, the dashing will recede.
Before the power of such a person not a single grief and evil can resist.
After 30 years, in the end, recognition and fulfillment will come to these people. All desired will be fulfilled, as if from the sweep of a magic wand.
Stars prophesy a great future born on July 5: thanks to hard work and talent, they will be able to achieve significant heights in their careers, and complete harmony reigns in the family.
Eccentricity and energy will accompany those born on this day throughout their lives. From birth, they will stand out from the crowd with fun and interest in all the problems of the world.
They are fond of inexplicable phenomena in nature, extraordinary people, love life and really know how to enjoy it; take from it all the best and groovy.
Their company is desirable to others. At the same time, everyone will envy their fun and love of life. They have the unique ability to entertain people in any situation.
Given that they are the soul of the company, it is not always possible to rely on them and trust them. First of all, they honor their interests.
If adventures do not appear in their lives for a long period, then these people seek them out themselves.
Very skilled in the gift of conviction, they can make anyone believe that white is actually black. But they should not abuse it.
A very important task in life for them is to find a person who is able to help them direct the flame of their energy in the right direction. At the age of 28-30 years, they most often feel the need for this person (the first return of Saturn) or during a midlife crisis.
It is known that one of the most difficult periods in the life of every person is adolescence, and so in the life of those born on July 5, this period can truly be compared with the formation of personality.
During this period, they, like all teenagers, resist the established order, do not listen to parents, teachers at school, constantly change authorities and friends, do not know where to put energy.
Also in adolescence, those born on this day form the concept of good and evil, ugly and beautiful.
If a person under the guidance of parents and teachers chooses the right path, then in the future they will be able to overcome obstacles. It is important that thoughts and fantasies concocted during this period have a basis for their achievement.
Then the person will know: what to do in the future and will begin to lay the foundation now, otherwise these dreams will not come true.
Born 5 July at work: they are undoubtedly informal leaders. They get their energy supply for direct duties, as well as for the organization of non-working events and hobbies.
It is very important that the family supports their passion and participates in it, otherwise there may be serious conflicts.
Friends and colleagues are surprised at their endless energy. They find time to do the work, feed the children, smile at the other half, cheer their friends, and leave time for their favorite pastime.
The most important thing is that the energy, that is inherent in these people and surprises others. It is critical that this is directed in the right direction and not be wasted.
---
July 5 Birthday Zodiac Compatibility
People born on July 5 have Cancer Sun Sign.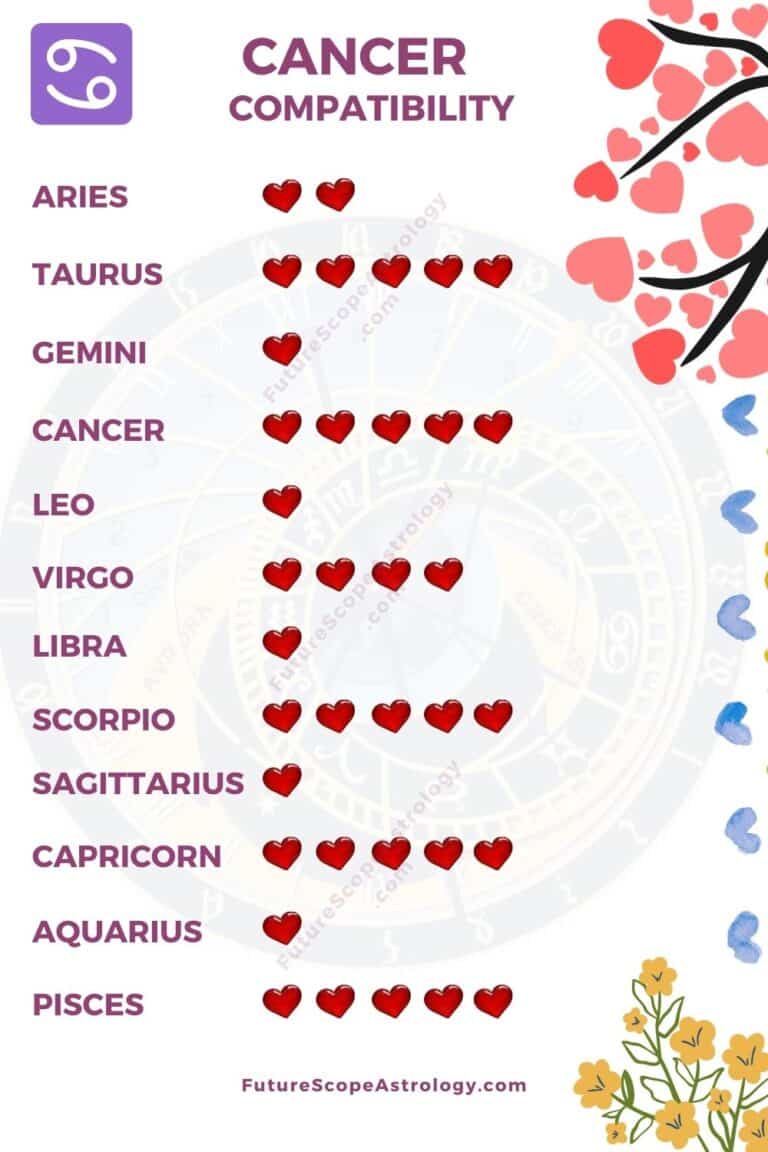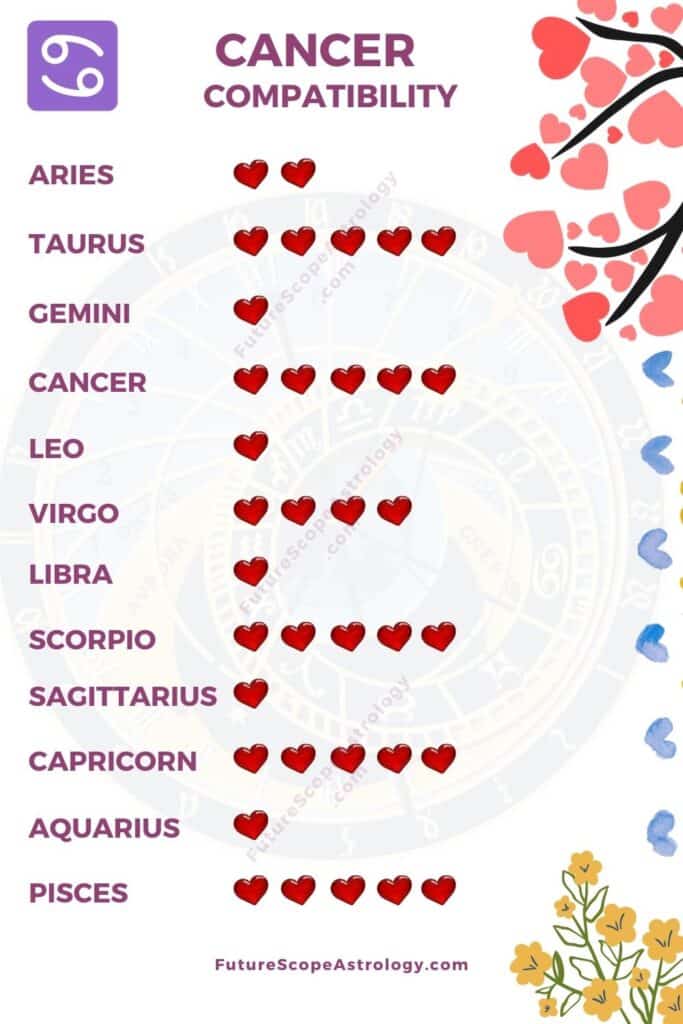 Zodiac Signs Most Compatible with 5 July birthday (Cancer)
The zodiac signs best match for people with Cancer Zodiac are
Taurus (86%)
Cancer (85%)
Virgo (75%)
Scorpio (88%)
Capricorn (78%)
Pisces (82%)
Cancer is a water sign. Scorpio and Pisces are also water signs. Hence, Scorpio and Pisces are best Compatible with people with Cancer Zodiac sign.
---
Zodiac Signs Incompatible with 5 July birthday (Cancer)
Zodiac signs incompatible with Cancerians are:
Aries (38%)
Gemini (30%)
Leo (33%)
Libra (32%)
Sagittarius (32%)
Aquarius (30%)
---
5 July: Zodiac Love Compatibility
In love relationship, following zodiac signs are most compatible with Cancer
Taurus
Cancer
Virgo
Scorpio
Capricorn
Pisces
Click here to check the compatibility of Cancer with various other Zodiac Signs.
---
July 5 Birthstone: Ruby
Ruby is the birthstone for those born on 5 July.
Ruby has been long considered a symbol of love and passion. Ruby is said to enhance the wearer's vitality and promote health, while also providing protection from misfortune.
Ruby is a July birthstone that is associated with happiness and joy. This gemstone is believed to bring good luck to its wearer and promote positive energy.
Know More about July 5 Birthstone (Ruby) …
---
July 5 Birthday : Health
People Born 5 July can eat something that others do not even seem to tolerate. And it is nothing to worry about. Remember that these people are unusual and interesting from nature in everything, so there is nothing wrong with unusual tastes.
They may experiment with food. People who are close to them at first find it difficult to put up with their tastes, but then they take into account their craving for unusualness, and retreat. What can you do? They can not be redone.
Since these people are very active, they have enough time to play sports. Among sports, they are very fond of team competitions.
---
Advice for People Born on July 5
Due to your preoccupation with important matters, you may not notice growing household problems that also need to be addressed.
Thoughts and fantasies must be shared with friends and parents. It will be easier for you, and your friends are pleased at the thought that you trust them.
Locking yourself and experiencing problems\ alone is not possible, you only attract a depressed state.
If you are oppressed by something, talk about it, shout, vent your emotions. Relive this with your friends who will definitely support.
Harness the power of your tremendous energy.
---
Know about Zodiac Signs:
Aries, Taurus, Gemini, Cancer, Leo, Virgo, Libra, Scorpio, Sagittarius, Capricorn, Aquarius, Pisces