July 6 Zodiac (Cancer) Birthday
Personality, Zodiac Sign, Compatibility, Ruling Planet, Element, Health and Advice
---
Is your Birthday on July 6 ? Know the Sun Sign, Personality, Compatibility and more….
---
July 6 Zodiac sign
Cancer

July 6 Ruling Planet
Moon
July 6 Element
Water
July 6 Lucky day
Monday
July 6 Lucky Colors
White, Silver
July 6 Lucky Numbers
2, 7, 11, 16, 20, 25
July 6 Birthstone
Ruby

July 6 Zodiac Compatibility
Most Compatible with Scorpio and Pisces

More about Compatibility
---
July 6 Zodiac Sign: Cancer
For People born on July 6 the Zodiac sign is Cancer.
People born on July 6 are usually are loving and full of emotions. They believe in deep emotional connections with people rather than general socializing. Only chosen few can be a part of their inner circle. They make very good friends. In turn, as a negative note of their personality, they are people a little moody, suspicious and over protective.
The Cancer zodiac sign is usually associated with Monday as its day of the week and White and Silver as its color. Cancer is associated with planet Moon and its related element is 'Water'.
---
What Does your Birthdate Say About you
---
July 6 Birthday: Personality
July 6 Birthday Positive Traits:
Caring
Loyal
Protective
Intuitive
Creative
Family Oriented
Generous
July 6 Birthday Negative Traits:
Moody
sensitive
Sometimes Vindictive
Suspicious
Insecure
Pessimistic
July 6 Birthday: Personality
People Born 6 July, are very vulnerable and incredibly stubborn. But, despite their impressionability, they are quite strong in spirit and ambitious.
These are the opposing character traits endowed by their fate. Their childhood is characterized by isolation in themselves and immersion in their thoughts, but as adults, these people are categorically changing.
There is no trace of shyness. They are very determined people. Sometimes these qualities can be called negative, because people are so keen on their goal that they forget about which methods they have chosen for achieving them.
Personal life may be distinguished by several marriages, problems with the opposite sex will suffice. In terms of a career, these people can be called successful, they know how to earn money, but you need to learn how to spend and save.
Strong sensibility will play an important role in the life of those born on July 6. Either fate ordered it that way, or they accompanied it, but they will always be next to the object of interest to them. And they perceive each coincidence or chance as signs of fate. This was to happen, as fate wished.
These people can do something only because they so want at this moment in life. The manifestation of their interest in a person is very large and growing rapidly, and these people do not hide their feelings.
Their desires do not always have some good reason; they arise out of nothing, just as they disappear into nowhere. Whether it's a job, a lover or the disposition of a person, they achieve this with all their might, often using dishonest methods. Because of strong desires that come from nowhere, these people can lose loving people.
In the pursuit of one person they are able to lose another, more important. Submission of the soul and body to one desire, not the ability to think about anything else, the direction of all actions for its implementation each time can play a cruel joke.
Only after realizing this, a person begins to think about their own behavior. Often the object of their desires is money or sex. In pursuit of these pleasures, which pass very quickly, a person can fall in the eyes of friends and acquaintances.
Later, they will think about themselves and, having matured, gaining experience and ability to manage their desires, they will begin to truly live. Over time, having repeatedly stumbled on their life's desires, these people begin to approach matters deliberately, carefully.
They come to understand that desires should be present in every person, but an obsession with desire spoils a person, disables common sense, reason.
Born 6 July, slowly builds his life, moving up the career ladder. It is necessary to live a real life, and not to invent an object of adoration and live only by it.
Over time, a person understands and ceases to be in the world of fantasy and fiction, it pulls a person to the social bottom.
The most important thing is that those born on July 6 learn how to truly value life, people around, relatives, friends. They need to learn to love not just because of desires, but for something. Their energy knows no bounds in achieving the goal, maybe they should try to direct it to the love of life and loved ones.
They should try to distribute their energy and love to others, and not direct it to achieve their own desires and love for themselves.
---
July 6 Birthday : Compatibility with other Zodiac Signs
People born on July 6 have Cancer Sun Sign.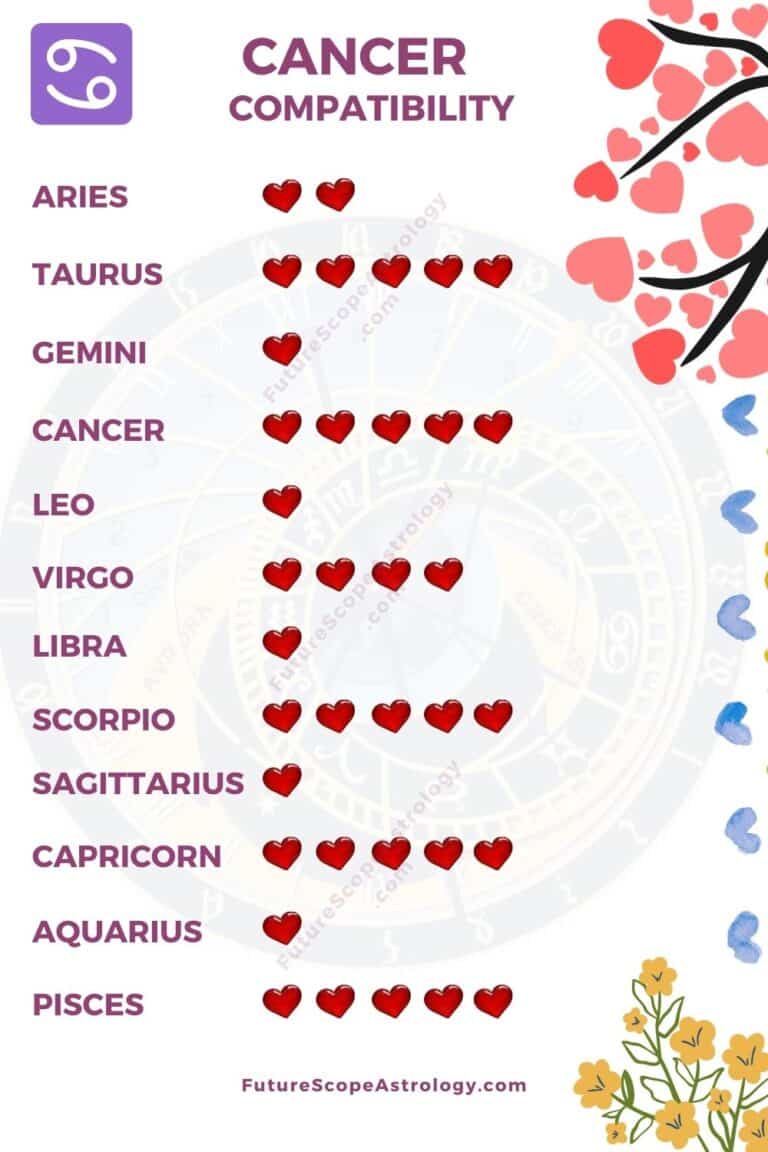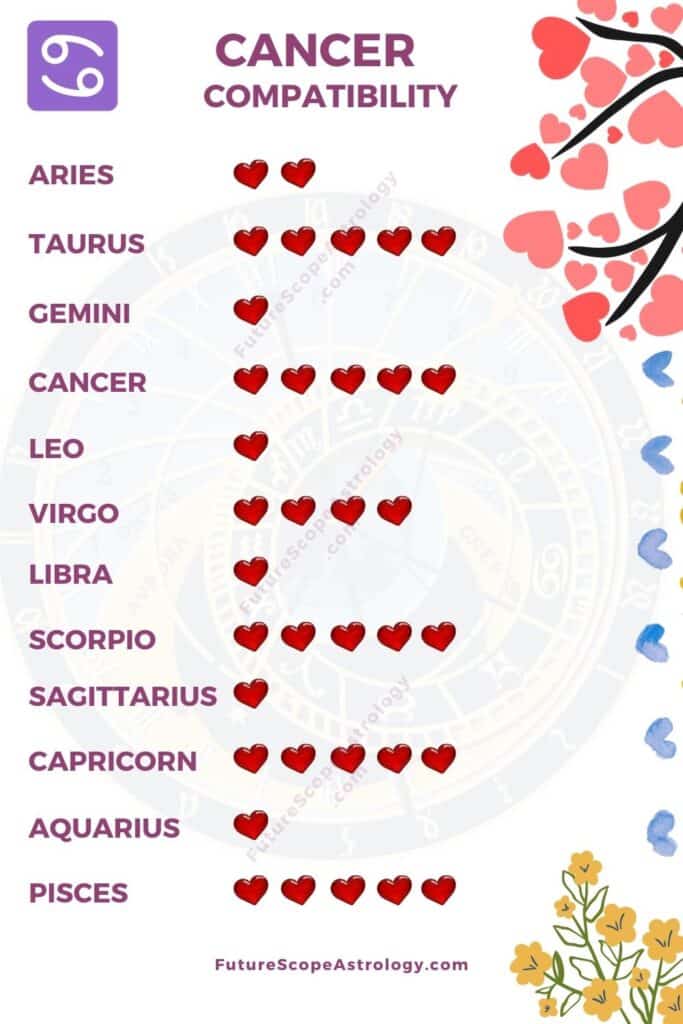 Zodiac Signs Most Compatible with 6 July birthday (Cancer)
The zodiac signs best match for people with Cancer Zodiac are
Taurus (86%)
Cancer (85%)
Virgo (75%)
Scorpio (88%)
Capricorn (78%)
Pisces (82%)
Cancer is a water sign. Scorpio and Pisces are also water signs. Hence, Scorpio and Pisces are best Compatible with people with Cancer Zodiac sign.
---
Zodiac Signs Incompatible with 6 July birthday (Cancer)
Zodiac signs incompatible with Cancerians are:
Aries (38%)
Gemini (30%)
Leo (33%)
Libra (32%)
Sagittarius (32%)
Aquarius (30%)
---
6 July: Zodiac Love Compatibility
In love relationship, following zodiac signs are most compatible with Cancer
Taurus
Cancer
Virgo
Scorpio
Capricorn
Pisces
Click here to check the compatibility of Cancer with various other Zodiac Signs.
---
July 6 Birthstone: Ruby
Ruby is the birthstone for those born on 6 July.
Ruby has been long considered a symbol of love and passion. Ruby is said to enhance the wearer's vitality and promote health, while also providing protection from misfortune.
Ruby is a July birthstone that is associated with happiness and joy. This gemstone is believed to bring good luck to its wearer and promote positive energy.
Know More about July 6 Birthstone (Ruby) …
---
July 6 Birthday : Health
About these people, we can say with confidence that they love life, but do not always know how to use its gifts. They like to retire, think about something of their own, find peace of the hustle and bustle of life, so they are happy to take a vacation.
They also like to be alone with themselves in relationships, so sometimes they ask for a break for themselves.
Since it is difficult for them to pacify their desires, these people are not recommended to get too addicted to alcohol, bad habits, and also, food.
They need to moderate diet too, so as not to get carried away and not to get sick with anorexia. In general, it is not recommended to get involved in something in terms of food, because the desire can become uncontrollable and only harm.
It is best to eat healthy, vitamin-rich foods.
---
Advice for People Born on July 6
First of all, these people need to learn to control themselves.
Train your willpower, it will help you in the future. And don't get so upset over trifles: you didn't achieve any goal, let it be. Why get depressed?
After all, life is given to a person once, rejoice in it, have fun, take from it completely. Life is so multifaceted and inexhaustible.
---
Know about Zodiac Signs:
Aries, Taurus, Gemini, Cancer, Leo, Virgo, Libra, Scorpio, Sagittarius, Capricorn, Aquarius, Pisces