June 27 Zodiac (Cancer) Birthday
Personality, Zodiac Sign, Compatibility, Ruling Planet, Element, Health and Advice
Jan | Feb | Mar | Apr | May | June | July | Aug | Sept | Oct | Nov | Dec
---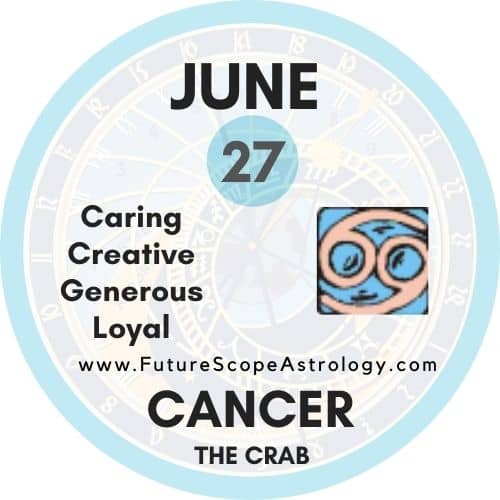 Is your Birthday on June 27 ? Know the Sun Sign, Personality, Compatibility and more….
---
June 27 Zodiac sign
Cancer

June 27 Ruling Planet
Moon
June 27 Element
Water
June 27 Lucky day
Monday
June 27 Lucky Colors
White, Silver
June 27 Lucky Numbers
2, 7, 11, 16, 20, 25
June 27 Birthstone
Pearl , Alexandrite, Moonstone

June 27 Zodiac Compatibility
Most Compatible with Scorpio and Pisces

More about Compatibility
---
June 27 Zodiac Sign: Cancer
For People born on June 27 the Zodiac sign is Cancer.
People born on June 27 are usually are loving and full of emotions. They believe in deep emotional connections with people rather than general socializing. Only chosen few can be a part of their inner circle. They make very good friends. In turn, as a negative note of their personality, they are people a little moody, suspicious and over protective.
The Cancer zodiac sign is usually associated with Monday as its day of the week and White and Silver as its color. Cancer is associated with planet Moon and its related element is 'Water'.
Famous Cancer Zodiac Celebrities
---
What Does your Birthdate Say About you
Jan | Feb | Mar | Apr | May | June | July | Aug | Sept | Oct | Nov | Dec
---
June 27 Birthday: Personality
June 27 Birthday Positive Traits:
Caring
Loyal
Protective
Intuitive
Creative
Family Oriented
Generous
June 27 Birthday Negative Traits:
Moody
sensitive
Sometimes Vindictive
Suspicious
Insecure
Pessimistic
June 27 Birthday: Personality
This is the birthday of people with a cocky character who argue. Sometimes, proving their opinion, they do not worry about how right they are, everything outweighs the desire to win the dispute.
These people love independence, freedom, independence, they are painfully experiencing any restrictions, so they often leave their parents' homes very early.
Born 27 June often have a tendency to change places and are very fond of traveling. In financial matters, they are usually lucky, but they need to be very careful in choosing business partners.
Born 27 june firmly believe that in order to succeed in the attack you must first properly build the defense. They are always extremely worried about the integrity of their personal possessions, whether it is a personal business or a family.
They dare to take risky measures only when they are convinced that nothing threatens their personal territory.
As soon as their guiding light is lit, they are striving with all their might to achieve their goals, and no obstacles and failures can force them to turn off their chosen course.
Undoubtedly, those born on June 27 are selfless, stubborn and determined individuals. And this is not surprising, since their exceptional focus is supported by a harsh code of honor and high moral convictions.
They rarely doubt the correctness of their actions, because they are firmly convinced of their own infallibility. Their tasks cannot be called universal, they usually set themselves personal tasks.
However, the spirit of rivalry is so strongly developed in those born on June 27 that they recklessly battle opponents or competitors. But still, often this leads to the acquisition of enemies that impede their progress or, even worse, completely crush them.
Their philosophy and attitude towards life does not recognize defeat, which undoubtedly has its advantages. However, such confidence can lead to the danger of turning people born on this day into stubborn people who do not want to accept the bitter truth.
If others begin to protest against such an idea, fix, or, even worse, subject those who were born on this day to constructive criticism, the latter become self-absorbed and go into confusion to advance prepared defensive positions.
One of the main character traits born on June 27 is their irresistible desire to protect and protect not only themselves, but also all close people: friends, their family, all close in spirit. However, sometimes they show excessive aggressiveness towards others.
As a rule, they have the ability to maneuver so deftly between defense and attack that they can only be envied. Born June 27, born merchants, they have brilliant trading abilities. They can easily sell pasta to Italians, and ice to Eskimos.
As people deeply devoted to their ideas, once they have formulated the principles of morality for themselves, having determined hard life guidelines, they become simply obsessed with the desire of everyone and everyone to convince them of the infallibility of their judgments.
Born 27 June, themselves extremely sensitive, also sensitive to the emotional experiences of others.
However, people around often believe that such unshakable and self-confident and natures absolutely do not need anyone's sympathy and compassion, and therefore they reciprocate very rarely.
For those born on June 27, the path to the development and acquisition of higher spirituality is difficult and long. It is possible that only a strong shock or achievement of any extraordinary success will make them stop and take up the understanding of what has been passed. Fortunately, they always remain open to spiritual growth and change.
---
June 27 Birthday : Compatibility with other Zodiac Signs
People born on June 27 have Cancer Sun Sign.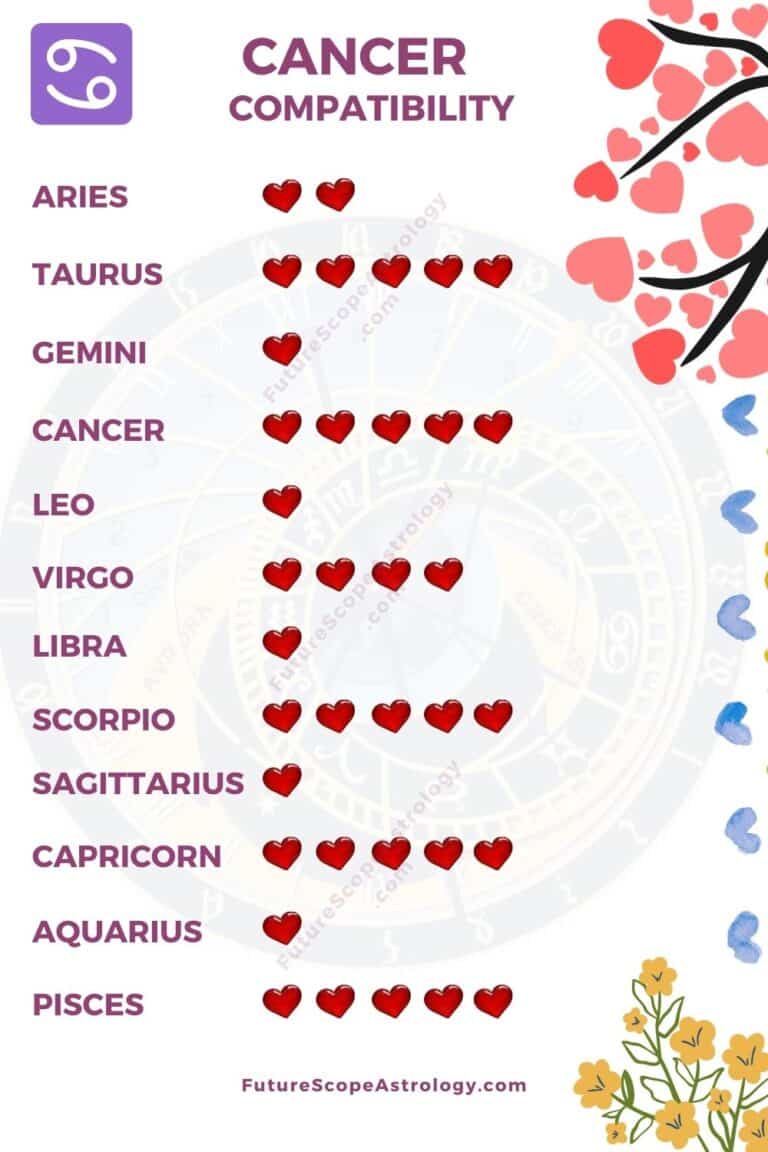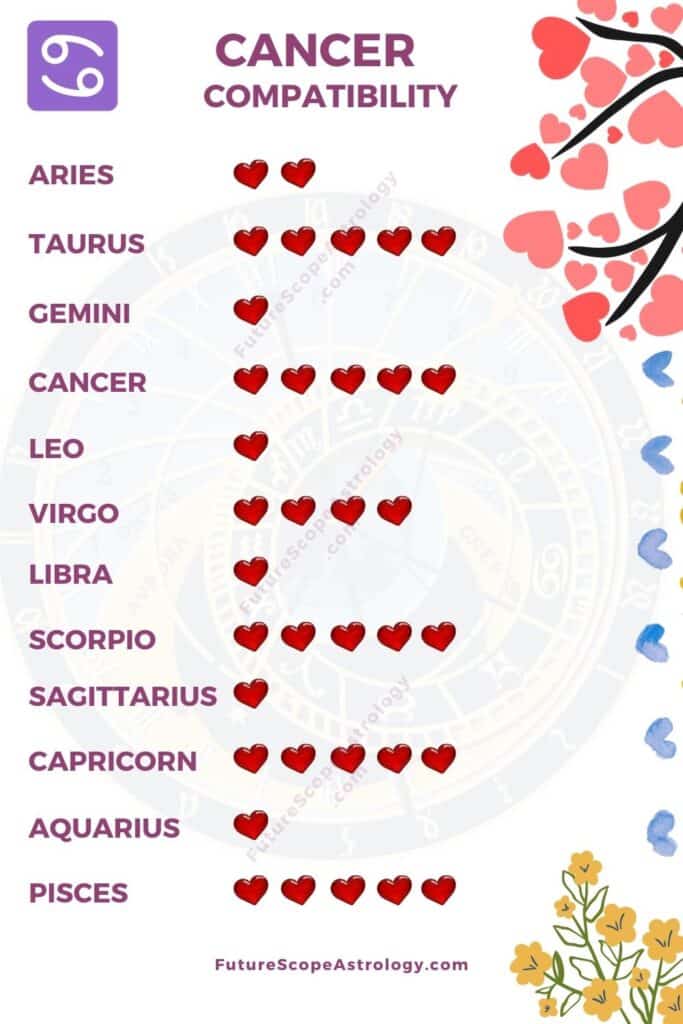 Zodiac Signs Most Compatible with 27 June birthday (Cancer)
The zodiac signs best match for people with Cancer Zodiac are
Taurus (86%)
Cancer (85%)
Virgo (75%)
Scorpio (88%)
Capricorn (78%)
Pisces (82%)
Cancer is a water sign. Scorpio and Pisces are also water signs. Hence, Scorpio and Pisces are best Compatible with people with Cancer Zodiac sign.
---
Zodiac Signs Incompatible with 27 June birthday (Cancer)
Zodiac signs incompatible with Cancerians are:
Aries (38%)
Gemini (30%)
Leo (33%)
Libra (32%)
Sagittarius (32%)
Aquarius (30%)
---
27 June : Zodiac Love Compatibility
In love relationship, following zodiac signs are most compatible with Cancer
Taurus
Cancer
Virgo
Scorpio
Capricorn
Pisces
Click here to check the compatibility of Cancer with various other Zodiac Signs.
---
June 27 Birthstone: Moonstone, Alexandrite, Pearl
Moonstone, Pearl , Alexandrite are the birthstones for those born on 27 June.
1. Alexandrite:
This gemstone is known for its amazing ability to change color depending on the light source. It can go from a deep green to a purplish hue, making it a very unique and special choice for June birthdays.
Alexandrite is said to promote self-confidence and creativity.
2. Moonstone:
Moonstone gets its name from the way it seems to glow in the moonlight. It has a pearly sheen that makes it look almost like it's glowing from within. Moonstone is thought to bring good luck and harmony.
3. Pearls:
Pearls are a symbol of purity and innocence.
Each of these stones has its own unique properties and meanings.
Know More about June 27 Birthstone (Moonstone, Alexandrite, Pearl ) …
---
June 27 Birthday : Health
Those Born 27 June are often too strict for themselves. More sane individuals make attempts to change this position.
Exercise is extremely useful to these people, but not in their classic version. Useful yoga, qigong, tai chi, swimming – everything that reduces muscle tension and removes energy blockade. Born 27 June, if they are not professional athletes, should not engage in competitive sports.
---
Advice for People Born on June 27
Periodically try to resort to self-esteem, review your judgments. Try to relax, listen to others. Try to adequately evaluate your opponent, in situations where it is necessary, be able to admit your wrong.
Plan your way to the heights of spiritual development and follow it.
---
Know about Zodiac Signs:
Aries, Taurus, Gemini, Cancer, Leo, Virgo, Libra, Scorpio, Sagittarius, Capricorn, Aquarius, Pisces