June 29 Zodiac (Cancer) Birthday
Personality, Zodiac Sign, Compatibility, Ruling Planet, Element, Health and Advice
Jan | Feb | Mar | Apr | May | June | July | Aug | Sept | Oct | Nov | Dec
---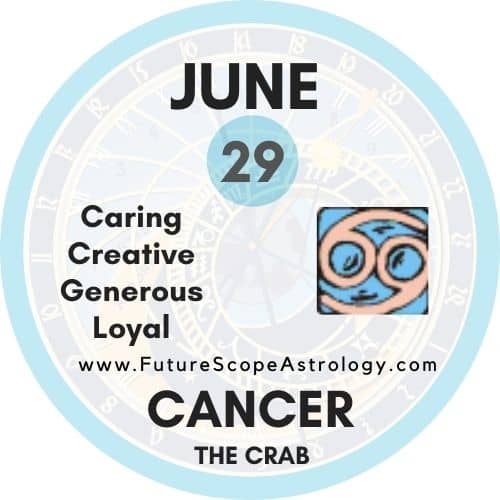 Is your Birthday on June 29 ? Know the Sun Sign, Personality, Compatibility and more….
---
June 29 Zodiac sign
Cancer

June 29 Ruling Planet
Moon
June 29 Element
Water
June 29 Lucky day
Monday
June 29 Lucky Colors
White, Silver
June 29 Lucky Numbers
2, 7, 11, 16, 20, 25
June 29 Birthstone
Pearl , Alexandrite, Moonstone

June 29 Zodiac Compatibility
Most Compatible with Scorpio and Pisces

More about Compatibility
---
June 29 Zodiac Sign: Cancer
For People born on June 29 the Zodiac sign is Cancer.
People born on June 29 are usually are loving and full of emotions. They believe in deep emotional connections with people rather than general socializing. Only chosen few can be a part of their inner circle. They make very good friends. In turn, as a negative note of their personality, they are people a little moody, suspicious and over protective.
The Cancer zodiac sign is usually associated with Monday as its day of the week and White and Silver as its color. Cancer is associated with planet Moon and its related element is 'Water'.
Famous Cancer Zodiac Celebrities
---
What Does your Birthdate Say About you
Jan | Feb | Mar | Apr | May | June | July | Aug | Sept | Oct | Nov | Dec
---
June 29 Birthday: Personality
June 29 Birthday Positive Traits:
Caring
Loyal
Protective
Intuitive
Creative
Family Oriented
Generous
June 29 Birthday Negative Traits:
Moody
sensitive
Sometimes Vindictive
Suspicious
Insecure
Pessimistic
June 29 Birthday: Personality
This day gives birth to friendly people with a cheerful character. They are distinguished by self-confidence, ambition, and are able to make decisions quickly.
Due to the vibrations of this day, all the features inherent in the character of a person are multiplied.
Thus, the tendency to trust people turns into naivety, a craving for flattery, and often leads to the resulting troubles. People who were born on this day have innate charisma and charm.
Born 29 June often achieve great success in creativity or in scientific activity. Moreover, they hardly perceive any criticism addressed to them, sharply react to comments, which is why it is difficult with them in family life.
This is partly offset by the fact that they have no problems in the material sphere.
People born 29 June love "soar in the clouds", and often the main goal of their life becomes the realization of their cherished dream.
Oddly enough, in most cases they really manage to put their ideas into practice, and even infect others with their fantasies. These people subtly feel others and successfully realize not only their own, but also other people's desires.
Fortunately, the financial condition of those born on June 29 allows you to do all this. Whatever these people do, they always delve deeply into the subject of their activity. True, unfortunately, it is sometimes difficult for them to express their proposals and intentions.
Nevertheless, those born on June 29 always achieve impressive successes in work, while the apparent ease with which they do this is truly impressive.
Born 29 June do not accept the lie, immediately recognize the slightest falsity and are ardent fighters for the truth.
They are supporters of lofty goals, and they have no doubt that their achievement will help make the world a better and cleaner world. Often people who came to light on this day are very religious.
They are able to be content with little and do not pursue personal gain. They enjoy nature, love to sing and dance. They are active, move a lot, radiate cheerfulness and always bring a lot of noise with them, wherever they appear.
These people rarely talk about their moral principles, which makes some seem superficial and frivolous. Indeed, it may seem that those born on June 29 behave like children: even in adulthood, they remain spontaneous and simple.
But at the same time, they earn excellent money and skillfully manage their income, achieve certain heights in commercial activity. True, there is a danger: if they focus too much on business, they can become cynical and lose all their lightness and cheerfulness.
Born June 29 as a business partner, they are very good, as they think not only about themselves, they are able to work for the good of the team.
If they know that it is in their power to make others happy, they will do everything possible to make it that way, receiving true satisfaction from the joy of those around them.
---
June 29 Birthday : Compatibility with other Zodiac Signs
People born on June 29 have Cancer Sun Sign.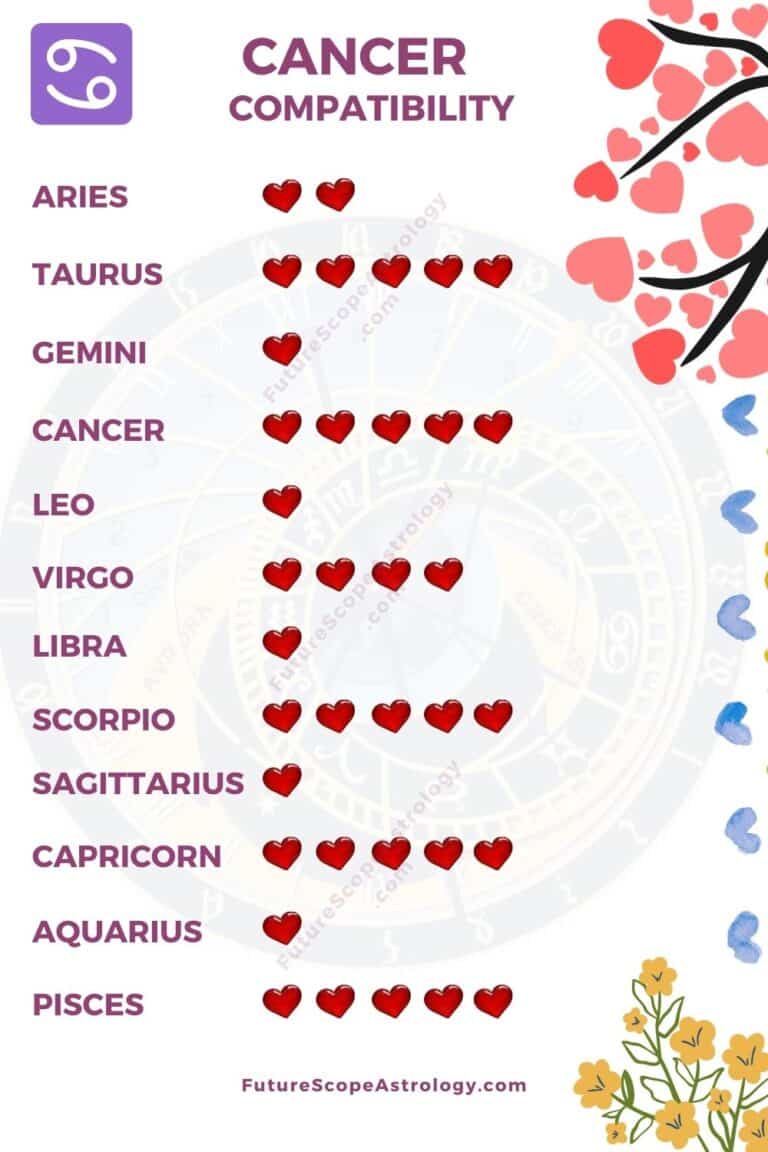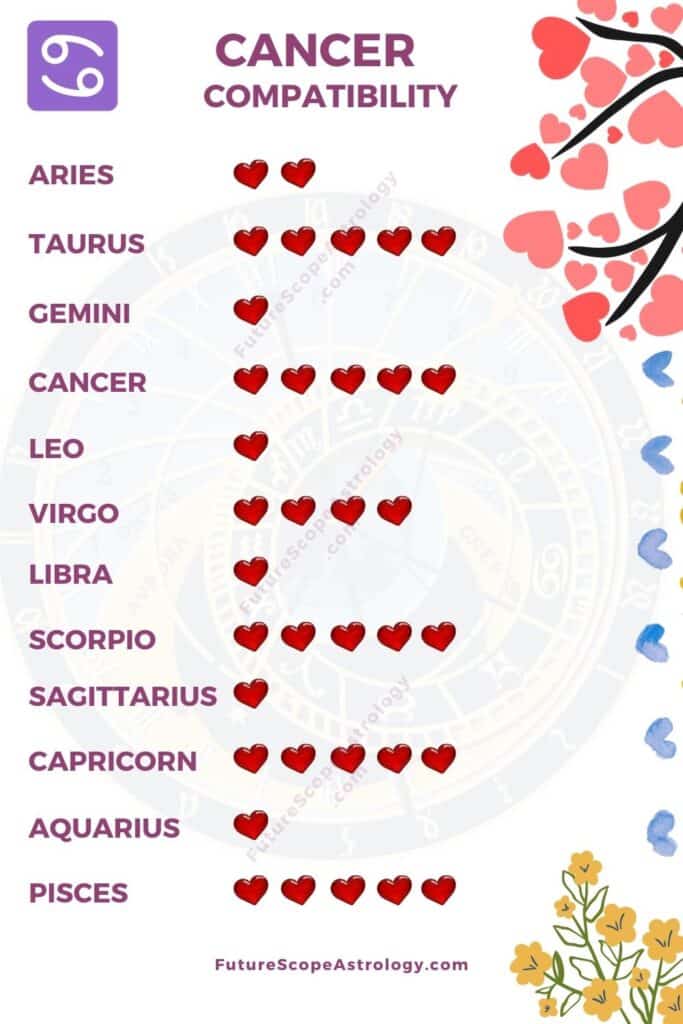 Zodiac Signs Most Compatible with 29 June birthday (Cancer)
The zodiac signs best match for people with Cancer Zodiac are
Taurus (86%)
Cancer (85%)
Virgo (75%)
Scorpio (88%)
Capricorn (78%)
Pisces (82%)
Cancer is a water sign. Scorpio and Pisces are also water signs. Hence, Scorpio and Pisces are best Compatible with people with Cancer Zodiac sign.
---
Zodiac Signs Incompatible with 29 June birthday (Cancer)
Zodiac signs incompatible with Cancerians are:
Aries (38%)
Gemini (30%)
Leo (33%)
Libra (32%)
Sagittarius (32%)
Aquarius (30%)
---
29 June : Zodiac Love Compatibility
In love relationship, following zodiac signs are most compatible with Cancer
Taurus
Cancer
Virgo
Scorpio
Capricorn
Pisces
Click here to check the compatibility of Cancer with various other Zodiac Signs.
---
June 29 Birthstone: Moonstone, Alexandrite, Pearl
Moonstone, Pearl , Alexandrite are the birthstones for those born on 29 June.
1. Alexandrite:
This gemstone is known for its amazing ability to change color depending on the light source. It can go from a deep green to a purplish hue, making it a very unique and special choice for June birthdays.
Alexandrite is said to promote self-confidence and creativity.
2. Moonstone:
Moonstone gets its name from the way it seems to glow in the moonlight. It has a pearly sheen that makes it look almost like it's glowing from within. Moonstone is thought to bring good luck and harmony.
3. Pearls:
Pearls are a symbol of purity and innocence.
Each of these stones has its own unique properties and meanings.
Know More about June 29 Birthstone (Moonstone, Alexandrite, Pearl ) …
---
June 29 Birthday : Health
People born on June 29, care about balance and harmony in their lives, do not forget not only to work, but also to relax.
But they are too prone to empathy, as a result of which they are too susceptible to other people's psychological problems, as well as physical illnesses.
This is most clearly manifested, in particular, in those who are in a dependent position on others. A person who is held hostage in such a situation needs to open his eyes as soon as possible, otherwise this is fraught with serious health problems.
They benefit from physical exercises, especially those related to breathing control – yoga, running, dancing, swimming, and vocals.
---
Advice for People Born on June 29
People whose birth date is on this day should listen less to the point of view of others. They do not need to fear independence and should often take their own initiative.
They need to learn to find a common language with people, many of whom may prove very useful in the future. It is recommended to develop speech and persuasiveness.
---
Know about Zodiac Signs:
Aries, Taurus, Gemini, Cancer, Leo, Virgo, Libra, Scorpio, Sagittarius, Capricorn, Aquarius, Pisces