November 9 Zodiac (Scorpio) Birthday
Personality, Birthstone, Compatibility, Zodiac Sign, Ruling Planet, Element, Health and Advice
Jan | Feb | Mar | Apr | May | June | July | Aug | Sept | Oct | Nov | Dec
---
Is your Birthday on November 9 ? Know the Sun Sign, Personality, Compatibility and more….
November 9 Zodiac sign
Scorpio
November 9 Birthstone
Topaz, Citrine
November 9 Ruling Planet
Mars
November 9 Element
Water
November 9 Lucky day
Tuesday
November 9 Lucky Colors
Red, Scarlet, Rust
November 9 Lucky Numbers
9, 18, 27
November 9 Zodiac Stone
Topaz
November 9 Zodiac Compatibility
Most Compatible with Pisces and Cancer
More about Compatibility
Those born on November 9 are independent, determined and trustworthy. You are persistent towards your goals.
You tend to be secretive at times.
Your Zodiac sign is Scorpio and the astrological symbol is 'Scorpio'. You are loyal, intuitive, protective and independent.
The planet Mars influence your life.
Your lucky element is water. This endows you with creativity, adjusting nature and intuition. You can be emotional at times and follow your dreams with passion.
---
November 9 Zodiac Sign: Scorpio
For People born on November 9 the Zodiac sign is Scorpio.
Scorpions are brave, loyal, honest, intelligent and are great advisers. In turn, as a negative note of their personality, they are somewhat suspicious, a little envious and at times possessive.
The Scorpio zodiac sign is usually associated with Tuesday as its day of the week and Red as its color. Scorpio is associated with planet Mars and its related element is 'Water'.
---
Traits of a person born on November 9 ?
November 9 Birthday Positive Traits
November 9 Birthday Negative Traits
Brave
Loyal
Ambitious
Honest
Independent
Intuitive
Passionate
Curious
Secretive
Possessive
Jealous
Stubborn
Dominating
November 9 Birthday Positive and Negative Traits
Those born on November 9 are full of initiative, great ideas and love to be known by others. They have the ability to handle difficult situations very well.
They are adaptable and can adjust to any circumstances.
They are Honest and trustworthy. They are unable to lie and will always tell you the truth, with the risk of hurting you for being too frank.
As a friend, they are loyal and sincere. You can call them at any time of day or night, they will always answer. They can keep secrets very well. They are attentive listeners and help you find solution.
They are passionate individuals ! They are lively and life cant be boring with them. They are courageous and love adventures.
They are quite determined. Once they decide upon something, they will do whatever it take to achieve it.
They are very attached to their near and dear once. They establish strong bonds with people, so much so that they are able to feel intense emotions.
---
November 9 Birthday: Personality
November 9 Birthday (Scorpio) : Strengths
✓ Determined
Determination is one of the best known characteristics of Scorpio. When a Scorpio wants something, they take it and don't stop. There isn't much that can stop someone born in this sign once they have their mind set on something, and have unmatched focus on pursuing a goal.
✓ Brave
There is no one better than a Scorpio to have by your side during a difficult time. They are in danger without thinking twice, and are always the first to volunteer for difficult tasks. Especially when it comes to helping family and friends, this sign's personality means they are the first to jump and defend themselves.
✓ Loyal
If a Scorpio engages with someone or something, they stick with it. Their trust is hard to earn, but once they trust someone, they fully dedicate themselves to that person and apply their classic determination to support friends, family and colleagues.
✓ Honest
Scorpios are honest through and through. They always tell the truth, no matter how, and they hate dishonesty in others. They can't even stand people who steal and cheat, because they are as honest with themselves as they are with others.
✓ Ambitious
Scorpions are known to be ferocious. They are adamant in achieving their goals and keep them on their feet. They don't see or set limits on their life, and they don't allow anyone to tell them that something they want isn't possible.
November 9 Birthday (Scorpio) : Weaknesses
✗ Jealous
Scorpios feel everything intensely, even jealousy. They are quick to feel jealous because they think their determination and intelligence gives them the right to get what they want.
They find it difficult not to compare the achievements of others with their own, and they think that everything is a competition.
✗ Secretive
Scorpios never show their cards. They are incredibly honest, but they don't like to show any vulnerability, especially to people they aren't sure about.
They tend to keep their feelings to themselves, as well as their plans and ideas, so when it comes to winning the chess game of life, Scorpio has an edge.
However, this also makes them difficult to treat as people.
✗ Resentful
When someone else gets something Scorpio wants, we know they might be jealous. But beyond that, no one holds a grudge like that of a Scorpio.
They take betrayals and setbacks seriously, and often find themselves angry with others for perceived shortcomings.
✗ Controlling Nature
Scorpios like to be in control. Their ferocity and intensity means they think they know what's best for everyone.
Scorpio also hates being controlled by others and needs control over all situations.
✗ Stubborn
Stubbornness can be a useful trait, as it means Scorpios are firm and stick to their principles.
However, they are also slow to change their ways and ideas, and don't like compromises. They notice what they think and like, and are not easily convinced to try new things.
November 9 Birthday: Overall Personality
On this day strong, strong-willed, decisive people are born. They are closed and usually difficult to converge with people. They have practically no friends. They repel themselves from themselves with their isolation and gloom.
They need to be more friendly and open. And then they can make friends, because people will realize that they are wonderful friends who will help, support and not betray.
Natural perseverance, a sharp mind and a strong will to win help them achieve a high position and financial well-being in life.
People born on November 9, are faced with a strong temptation to devote themselves to the moment, all kinds of earthly pleasures, to engage in the relentless search for empirical heights.
They are often completely in the grip of the pleasure that they are currently indulging in, and therefore are not sufficiently aware of what dark forces can act behind them.
For those who were born on this day, the most important and potentially beneficial task is to boldly look into your eyes, and also learn how to channel your remarkable talents and energy that pours over the edge in a constructive and constructive way.
Temptation, as such, runs a red thread through the lives of those born on November 9, putting before them such intractable dilemmas as the ratio of upbringing and mature experience, social and personal morality, and others. Usually, ethical instincts are well developed on this day, so when they sin, they are well aware of this.
Nevertheless, some of those born on this day can go so far as to be able to receive satisfaction, intellectual and physical, only in dangerous, dark and directly illegal cases. A very strong positive moment in the life of these complex people is the joy of discovery.
Often their active experiences give them the opportunity to make an important conclusion about themselves and about life in general. Those of them who over the years have developed a penchant for philosophy are able to remain in a state of contemplation and reflection in which they can fully evaluate their actions and make a reasonable decision.
However, even being wise in life experience, those born on this day rarely think in the heat of battle about where they are striving. It is more common for them to do this after the battle, preferably in a relaxed atmosphere.
Born 9 November live "on the verge", and therefore it is important for them to be able to protect themselves. In addition, it is desirable for these people to learn to have respect for others and try to avoid selfish motives in their relationships with them.
Being very sensitive to refusals, those born on this day also run the risk of withdrawing into themselves, being alone with their doubts and fears, and in extreme cases, settling in a world of dark fantasies.
More highly developed personalities born on November 9 use their deepest relationships with the dark side to understand life and the Universe, and, importantly, they know how to share this knowledge with others.
The most serious danger for them is to stay still (especially in the physical and material plane), and for this reason they should set themselves the highest possible moral and ethical goals.
---
November 9 Birthday Love and Compatibility
Those born on November 9 are passionate and romantic to the core. They take relationships seriously. They are capable of unconditional love and dedication.
They are careful in treading in the matters of heart. They will take time to understand the person fully before they commit to the relationship.
They tend to be super secretive about their feelings. It will take lot of effort to get them to express their emotions.
Once they have identified their soulmate, they jump all in into the relationship.
They are sincere and dedicated towards their partner and expect the same from their them. Any sign of deceit will make them recede from the relationship. They are trustworthy and empathetic towards their partner.
It is very hard for them to handle a breakup. They will recede to loneliness for some time.
November 9 Birthday Compatibility with other Zodiac Signs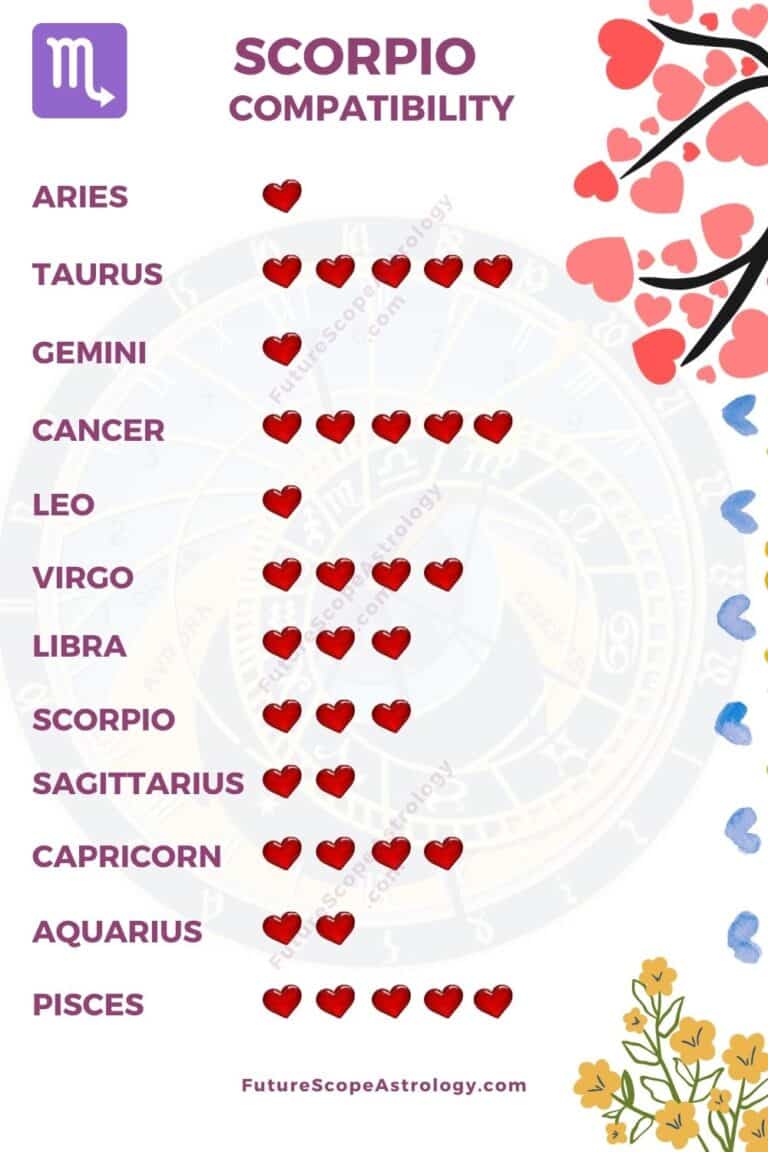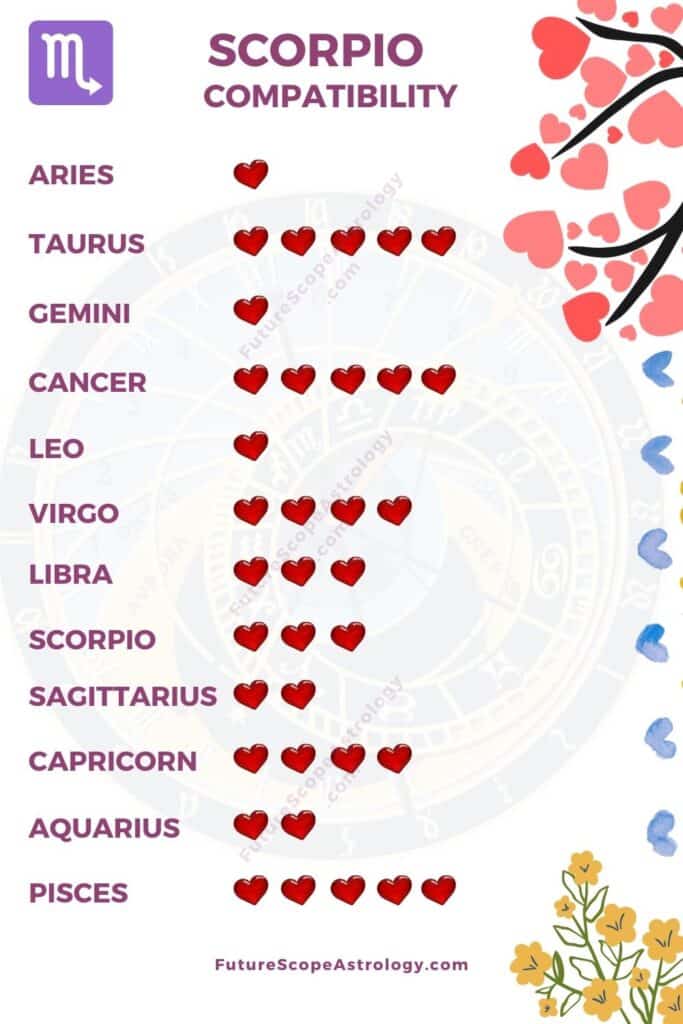 Compatibility chart of Scorpio clearly shows Scorpio Compatibility with other zodiac signs.
Zodiac Signs Most Compatible with November 9 Birthday (Scorpio)
The zodiac signs best compatible with Scorpio are
Taurus (82%)
Cancer (88%)
Virgo (75%)
Capricorn (72%)
Pisces (82%)
Scorpio is a water sign. Cancer and Pisces are also air signs. Hence, Cancer and Pisces are best Compatible with Scorpio.
Zodiac Signs Moderately Compatible with November 9 Birthday (Scorpio)
Zodiac signs moderately compatible with Scorpio are:
Zodiac Signs Incompatible with November 9 Birthday (Scorpio)
Zodiac signs incompatible with Scorpio are:
Aries (33%)
Gemini (20%)
Leo (33%)
Sagittarius (38%)
Aquarius (37%)
November 9 Birthday : love compatibility
Taurus
Cancer
Virgo
Capricorn
Pisces
People with November 9 Birthday have Scorpio Sun Sign. Click here to check the compatibility of Scorpio with various other Zodiac Signs.
---
November 9 Birthday : Health
Born 9 November, sooner or later should face emotional instability. The ups and downs can be balanced through a balanced diet and active physical exercise, yoga and meditation will also bring undoubted benefits.
As for food, it may be necessary to reduce the consumption of yang food (especially meat products) and switch to a predominantly vegetarian diet.
Active activities related to achieving specific goals (gymnastics, mountaineering, surfing, etc.) will be born to November 9 to taste. Good sleep is important, but it should not be used as a run from reality.
---
Advice for People Born on November 9
Develop the spiritual side of your personality. Learn to stay afloat. Surrendering to pleasures, remember their consequences. Look at your life from the side.
Listen to your inner voice and follow your higher nature.
---
Famous people born on November 9th
Those born on November 9th share birthday with there famous people:
MOMO, Pop Singer, November 9 1996
Delta Goodrem, Pop Singer, November 9 1984
Caroline Flack, TV Show Host, November 9 1979 (to Feb 15 2020; Age: 40)
Chris Jericho, Wrestler, November 9 1970
Ryan Murphy, TV Producer, November 9 1965
---
November Birthdays
What Does your Birthdate Say About you
Know about Zodiac Signs:
Aries, Taurus, Gemini, Cancer, Leo, Virgo, Libra, Scorpio, Sagittarius, Capricorn, Aquarius, Pisces