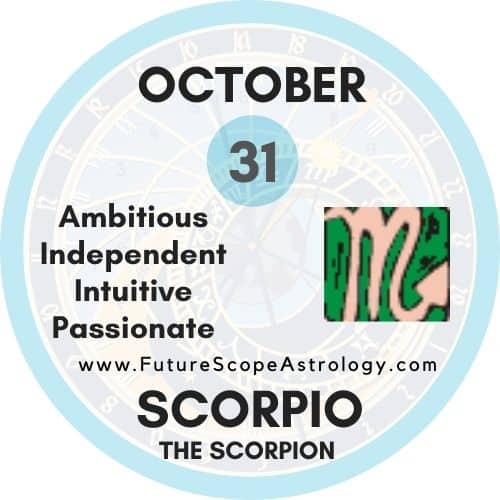 Is your Birthday on October 31 ? Know the Sun Sign, Personality, Compatibility and more…. for people with October 31 Birthday.
October 31 Zodiac sign
Scorpio
October 31 Ruling Planet
Mars
October 31 Element
Water
October 31 Lucky day
Monday
October 31 Lucky Colors
Red, Scarlet, Rust
October 31 Lucky Numbers
9, 18, 27
October 31 Birthstone
Topaz
October 31 Zodiac Compatibility
Most Compatible with Pisces and Cancer
More about Compatibility
October 31 Zodiac Sign: Scorpio
For People born on October 31 the Zodiac sign is Scorpio.
Scorpions are brave, loyal, honest, intelligent and are great advisers.  In turn, as a negative note of their personality, they are somewhat suspicious, a little envious and at times possessive.
The Scorpio zodiac sign is usually associated with Tuesday as its day of the week and Red as its color. Scorpio is associated with planet Mars and its related element is 'Water'.
What Does your Birthdate Say About you
October 31 Birthday: Personality
October 31 Birthday Positive Traits:
Brave
Loyal
Ambitious
Honest
Independent
Intuitive
Passionate
Curious
October 31 Birthday Negative Traits:
Secretive
Possessive
Jealous
Stubborn
Dominating
October 31 Birthday: Personality
On this day, stubborn, restless, complex people are born. They will show interest in mysticism, occultism. They can do healing, extrasensory perception. 
In their life there will be many difficulties, obstacles. Everything will have to be achieved independently, by hard work. They will be able to achieve well-being, success through their efforts.

People born on October 31 are meticulous observers and performers. Their ability to concentrate all their efforts on their goals allows them to penetrate the obstacles that arise in their path – energy like a laser beam makes them unbending in oppositions. 
People born on this day are not aggressive. Their appearance can be sweet and tender. 
They care for their loved ones and are protective of them.
Deep down in their heart, there people are warriors, which sometimes causes a lot of trouble for themselves. Sometimes they think that they attack only when they are provoked. 
In fact, those born on this day have problems due to excessive perseverance. 
The battle, physical or mental, is a recurring theme for those born on this day. The warrior's mentality welcomes the challenge of adverse factors, and they are ready for facing restrictions, hardships and pain. 
Born on this day, can do without amenities and luxury. Also they are able to immediately cope with an unexpected and dangerous situation. Therefore, the training of the mind becomes the main aspect of personality.
Born 31 October never lose ground just like that. They have a critical mind that easily discovers disguises and flaws. They love the work of the "detective" and very often are actively interested in forensics and daring operations. They are attracted to risk, but they are not reckless daredevils. 
Nevertheless, those born on this day are prone to accidents and may even be unlucky at some point in their lives and at first are very worried about this. However, in the face of such a confrontation, they always show amazing decisiveness and turn the fortune in their favor.
People born on October 31 can get annoyed by little things. The basis of their strength is concentration. If you destroy it, then they are embarrassed and become vulnerable in critical situations. 
Born on this day are ready to give everything if they really believe in an idea or a person. 
October 31 Birthday Compatibility with Zodiac Signs
People with October 31 Birthday have Scorpio Sun Sign. Click here to check the compatibility of Scorpio with various other Zodiac Signs.
October 31 Birthday : Health
Born 31 october they are much more likely to care about the health of loved ones and friends than about their own. If they really want to always be on the alert and do what was said above, they need to more carefully monitor their health. In order for them to stay in good shape, they need to eat well and sleep a lot. Born on this day will not hinder the ability to cook, as in this case they will be able to independently regulate a diet based on cereals and vegetables with limited meat consumption. The nature of births 31 october requires active physical exercise; if not done, painful stress can occur. Competitive sports and gymnastics will completely satisfy their needs, but some of them are able to go further and do martial arts: boxing, jujitsu, karate or kung fu. Tai Chi is recommended for acquiring grace, tolerance and control. From a sexual point of view, born October 31 need the release of accumulated energy, but because of their selectivity, they do not often change partners.
Advice for People Born on October 31
Push yourself a little more – achievements are very important. It would be nice to remove the guards so that the one you have been waiting for your whole life has finally entered you. Doubt less, trust more, try to be less critical and avoid disputes, develop diplomacy – this is the key to self-confidence.

Know about Zodiac Signs:
Aries, Taurus, Gemini, Cancer, Leo, Virgo, Libra, Scorpio, Sagittarius, Capricorn, Aquarius, Pisces