March 22 Zodiac (Aries) Birthday
Personality, Birthstone, Compatibility, Ruling Planet, Element, Health and Advice
---
3/22: Aries Zodiac Star Sign
"As an Aries born on March 22nd, you have great organizational skills and a keen eye for detail. Your balanced nature, combined with energy, makes you a beacon of resourcefulness. Yet, handle setbacks with grace and harness your passion wisely to truly soar to greatness."
March 22 Zodiac sign
Aries (Cusp of Aries and Pisces)
March 22 zodiac Symbol
The Ram
March 22 Birthstone
Aquamarine, Bloodstone
March 22 Strengths
Courageous, Passionate, Confident, Determined
March 22 Weaknesses
Aggressive, Competitive, Temperamental, Impulsive
March 22 Ruling Planet
Mars
March 22 Element
Fire
March 22 Lucky day
Tuesday
March 22 Lucky Colors
Red
March 22 Lucky Numbers
9, 18, 27 36, 45, 54, 63, 72, 81
March 22 Zodiac Stone
Ruby, Bloodstone, coral, Jasper
March 22 Zodiac Compatibility
Most Compatible with Leo and Sagittarius

Least Compatible with Scorpio, Virgo, Cancer and Capricorn

More about Aries Compatibility
---
March 22 Aries Horoscope
For People born on March 22 (3/22), the Zodiac sign is Aries.
For you, born on March 22nd as an Aries, your gut feeling often guides your path more than calculated reasoning. Your spirited and spontaneous nature is infectious, making life an exhilarating journey of boundary-pushing. With a vivacious personality that can light up a room, people are naturally drawn to your energy.
The thrill of adventure and exploration courses through your veins, making you someone who truly lives in the moment. Your penchant for risk-taking and embracing challenges head-on is not only commendable but also a source of admiration for many.
Your dynamic nature, combined with your inherent charm, ensures that you are never left unnoticed in a crowd. It's this magnetic pull, driven by genuine excitement and enthusiasm for life, that sets you apart. Always remember, the world looks brighter when viewed through your invigorating lens of limitless possibilities.
---
Traits of a person born on March 22?
March 22 Birthday Positive Traits:
March 22 Birthday Negative Traits:
Courageous
Passionate
Confident
Determined
Honest
Strong Leadership
Generous
Ambitious
Independent
Aggressive
Competitive
Temperamental
Impulsive
Attention Seeking
selfishness
Less Patience
Positive and Negative traits of a person born on March 22
March 22 zodiac people are very good at doing things. Your organizational skills are legendary.
You have a keen eye for detail and you never compromise your principles. Keep the company of like-minded people.
In addition, you have a balanced character. This, combined with your energy and industriousness, makes people consider you very resourceful. People depend on you to get them out of tough situations.
You are trustworthy for people who show you respect. Plus, you have a great analytical mind that helps you solve complex problems in your company.
All these qualities should lead you to greatness. Make sure you are pointed in the right direction!
However, you have some character flaws that you need to polish. Failure to check could hinder your progress.
For example, you are not very good at dealing with loss. Being an Aries, you are often puzzled when things don't go your way.
Also, you lose self-control quite often. Of course, this could be because you are energetic enough. But the world is not that understanding and you have to work on that.
All in all, you have the potential to reach the pinnacle of your company. Use your ability to convert ideas into reality to manage it.
---
What Does your Birthdate Say About you
Jan | Feb | Mar | Apr | May | June | July | Aug | Sept | Oct | Nov | Dec
---
March 22 Birthday : Health
Health of a person born on March 22 can cause envy in many. Energetic from infancy, they do not experience the loss of strength that sooner or later overtakes representatives of other zodiac signs for about thirty years.
A person born on this day perceives his magnificent physical state as if it is eternal and unchanging. Unfortunately, the propensity for excesses in nutrition often leads such people to loss of bodily health.
Due to the confidence of this type of Aries that caring cosmetics, physical exercises, moderation in eating are unnecessary and unsuccessful chores, they can be helped secretly by offering to go with you to the beach, pool, for a walk in the forest or walking the dog. P
eople who celebrate their birthday on March 22 should limit their intake of alcohol, stimulating drinks, fatty and sugary foods, because this will help them preserve the energy of youth and at a respectable age.
---
Advice for People Born on March 22
Advice for success includes a recommendation to get rid of contempt and the desire to humiliate those who have less energy, abandoned their own dreams or met with failure. Avoid your own revenge, give up haste in actions, do not fight the whole world and the natural course of things for it.
Remember that sometimes the result does not appear during the first steps to achieve the goal, but some time after the completion of the case. Learn the art of diplomacy and communicate more with people, because this will help to better understand the motives and mode of action of those around them.
Understanding the motives and principles of communication will help reduce stress on the body.
---
Famous people born on March 22
Those born on March 22 share birthday with there famous people:
Chico Marx, comedian
Composer Stephen Sondheim
Pat Robertson, televangelist
Reese Witherspoon,
William Shatner
Composer Andrew Lloyd Webber
Actor Matthew Modine
Actress Constance Wu
Bernard Plantapilosa, born in 841 – the French son of Septimania
William I, born in 875 – Duke of Aquitaine
Goran Bregovic, born in 1950 – Bosnian guitarist and songwriter
Gog Morton, born in 1996 – Canadian actor
Maria Fernanda Herazo, born in 1997, Colombian tennis player
---
March 22 Birthday Love and Compatibility
March 22 zodiac lovers are passionate as well as impulsive. You are impatient when it comes to matters of the heart. You are motivated to see your passions worn out as soon as possible.
You are hectic and few partners can keep up with your lifestyle. However, when you get an appropriate partner, it will be fireworks!
You are attracted to an Aries mate. However, you can only conquer them if you show as much ambition as they do.
You are likely to fall in love at an early age. You will have interactions with many lovers throughout your life. As such, you may not have time to settle down. However, you will realize the importance of settling down at some point.
The stars indicate that you will settle down with a sincere and elegant lover. By being naturally attractive and charming, you shouldn't have a problem attracting the right kind of partner.
Be careful not to go to extremes as it could create disappointment and heartbreak.
You are more compatible with partners born under the signs of Leo, Aquarius and Sagittarius. Share the same outlook on life with these natives.
This means that you will be able to settle down with them and form a fulfilling relationship. This is more true if they were born on 2, 7, 11, 12, 15, 18, 20, 22 and 31.
As an Aries, you are less compatible with a Pisces, cancer and Scorpio. You don't have much emotional connection with people born under this zodiac sign. A relationship with them is bound to be fraught with trust issues.
March 22 Birthday Compatibility with Zodiac Signs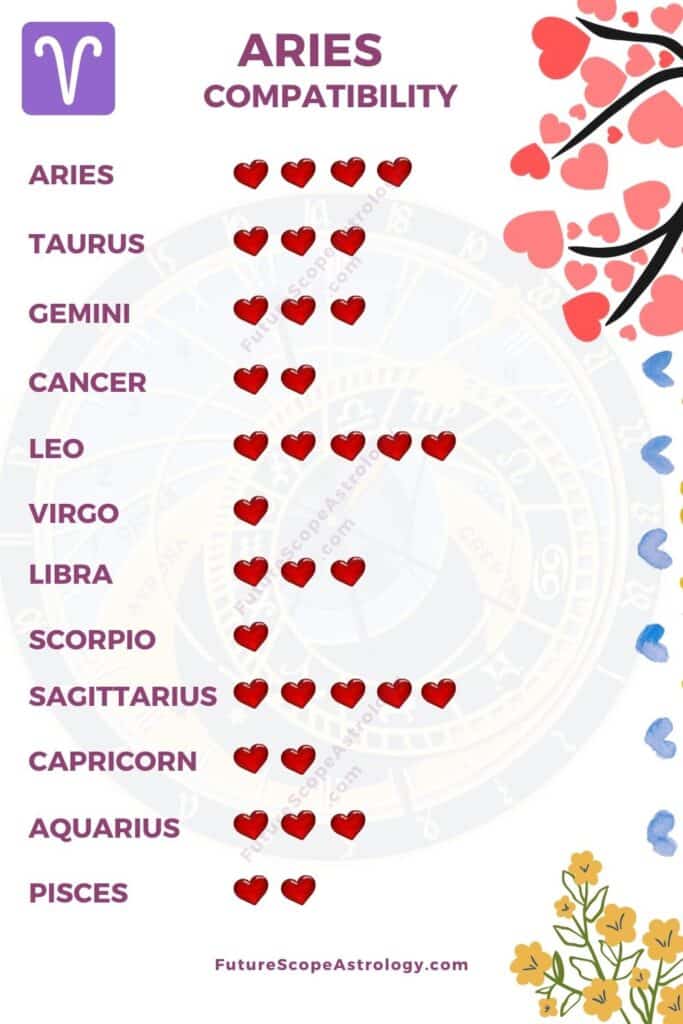 People with March 22 Birthday have sun Sign Aries. Click here to check the compatibility of Aries with various other Zodiac Signs
---
March 22 Birthday : Career
You can excel in executive, middle or senior level positions. You are decisive and this is good for any organization. It is what people need to feel motivated in the workplace.
Your strength is your energy-charged nature. You are well motivated to cut red tape, uncertainty and sloppiness to get the job done on time.
But that also means you're not good in situations that involve diplomacy, negotiation, and complexity.
However, your pure personality serves as a driving force for your colleagues to produce results.
---
What Does your Birthdate Say About you
Jan | Feb | Mar | Apr | May | June | July | Aug | Sept | Oct | Nov | Dec
---
Know about Zodiac Signs
Aries, Taurus, Gemini, Cancer, Leo, Virgo, Libra, Scorpio, Sagittarius, Capricorn, Aquarius, Pisces