March 22 Zodiac (Aries) Birthday
Personality, Birthstone, Compatibility, Ruling Planet, Element, Health and Advice
Jan | Feb | Mar | Apr | May | June | July | Aug | Sept | Oct | Nov | Dec
---
Is your Birthday on March 22 ? Know the Sun Sign, Personality, Compatibility and more….
March 22 Zodiac sign
Aries (Cusp of Aries and Pisces)
March 22 zodiac Symbol
The Ram
March 22 Birthstone
Aquamarine, Bloodstone
March 22 Strengths
Courageous, Passionate, Confident, Determined
March 22 Weaknesses
Aggressive, Competitive, Temperamental, Impulsive
March 22 Ruling Planet
Mars
March 22 Element
Fire
March 22 Lucky day
Tuesday
March 22 Lucky Colors
Red
March 22 Lucky Numbers
9, 18, 27 36, 45, 54, 63, 72, 81
March 22 Zodiac Stone
Ruby, Bloodstone, coral, Jasper
March 22 Zodiac Compatibility
Most Compatible with Leo and Sagittarius

Least Compatible with Scorpio, Virgo, Cancer and Capricorn

More about Aries Compatibility
---
March 22 Zodiac Sign: Aries
For People born on March 22 the Zodiac sign is Aries.
Aries tend to have an impetuous character, who usually have a high sense of duty, they are hard-working people, with an entrepreneurial character and with a lot of energy and vitality. In turn, as a negative note of their personality, they are people who tend to be too possessive and in turn, a bit rebellious and a bit aggressive in character.
The Aries zodiac sign is usually associated with Tuesday as its day of the week and Red as its color. Aries is associated with planet Mars and its related element is 'Fire'.
---
March 22 Birthday : Likes
get into leadership roles,
comfortable clothes,
individual sports,
physical challenges
Aries Like sports and competition. They enjoy adventures and explorations. They are curious and like to learn new things.

They like transparency in dealings. For them, :Honesty is the best policy. "

They are natural leaders and always prefer to lead a project and manage it than to receive instructions.
---
March 22 Birthday : Dislikes
delays,
untapped talent,
idle
Aries hates people who do everything with overwhelming slowness. They are repelled from situations where there is too much explanation.

They really don't like late trains, planes, or car services.

They deeply regret narrow thinking and unanswered texting.
---
Traits of a person born on March 22?
March 22 Birthday Positive Traits:
March 22 Birthday Negative Traits:
Courageous
Passionate
Confident
Determined
Honest
Strong Leadership
Generous
Ambitious
Independent
Aggressive
Competitive
Temperamental
Impulsive
Attention Seeking
selfishness
Less Patience
Positive and Negative traits of a person born on March 22
March 22 zodiac people are very good at doing things. Your organizational skills are legendary.
You have a keen eye for detail and you never compromise your principles. Keep the company of like-minded people.
In addition, you have a balanced character. This, combined with your energy and industriousness, makes people consider you very resourceful. People depend on you to get them out of tough situations.
You are trustworthy for people who show you respect. Plus, you have a great analytical mind that helps you solve complex problems in your company.
All these qualities should lead you to greatness. Make sure you are pointed in the right direction!
However, you have some character flaws that you need to polish. Failure to check could hinder your progress.
For example, you are not very good at dealing with loss. Being an Aries, you are often puzzled when things don't go your way.
Also, you lose self-control quite often. Of course, this could be because you are energetic enough. But the world is not that understanding and you have to work on that.
All in all, you have the potential to reach the pinnacle of your company. Use your ability to convert ideas into reality to manage it.
---
What Does your Birthdate Say About you
Jan | Feb | Mar | Apr | May | June | July | Aug | Sept | Oct | Nov | Dec
---
March 22 Birthday: Personality
March 22 Birthday : Strengths
Those born on 22 March will always be ready to act and will tend to be direct when it comes to expressing themselves . You never have to guess where you are standing with these people as they will always let you know.

These people do not tend to hold a grudge, preferring to air differences quickly and move on in life. Ruled by Mars, the fiery qualities of the ram bring great courage and determination to these natives.

Like anyone else, they can feel fear, but has learned to act anyway, always struggling to overcome limiting beliefs and doubt.

Although highly individualistic, these people can also be very loyal, treating friends as fellow warriors with whom they feel united in life's challenges.

You can count on your them to advocate for you, defend you, and take on any difficult conversations on your behalf to help protect, encourage, and empower you.
March 22 Birthday : Weaknesses
Those born on March 22 are blunt in their speech. This can seem harsh to others.

Since they make ​​quick decisions and acts on a gut urge, they may have trouble being a patient and responsive team player.

Communication is potentially a challenge for them, which may already be out the door when the conversation starts. Although they may benefit from listening to others, they may not enjoy hearing advice, preferring to learn from direct experience.
People born on March 22 fulfill all their plans, skillfully manage large teams, are able to achieve independence in any position and social group, masterfully avoid financial problems, often prefer bodily pleasures rather than spiritual development.
They masterfully seek ways to gain the trust of the right people and love to arouse admiration of others.
Unfortunately, attracting too much attention to themselves, representatives of this type of Aries gather envious around them. The desire to enter the fight, which is caused by the influence of Mars, in this case is perfectly manifested in the rapture that appears in the struggle against envious and ill-wishers building intrigues.
People born on this day are smart, principled, able to control someone else's attention and avoid participating in intrigue. Due to their personal qualities and luck they will not only reveal their unworthy location, but they will be able to defeat him without resorting to vile and low actions.
Mystery of a birthday: lies in the ability to find compromises in solving business problems, talent for attracting money and jewelry, anticipating possible options for the development of complicated situations.
The features of this type of people are self-confidence and the ability to achieve their goals at any cost, not paying attention to failure and failure. It is these character traits that help Aries born on March 22 to become prominent businessmen, corporate leaders and simply rich members of society.
However, this gift for reaching the heights can be manifested both in the sphere of family relations and in achieving professionalism in some form of creative activity.
They always solve their tasks and honestly talk about their achievements. That is why Aries born on this day often despise people who do not like to keep promises, secretive interlocutors, diplomatic and tactful representatives of other zodiac signs, as well as those who are not able to achieve the fulfillment of people's dreams.
This confusion in assessing the motives of people around is based on the fact that representatives of this type of Aries judge the actions of people around them on the basis of their own character.
Tact, diplomacy and non-fulfillment of promises are alien to individuals born at that time, and therefore they accept the manifestation of these feelings as if the aforementioned features of behavior indicated the evil intentions of the interlocutor.
Deception, lies, weaknesses of friends, colleagues and interlocutors are perceived by persons born on March 22 as a personal insult. Such an incorrect interpretation of the behavior of people around us often leads to the fact that Aries fall into rage and anger with an absolutely calm course of life.
Those born on March 22, as a child, choose this model of behavior and create their own ideal image, which they try to confirm with words and deeds. Having decided in youth with their own ideal, which often has the features of a hero and extremely positive qualities, they follow their chosen path all their lives.
Because of the energy and thirst to experience everything that life offers, those born at that time quite early find a thing that arouses in their souls the desire to deal with it until their death.
In some cases, it seems that the secret of their own destiny is known to these Aries from birth, and already at the age of about twenty-five they find the calling and meaning of their own existence.
Always standing firmly on their feet in a spiritual, emotional and material sense, in the following years they can devote themselves to studying hobbies and activities related to their favorite business. Usually, hobbies are associated not only with relaxation, but also with raising professional skills.
This approach to one's own existence is due to the fact that individuals born on March 22 are always faithful to their own beliefs, ideal ideas about themselves and the meaning of their own existence.
---
March 22 Birthday (Aries) : relationship with family and friends
Aries are very loyal to family and friends, although they don't always get close to them on a regular basis. But Aries' more ardent traits can sometimes make it difficult to maintain stability in their relationships.
In families, Aries children are known to be active and steadfast, traits that can cause them to confront their peers and exhaust their parents. Therefore, parents of young Aries must learn at an early age to discipline and effectively manage their children's whims and rebellious nature.
As parents, Aries are loving, selfless and devoted to their children, but they can also be too protective and quick to punish.
When it comes to friendship, it is easy for an Aries to make a lot of friends. That said, the Rams won't bother hanging on to friends who don't respect them (or others). They also enjoy constant stimulation and spontaneity in their friendships, and if those needs aren't met, they move on and start looking for new people to date.
---
March 22 Birthday : Health
Health of a person born on March 22 can cause envy in many. Energetic from infancy, they do not experience the loss of strength that sooner or later overtakes representatives of other zodiac signs for about thirty years.
A person born on this day perceives his magnificent physical state as if it is eternal and unchanging. Unfortunately, the propensity for excesses in nutrition often leads such people to loss of bodily health.
Due to the confidence of this type of Aries that caring cosmetics, physical exercises, moderation in eating are unnecessary and unsuccessful chores, they can be helped secretly by offering to go with you to the beach, pool, for a walk in the forest or walking the dog. P
eople who celebrate their birthday on March 22 should limit their intake of alcohol, stimulating drinks, fatty and sugary foods, because this will help them preserve the energy of youth and at a respectable age.
---
Advice for People Born on March 22
Advice for success includes a recommendation to get rid of contempt and the desire to humiliate those who have less energy, abandoned their own dreams or met with failure. Avoid your own revenge, give up haste in actions, do not fight the whole world and the natural course of things for it.
Remember that sometimes the result does not appear during the first steps to achieve the goal, but some time after the completion of the case. Learn the art of diplomacy and communicate more with people, because this will help to better understand the motives and mode of action of those around them.
Understanding the motives and principles of communication will help reduce stress on the body.
---
Famous people born on March 22
Those born on March 22 share birthday with there famous people:
Chico Marx, comedian
Composer Stephen Sondheim
Pat Robertson, televangelist
Reese Witherspoon,
William Shatner
Composer Andrew Lloyd Webber
Actor Matthew Modine
Actress Constance Wu
Bernard Plantapilosa, born in 841 – the French son of Septimania
William I, born in 875 – Duke of Aquitaine
Goran Bregovic, born in 1950 – Bosnian guitarist and songwriter
Gog Morton, born in 1996 – Canadian actor
Maria Fernanda Herazo, born in 1997, Colombian tennis player
---
March 22 Birthday : Aries Zodiac Horoscope
On March 22, the people of the zodiac are on the Pisces-Aries cusp. This is the cusp of rebirth. Two planets, Neptune and Mars, directly rule your life.
Neptune rules over Pisces, while Mars rules your Aries side. The two planets work together to improve the quality of your life.
For example, the fantastic Neptune gives you power with the imagination, while the ever-active Mars gives you initiative. This combination makes you a resourceful individual. As such, you easily achieve a good number of goals.
The pinnacle of rebirth has allowed you to be generous, independent and enthusiastic when it comes to your finances. While some people may perceive you as being overly bossy, you are supportive of your colleagues and / or employees.
Your astrological chart indicates that your health is fine. However, you are prone to infections involving the eyes, ears, head, and upper body. Take early steps to safeguard these parts of the body.
March 22 birthday: Planetary influence
On March 22, the people of the zodiac are in the 1st decan of Aries. They are in the same category as those born between March 21 and March 30.
The planet Mars plays an important role in this decan. As such, you exhibit traits such as courage, power, and determination. In other words, you show the strongest qualities of Aries.
You have a strong outlook on life. Believe your opinions are the best. As such, you rarely tolerate the ideas of others. Either they follow your way or they go on a journey!
Of course, by now you know that this type of attitude does not bring the desired fruits. Life requires a little more finesse!
The good thing is that you have ambition and a strong drive in life. All you need is to be more open to climax.
---
March 22 Birthstones: Aquamarine and Bloodstone
Aquamarine and bloodstone are the two birthstone for those born on 22 March.
The color of official birthstone for March 22 (Aquamarine) is Blue.
March 22 Birthstone – Benefits of Aquamarine:
Aquamarine heals emotional traumas
Aquamarine releases stress
Aquamarine appeases conflicts
Aquamarine releases suppressed feelings
Aquamarine helps in achieving peace with oneself
Aquamarine helps to deal with fear
Aquamarine provides protection in difficult situations.
March 22 Birthstone – Benefits of Bloodstone:
Bloodstone is also called as Hematite. Following are the benefits of using Bloodstone:
Bloodstone increases vitality and dynamism.
Bloodstone helps in keeping focus.
Bloodstone calm anxiety and panic attacks.
Bloodstone eliminates mental dispersions and overcomes the excessive tendency to dream.
Bloodstone stimulates productions of blood cells. Hence, it is useful to treat anemia.
Bloodstone helps to relieve headache.
Know more about your Birthstone …
---
March 22 Birthday Love and Compatibility
March 22 zodiac lovers are passionate as well as impulsive. You are impatient when it comes to matters of the heart. You are motivated to see your passions worn out as soon as possible.
You are hectic and few partners can keep up with your lifestyle. However, when you get an appropriate partner, it will be fireworks!
You are attracted to an Aries mate. However, you can only conquer them if you show as much ambition as they do.
You are likely to fall in love at an early age. You will have interactions with many lovers throughout your life. As such, you may not have time to settle down. However, you will realize the importance of settling down at some point.
The stars indicate that you will settle down with a sincere and elegant lover. By being naturally attractive and charming, you shouldn't have a problem attracting the right kind of partner.
Be careful not to go to extremes as it could create disappointment and heartbreak.
You are more compatible with partners born under the signs of Leo, Aquarius and Sagittarius. Share the same outlook on life with these natives.
This means that you will be able to settle down with them and form a fulfilling relationship. This is more true if they were born on 2, 7, 11, 12, 15, 18, 20, 22 and 31.
As an Aries, you are less compatible with a Pisces, cancer and Scorpio. You don't have much emotional connection with people born under this zodiac sign. A relationship with them is bound to be fraught with trust issues.
March 22 Birthday Compatibility with Zodiac Signs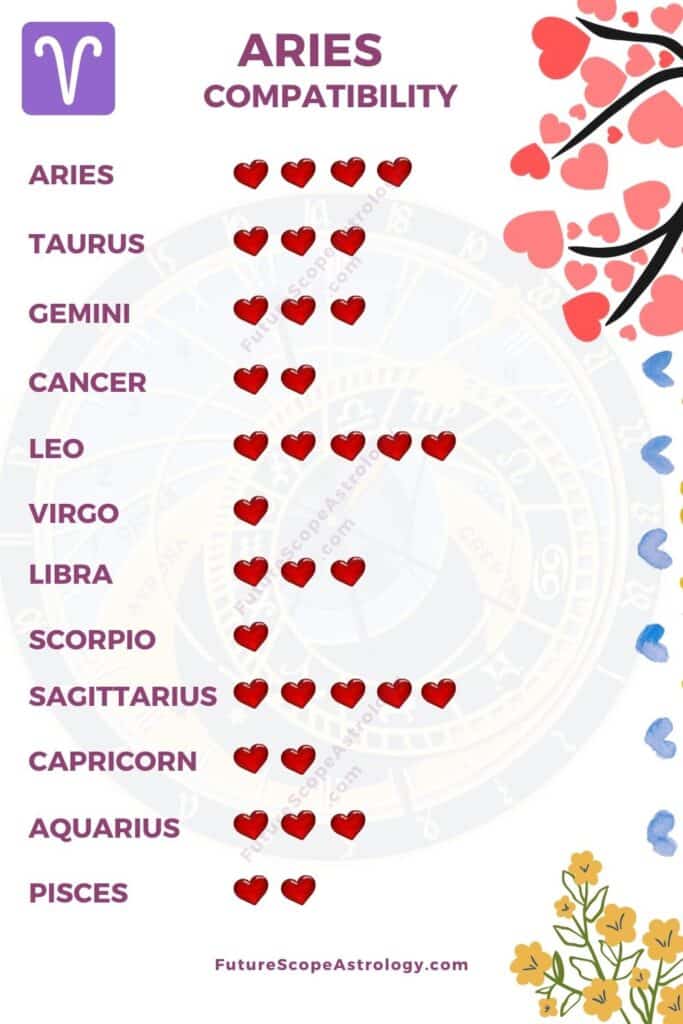 Zodiac Signs Most Compatible with March 22 Birthday (Aries)
The zodiac signs best compatible with Aries are
Aries is a fire sign. Leo and Sagittarius are also fire signs. Leo and Sagittarius are best Compatible with Aries.
Zodiac Signs Moderately Compatible with March 22 Birthday (Aries)
Zodiac signs moderately compatible with Aries are:
Zodiac Signs Incompatible with March 22 Birthday (Aries)
zodiac signs incompatible with Aries are:
Cancer and Scorpio are water signs, while Aries is a fire signs. As all know, water puts fire out. Hence Cancer and Scorpio are not compatible with Aries.
March 22 Birthday : love compatibility
People with March 22 Birthday have sun Sign Aries. Click here to check the compatibility of Aries with various other Zodiac Signs
---
March 22 Birthday : Career
You can excel in executive, middle or senior level positions. You are decisive and this is good for any organization. It is what people need to feel motivated in the workplace.
Your strength is your energy-charged nature. You are well motivated to cut red tape, uncertainty and sloppiness to get the job done on time.
But that also means you're not good in situations that involve diplomacy, negotiation, and complexity.
However, your pure personality serves as a driving force for your colleagues to produce results.
---
Know about Zodiac Signs:
Aries, Taurus, Gemini, Cancer, Leo, Virgo, Libra, Scorpio, Sagittarius, Capricorn, Aquarius, Pisces