August 16 Zodiac (Leo) Birthday
Personality, Zodiac Sign, Compatibility, Ruling Planet, Element, Health and Advice
---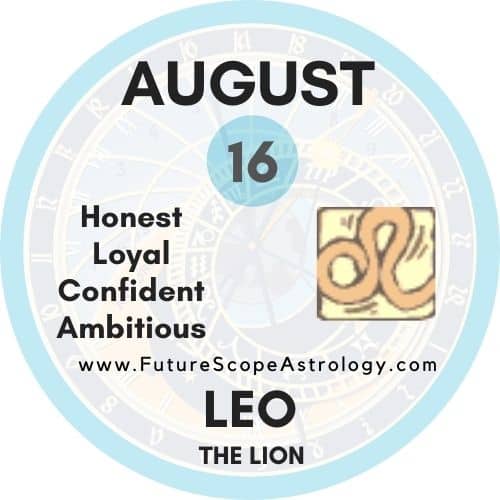 Is your Birthday on August 16 ? Know the Sun Sign, Personality, Compatibility and more….
---
August 16 Zodiac sign
Leo
August 16 Ruling Planet
Sun
August 16 Element
Fire
August 16 Lucky day
Sunday
August 16 Lucky Colors
Orange, Red, Gold
August 16 Lucky Numbers
1, 10, 19, 28
August 16 Birthstone
Ruby, Peridot
August 16 Zodiac Compatibility
Most Compatible with Sagittarius and Aries
More about Compatibility
---
August 16 Zodiac Sign: Leo
For People born on August 16 the Zodiac sign is Leo.
---
What Does your Birthdate Say About you
Jan | Feb | Mar | Apr | May | June | July | Aug | Sept | Oct | Nov | Dec
---
August 16 Birthday: Personality
August 16 Birthday Positive Traits:
Generous
Magnanimous by nature
Loyal
Optimistic
Honest
Leadership
Protective
Confident
Ambitious
August 16 Birthday Negative Traits:
Dominating
Stubborn
Arrogant
Inflexible
Jealous
Constant desire for Recognition
August 16 Birthday: Personality
On this day there are people who are naturally endowed with incredible vitality, energy, longevity, good health. They have courage, independence, their own opinion, while not neglecting the advice of others.
They are able not only to listen, but also to hear, almost always making the right decisions. These people are self-confident, hardworking, motivated and honest. They have developed intuition, which helps them to avoid many mistakes in the future.
These people are loved and treated with great respect. They have a sufficient number of friends and high patrons, thanks to whom their life becomes interesting, filled with happiness, success and good luck.
They always surround their family with attention, love and care, building wonderful and warm relations with them. In such families there is always a complete atmosphere of mutual understanding. In the financial sector, they are able to achieve certain heights and success. They make great businessmen, scientists and politicians.
People born on 16 August can be called real voluptuous people who know how to achieve what they want without committing virtually any rash acts. Almost everything they do is distinguished by a sense of proportion, so that others are willing to contact them. People born on this day have a sparking interest in various forms of sensory manifestation.
Because of the guiding facets of their personality, it is often difficult for them to accept other people's points of view. In conflict situations, they try to achieve victory at all costs, even if for this they have to destroy their enemy or adversary.
These people have a very pronounced desire to concentrate their power within their influence. In those moments when those born on August 16 begin to show themselves, they forget about all the existing boundaries of decency. They are natural in their manners of behavior, never hiding their true emotions.
Silence is unbearable for them, so they need their own audience. Despite the fact that these natures are considered hypersensitive, in reality they are quite thick-skinned, thanks to which they are able to easily withstand any kind of attack – both physical and emotional.
With the same ease, they can overwhelm all those who treat them with hostility. As a result of this, sometimes it turns out that revenge becomes the main cause of many of their actions.
If born 16 August they prefer to take the negative path, they risk falling the victim of their own destructive power. People who were born on this day are not characterized by constancy – they either light up with an idea or cool down.
Unfortunately, the constant search for new sensations can bring the personality to extremes or even distort it. The greatest danger for those born at this time is the loss of their ability to enjoy simple joys or things that at least slightly diverge from conventions. For this reason, they may gradually lose all contact with their near and dear ones.
Despite the fact that their behavior is characterized by antisocial tendencies, they are able to easily find the only niche in which their talents will be useful to society or to the circle where they revolve.
Born on this day have the ability and interest in leadership, but are unlikely to be torn to the appropriate posts, as they do not feel the desire to be responsible for numerous groups of people. Their priority is not control and dominance at all, but rather incitement and seduction.
---
August 16 Birthday : Compatibility with other Zodiac Signs
People born on August 16 have Leo Sun Sign.
Click here to check the compatibility of Leo with various other Zodiac Signs.
---
August 16 Birthday : Health
People born 16 august are particularly prone to various forms of obsessive behavior. For this reason, they need to beware of uncontrolled abuse of sexual relations, as well as drinking and eating.
In addition, they need to reduce the search for thrills, since their very fragile psychological stability risks being destroyed by high energy and excessive sensuality. Those born on this day are not easy to adhere to a measured lifestyle, which, in their opinion, is routine and monotonous.
They are advised to carefully review their existing habits. Thanks to regular exercise and natural nutrition, it is possible to get rid of many problems.
---
Advice for People Born on August 16
Learn to transform your tension in order to use it as energy in everyday tasks. Try to be more condescending to your enemies and try to invest more energy in the development of your inner spiritual life.
---
Know about Zodiac Signs
Aries, Taurus, Gemini, Cancer, Leo, Virgo, Libra, Scorpio, Sagittarius, Capricorn, Aquarius, Pisces