February 3 Zodiac (Aquarius) Birthday
Personality, Birthstone, Compatibility, Ruling Planet, Element, Health and Advice
Jan | Feb | Mar | Apr | May | June | July | Aug | Sept | Oct | Nov | Dec
---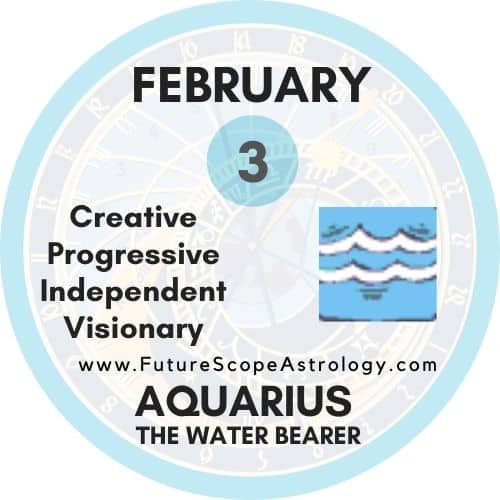 Is your Birthday on February 3 ? Know the Sun Sign, Personality, Compatibility and more….
February 3 Zodiac sign
Aquarius
February 3 Ruling Planet
Saturn, Uranus
February 3 Element
Air
February 3 Lucky day
Saturday
February 3 Lucky Colors
Turquoise
February 3 Lucky Numbers
3, 4, 17, 18 and 22
February 3 Birthstone
Amethyst
February 3 Zodiac Compatibility
Most Compatible with Gemini and Libra
More about Compatibility
---
February 3 Zodiac Sign: Aquarius
For People born on February 3 , the Zodiac sign is Aquarius.

Aquarius tend to have an impetuous character, who tend to be very altruistic and love to help others. In turn, as a negative note of their personality, they are a bit unpredictable and stubborn.
The Aquarius zodiac sign is usually associated with Saturday as its day of the week and turquoise as its color. Aquarius is associated with planet Saturn and its related element is 'Air'.
---
February 3 Birthday: Personality
February 3 Birthday Positive Traits:
Independent
Progressive
Stimulating
Creative
Entertaining
February 3 Birthday Negative Traits:
Lacking in concentration
Rebellious
Impractical
Erratic
February 3 Birthday Personality
On this day, people are born who come to this world to work out karmic debts. Excellent living conditions in childhood can dramatically change for the worse, a person will need to overcome many obstacles in order to succeed.
It may happen that you have to go through betrayal, intrigue and, left alone, to create your own destiny. Such people will be able to create comfortable conditions for themselves, surrounding themselves with luxury and coziness, but they need to be responsible in choosing partners' friends, this will help to avoid many disappointments and problems both morally and materially.
Most people born on February 3 pay great attention to their professional activities. They got used to what they do with ease. They have an excellent sense of time and are able to choose the right moment to advance in business and in love.
This last area represents a "passionate hobby" for them, which is devoted to many hours throughout the working week. Born 3 February are objective about what they can and cannot do.
They may not be brilliant enough to amaze others with their amazing originality, but they know their craft perfectly. Many of them are not punctual, although they are rarely late.
People born on this day are patient and persistent, so they always achieve the once set goal. Since they are frightened off by the very idea of ​​entering into a business relationship, when performing joint work, they only create the appearance that they are an integral part of the team, preferring to act independently.
Men born 3 February can be especially withdrawn. This is probably due to the fact that they tend to non-traditional relationships, especially in the sexual sphere, which is not always encouraged by society.
As for earthly interests, which are dear to ordinary people, those born on February 3 treat them with complete indifference. If the relationship for some reason does not develop, they either terminate it or maintain it at the same level.
Born 3 February in business are lucky and can reach significant heights. However, they quickly spend money and, worst of all, they don't even realize what they spent on, as if money had simply leaked through your fingers. Many of these people find it difficult to achieve stability and constancy in life, and yet with a certain degree of flexibility this can be achieved.
Born 3 february they quickly and easily adapt to the situation, so they are not afraid of changing circumstances and uncertainty. It would seem that a serious rather than frivolous attitude to life could become the core of their relationship with the world, but in reality this happens infrequently.
Dealing with facts, their details, methods of organizing a case, trying and checking the correctness or fallacy of these methods, those born on February 3 must develop a reasonable approach to reality.
A deep understanding of what is happening should be combined with greater stability and self-confidence – this is the only way to balance spiritual and physical needs. Many of these people find it difficult to achieve stability and constancy in life, and yet with a certain degree of flexibility this can be achieved.
---
February 3 Birthday Compatibility with Zodiac Signs
People with February 3 Birthday have Aquarius Sun Sign. Click here to check the compatibility of Aquarius with various other Zodiac Signs.
---
February 3 Birthstone: Amethyst
Amethyst is the birthstone for those born on 3 February.
Amethyst is a violet variety of quartz. The name "amethyst" comes from the ancient Greek word "ametusthos", meaning "not intoxicated", because the Greeks believed that amethyst could protect against drunkenness.
Amethyst is said to bring peace and serenity to its wearer. It is also thought to be a powerfully protective stone and is said to be able to ward off negative energy and protect its wearer from harm.
February 3 Birthstone – Benefits of Amethyst
Amethyst Improves sleep quality
Amethyst supports spiritual growth
Amethyst calms and clears the mind
Amethyst strengthens the immune system
Amethyst detoxifies the body
Amethyst boosts energy levels
Know More about February 3 Birthstone (Amethyst) …
---
February 3 Birthday : Health
Most people born on February 3 are extremely frivolous about their health, so regular medical examinations by the doctor are not unnecessary. The problem is that those born on this day catch up too late or do not think about themselves at all.
As a rule, they eat what they want, when they want, stubbornly resisting any restrictions. While luck is on their side, such a liberal approach to their own health does not cause much trouble. But for the time being, those born on February 3 will not fall into a state of depression.
Born on this day it is difficult to refrain from overeating. They receive sensual pleasure from truly Rabelaisian quantities of food – however, until metabolic problems arise.
---
Advice for People Born on February 3
Stick to the following: try to determine the purpose of your business yourself and do not give up immediately. Restrictions have not harmed anyone. Do not be alarmed by the elements of feelings. Sooner or later, everyone has to make commitments.
---
What Does your Birthdate Say About you
Zodiac Compatibility:
ARIES Compatibility , TAURUS Compatibility , GEMINI Compatibility , CANCER Compatibility , LEO Compatibility , VIRGO Compatibility , LIBRA Compatibility , SCORPIO Compatibility , SAGITTARIUS Compatibility , CAPRICORN Compatibility , AQUARIUS Compatibility , PISCES Compatibility
Tarot for Zodiac:
Tarot For Aries , Tarot For Taurus , Tarot for Gemini , Tarot for Cancer , Tarot for Leo ,, Tarot for Virgo , Tarot for Libra , Tarot for Scorpio , Tarot for Sagittarius , Tarot for Capricorn , Tarot for Aquarius , Tarot for Pisces
Know about Zodiac Signs:
Aries, Taurus, Gemini, Cancer, Leo, Virgo, Libra, Scorpio, Sagittarius, Capricorn, Aquarius, Pisces