January 7 Zodiac Sign (Capricorn) Birthday
Personality, Birthstone, Compatibility, Zodiac Sign, Ruling Planet, Element, Health and Advice
---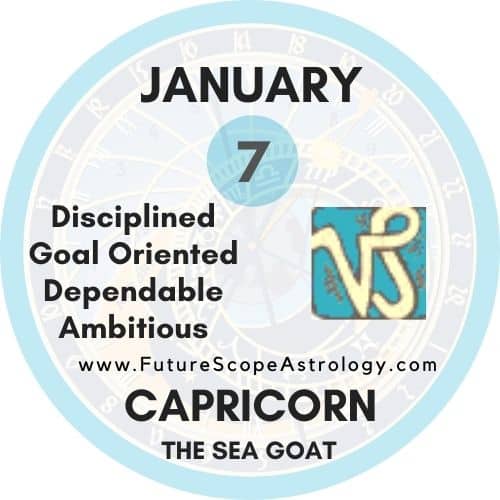 Is your Birthday on January 7 ? Know the Sun Sign, Personality, Compatibility and more….
January 7 Zodiac sign
Capricorn
January 7 Birthstone
Garnet

January 7 ruling Planet
Saturn
January 7 Element
Earth
January 7 Lucky day
Saturday
January 7 Lucky Colors
Black, Indigo
January 7 Lucky Numbers
4, 8, 13, 17, 22, 26, 31
January 7 Zodiac Stone
Turquoise
January 7 Zodiac Compatibility
Most Compatible with Taurus and Virgo .

More about Compatibility
---
January 7 Zodiac Sign: Capricorn
For People born on January 7, the Zodiac sign is Capricorn.
---
What Does your Birthdate Say About you
Jan | Feb | Mar | Apr | May | June | July | Aug | Sept | Oct | Nov | Dec
---
Traits of a person born on January 7
January 7 Birthday Positive Traits
January 7 Birthday Negative Traits
Hardworking
Ambitious
Dependable
Goal Oriented
Disciplined
Persistent
Pessimistic
Stubborn
Unforgiving
Picky
Reserved
January 7 Birthday Positive and Negative Traits
---
January 7 Birthday: Personality
On this day dualistic natures are born, their life will depend on which direction they will go. If they follow the path of evolution, developing their spirituality, then through humility, good deeds, mercy, they will be able to create a happy life for themselves, where they will feel comfortable.
Those born on 7 January often show a very conscious interest in unusual events. Obviously, this is due to the fact that they themselves are very extraordinary personalities. Much more than others, these people are characterized by an idiosyncratic approach to everyday life.
Either because of their inherent irony, or due to a deep insight into the essence of objects and human characters, or simply by using their ability to observe the world around them unbiasedly, those born on January 7 can see many things that are inaccessible to the views of others.
People born on 7 January are not surprised at all by the outstanding abilities of the people with whom they have to communicate, nor by anyone's unique experience, nor by the mysterious natural phenomena that still have not found an explanation.
Sometimes it seems that they meet with it every day and therefore are already comfortable with such impressions. In fact, born 7 January never stop learning from life and highly value all the opportunities provided by it.
As for their relationship with others, they usually realize that even the most ordinary, unremarkable people, are an integral part of the great diversity of nature and have the same "access" to the wealth of the miracle of life, like others (for example , through their imagination or unconscious dreams and aspirations).
Those born on 7 January often well understand how powerful the influence of the subconscious mind on life, behavior and human habits can be.
As for the inexplicable natural phenomena, those born on this day, are able to see and understand the connection between the most seemingly "inconsistent" events, occurring in the world.
Therefore it is much easier for them to accept all kinds of incidents and cataclysms that they encounter without surprise, taking them for granted.
People born on this day are often very sensitive to the external environment. They quickly perceive the surrounding energy influences, especially negative ones. Sometimes they can even be called too susceptible.
That is why it is very important for them to reliably protect themselves from annoying elements of the environment. The most acceptable conditions for them in this regard are stability, moderation and harmony both in public and in personal life.
Those born on 7 January often tend to see something unusual in the most ordinary. Therefore it is unusual for them to perceive abnormal or vicious phenomena as something isolated or requiring condemnation.
They consider them an integral part of life, human nature, a kind of reverse side of the "normal" world. However, they should, if only for reasons of practicality, adhere to accepted patterns of behavior in society and refrain from overly harsh statements of ideas that can cause a negative resonance.
Moreover, they should not forget that, although every person is part of the great miracle of life, not everyone is able to appreciate this. Moreover, not everyone has the desire to live a life as full as they are.
For this reason, it is better for those born on January 7 to leave manifestations of their unusualness for truly close people. As friends or colleagues it is better to choose those who share their interests and also, like themselves, have an increased curiosity for life, human nature, a kind of reverse side of the "normal" world.
---
January 7 Birthday Love and Compatibility
Those born on 7 January are difficult to conquer in love because they are very shy and hesitant in love, despite always appearing strong and decisive. They might seem cold , and not very interested in love, but in reality, even if they are not lovey dovey, they have great feelings.
They are not able to easily express their feelings.
It takes time for Capricorns to warm up in love. Their rather cold nature and seriousness prevent him from rushing into a relationship in a heated or temperamental manner.
This great caution and restraint apply to all areas of their life.
Before they open up, the Capricorn-born must first feel really comfortable in the relationship. Then they will devote themselves selflessly and patiently to their partner.
They want a partner who is reliable. They want to have a family and prefers traditional love. So they will look for stable relationships that can last a lifetime.
They tend to take command of the relationship , as they tend to lead, and will do everything to make it work at its best.
They are generally very faithful in the relationship. They will stand by their partner through the thick and thin.
They can't stand the betrayals. When they get angry , they can end a story, although the memory of their 'ex' will always remain.
When they find the partner, the relationship will mostly last forever.
January 7 Birthday Compatibility with other Zodiac Signs
People with January 7 Birthday have Capricorn Sun Sign. Click here to check the compatibility of Capricorn with various other Zodiac Signs.
---
January 7 Birthday : Health
Being sensitive to the environment, those born on January 7 may show excessive nervousness, which can lead to allergies or fatigue. To maintain the body in shape, a balanced diet with an emphasis on cereals, root vegetables, bread, nuts and vegetables is recommended.
Physical activity is also important, so daily exercise and yoga will be beneficial.
Full-fledged sleep is extremely important for these people, because they need to satisfy their need for fantasies and dreams. But sleep should not be considered as a way to detach from reality and everyday worries.
---
Advice for People Born on January 7
Do not shut yourself off from the world. Find people with whom you can share your thoughts and feelings. Choose a time to relax.
---
Famous people born on January 7th
Those born on January 7th share birthday with there famous people:
Nicolas Cage, Movie Actor (USA), January 7, 1964
Jeremy Renner, Movie Actor (USA), January 7, 1971
Lamar Jackson, Football Player (USA), January 7, 1997
Lauren Cohan, TV Actress (USA), January 7, 1982
Kerri Medders, TV Actress (USA), January 7, 2000
Brett Dalton, TV Actor (USA), January 7, 1983
Millard Fillmore, US President, January 7, 1800 (to March 8, 1874; Age: 74)
Lewis Hamilton, Race Car Driver (UK), January 7, 1985
Robert Sheehan, Movie Actor (Ireland), January 7, 1988
Nadine Leopold, Model (Austria), January 7, 1994
---
What Does your Birthdate Say About you
Jan | Feb | Mar | Apr | May | June | July | Aug | Sept | Oct | Nov | Dec
---
Know about Zodiac Signs:
Aries, Taurus, Gemini, Cancer, Leo, Virgo, Libra, Scorpio, Sagittarius, Capricorn, Aquarius, Pisces