July 10 Zodiac (Cancer) Birthday
Personality, ZodiacSign, Compatibility, Ruling Planet, Element, Health and Advice
---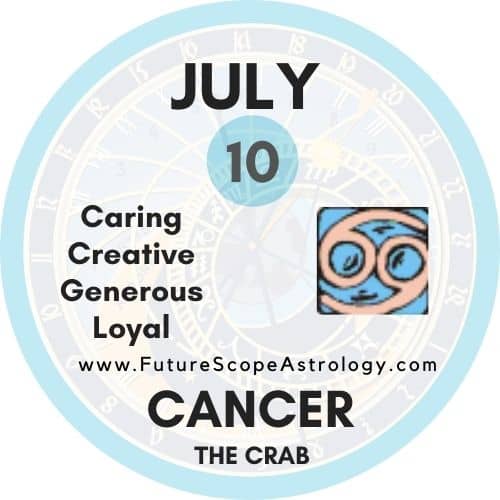 Is your Birthday on July 10 ? Know the Sun Sign, Personality, Compatibility and more….
---
July 10 Zodiac sign
Cancer

July 10 Ruling Planet
Moon
July 10 Element
Water
July 10 Lucky day
Monday
July 10 Lucky Colors
White, Silver
July 10 Lucky Numbers
2, 7, 11, 16, 20, 25
July 10 Birthstone
Ruby

July 10 Zodiac Compatibility
Most Compatible with Scorpio and Pisces

More about Compatibility
---
July 10 Zodiac Sign: Cancer
For People born on July 10 the Zodiac sign is Cancer.
People born on July 10 are usually are loving and full of emotions. They believe in deep emotional connections with people rather than general socializing. Only chosen few can be a part of their inner circle. They make very good friends. In turn, as a negative note of their personality, they are people a little moody, suspicious and over protective.
The Cancer zodiac sign is usually associated with Monday as its day of the week and White and Silver as its color. Cancer is associated with planet Moon and its related element is 'Water'.
---
What Does your Birthdate Say About you
---
July 10 Birthday: Personality
July 10 Birthday Positive Traits:
Caring
Loyal
Protective
Intuitive
Creative
Family Oriented
Generous
July 10 Birthday Negative Traits:
Moody
sensitive
Sometimes Vindictive
Suspicious
Insecure
Pessimistic
July 10 Birthday: Personality
People born on July 10 are endowed with all kinds of talents, courage, hard work and an independent character. They are extremely active, active, courageous. However, they often frivolously risk their lives.
They should be more circumspect and vigilant, since they have the opportunity to be injured in various movements in transport, to fall into the midst of accidents and natural disasters. Out of them come talented musicians, writers, artists and other creative personalities.
Often people born on July 10 throughout their entire life's journey are in a state of indifference, passivity and indifference to their own successes and victories. However, to others, on the contrary, they organically combine kindness, sensitivity and compassion.
These unusual personalities can simultaneously strive for victory and unexpectedly begin to retreat, having achieved certain successes. This character trait often leads others into complete bewilderment. Especially vivid are their visual talents.
Born 10 July, people literally absorb the events and stories from the outside world that interest them and, passing them through their own worldview, they enthusiastically apply them in their works.
Due to the increased vulnerability and emotionality, they do not like to share their inner world with outsiders and open their souls to them.
Outwardly non-initiative, they change dramatically when the question arises of career growth or the achievement of plans: they become extremely active, entrepreneurial and purposeful.
Born July 10, natures looking closely at the world around them, make up their own system of values, which determines their criteria for life. Sometimes they have radical views, a clear position and their own political convictions that do not coincide with the masses.
Due to the fact that they do not have the talent for oratory, convincing people of their views is not their thing. These are mostly quiet and thoughtful people who prefer to listen more and observe others, and if they act, then slowly and deliberately.
Many natures born on July 10 do not like change, and are prone to conservatism. They lead a secretive lifestyle, never show their dignity, do not claim to be luxury.
Their good manners do not allow them swagger, boastfulness, arrogance in behavior.
They try to be always decent and restrained. However, at some points in life, these individuals are very active and impulsive, namely: in the years of youth, youth and early adulthood.
During this period, they are ready to "roll mountains", make important and responsible decisions, make their life choices. Persons born July 10 never give in to express their point of view or make a constructive remark, but they do it extremely correctly.
Sensitive and responsive to other people's problems, they often sacrifice their well-being and plans for the sake of others. Such a life orientation and constant indifference to oneself can harm them and bring enormous moral experience.
Born on July 10 natures need to remember and understand that excessive slowness in solving assigned tasks can lead to collapse.
---
July 10 Birthday : Compatibility with other Zodiac Signs
People born on July 10 have Cancer Sun Sign.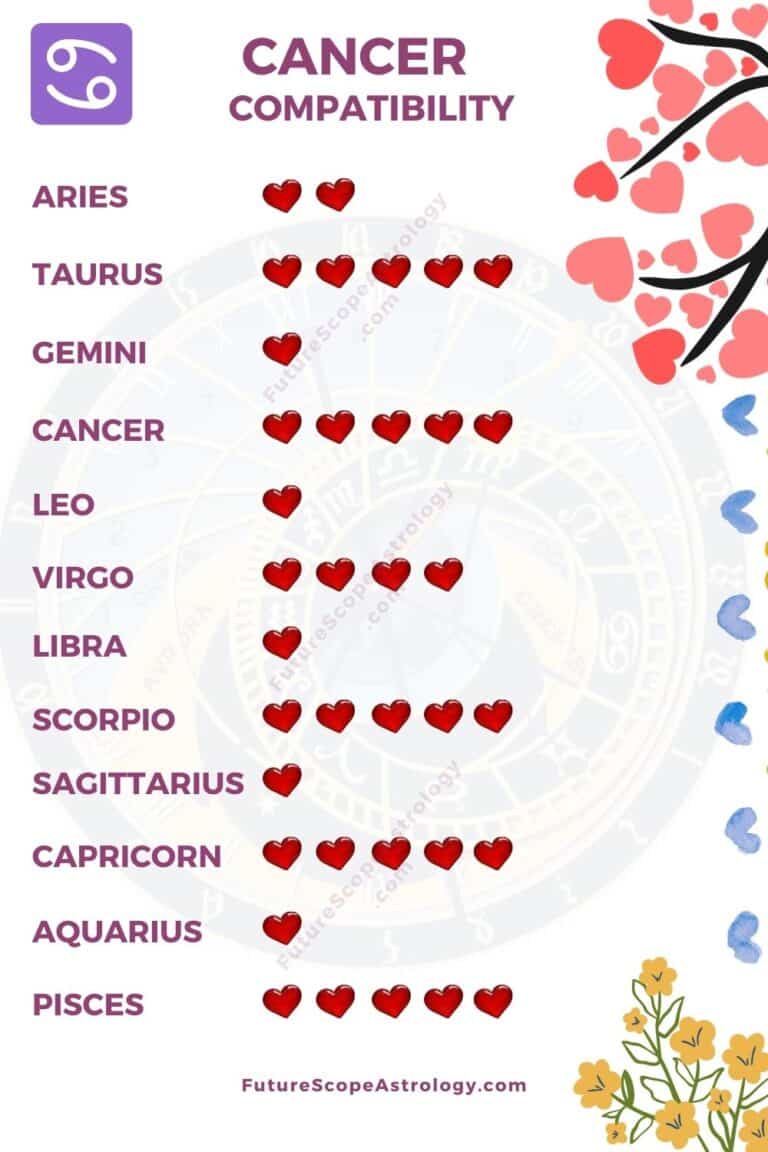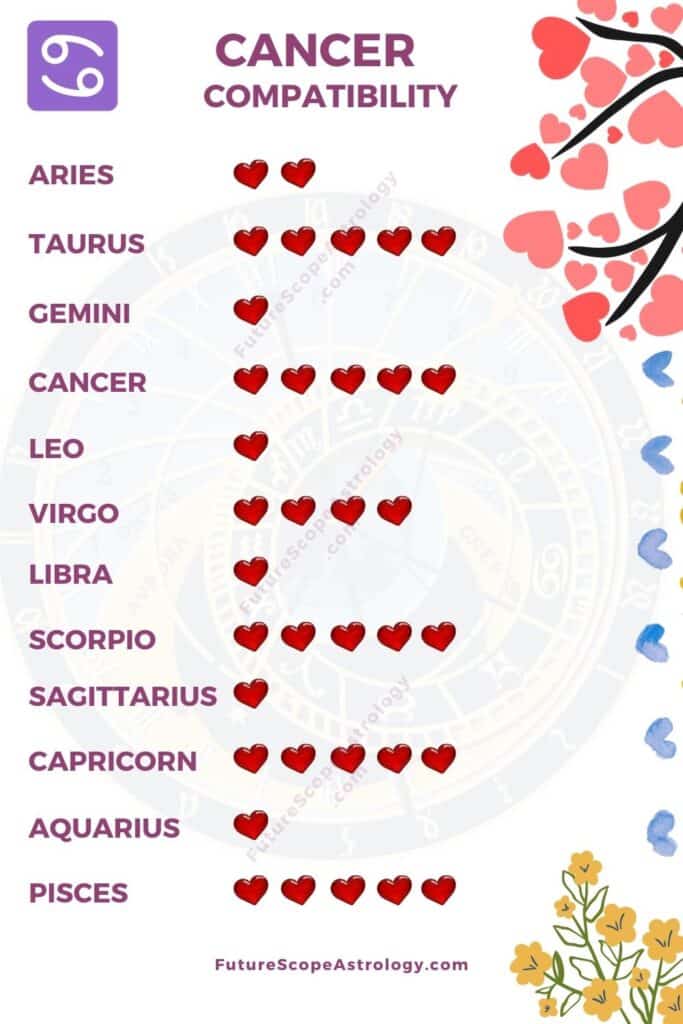 Zodiac Signs Most Compatible with 10 July birthday (Cancer)
The zodiac signs best match for people with Cancer Zodiac are
Taurus (86%)
Cancer (85%)
Virgo (75%)
Scorpio (88%)
Capricorn (78%)
Pisces (82%)
Cancer is a water sign. Scorpio and Pisces are also water signs. Hence, Scorpio and Pisces are best Compatible with people with Cancer Zodiac sign.
---
Zodiac Signs Incompatible with 10 July birthday (Cancer)
Zodiac signs incompatible with Cancerians are:
Aries (38%)
Gemini (30%)
Leo (33%)
Libra (32%)
Sagittarius (32%)
Aquarius (30%)
---
10 July: Zodiac Love Compatibility
In love relationship, following zodiac signs are most compatible with Cancer
Taurus
Cancer
Virgo
Scorpio
Capricorn
Pisces
Click here to check the compatibility of Cancer with various other Zodiac Signs.
---
July 10 Birthstone: Ruby
Ruby is the birthstone for those born on 10 July.
Ruby has been long considered a symbol of love and passion. Ruby is said to enhance the wearer's vitality and promote health, while also providing protection from misfortune.
Ruby is a July birthstone that is associated with happiness and joy. This gemstone is believed to bring good luck to its wearer and promote positive energy.
Know More about July 10 Birthstone (Ruby) …
---
July 10 Birthday : Health
Born 10 July people are passive in their health. Diseases not cured in time, they often turn into a chronic form, which negatively affects their well-being.
For this category of people, regular visits to doctors, timely diagnosis and preventive measures to prevent unwanted diseases will be especially important.
Massage procedures and light physical exercises are very useful for them. Inactive people should walk more and swim more. In nutrition, they should be more choosy and try to diversify their menu with foods rich in vitamins and useful trace elements.
---
Advice for People Born on July 10
Show more initiative and enterprise. Get rid of conservatism. Your shyness, uncertainty and shyness are a huge obstacle for self-realization in life.
Become more active and active. Do not be afraid to make mistakes. Participate in public life and do not be indifferent to yourself.
---
Know about Zodiac Signs:
Aries, Taurus, Gemini, Cancer, Leo, Virgo, Libra, Scorpio, Sagittarius, Capricorn, Aquarius, Pisces