July 2 Zodiac (Cancer) Birthday
Personality, Zodiac Sign, Compatibility, Ruling Planet, Element, Health and Advice
---
Is your Birthday on July 2 ? Know the Sun Sign, Personality, Compatibility and more….
---
July 2 Zodiac sign
Cancer

July 2 Ruling Planet
Moon
July 2 Element
Water
July 2 Lucky day
Monday
July 2 Lucky Colors
White, Silver
July 2 Lucky Numbers
2, 7, 11, 16, 20, 25
July 2 Birthstone
Ruby

July 2 Zodiac Compatibility
Most Compatible with Scorpio and Pisces

More about Compatibility
---
July 2 Zodiac Sign: Cancer
For People born on July 2 the Zodiac sign is Cancer.
People born on July 2 are usually are loving and full of emotions. They believe in deep emotional connections with people rather than general socializing. Only chosen few can be a part of their inner circle. They make very good friends. In turn, as a negative note of their personality, they are people a little moody, suspicious and over protective.
The Cancer zodiac sign is usually associated with Monday as its day of the week and White and Silver as its color. Cancer is associated with planet Moon and its related element is 'Water'.
---
What Does your Birthdate Say About you
---
July 2 Birthday: Personality
July 2 Birthday Positive Traits:
Caring
Loyal
Protective
Intuitive
Creative
Family Oriented
Generous
July 2 Birthday Negative Traits:
Moody
sensitive
Sometimes Vindictive
Suspicious
Insecure
Pessimistic
July 2 Birthday: Personality
Caution and rationalism are the motto of people born on this day. The day is saturated with strong energy, so if a person has favorable karma, then this will increase several times. And a person's life will resemble a fairy tale, where happiness and joy always reign.
Occupation is best chosen in the field of theater and music. In material terms, almost always such people will find success and prosperity. People born on July 2 have a great relationship with family, love their home, in which there should always be coziness and comfort.
People who came to this world on July 2 are very emotional and are always ready to support loved ones and relatives. There are two types of people born on this day. The first type of people always hide their experiences, internal conflicts and negative thoughts.
Letting an outsider into their world is a difficult task for them. The second type of people are people who always live openly. They do not hide all thoughts of idea, experience from friends and relatives.
The first type needs to weaken internal control over their thoughts, and at least sometimes try to share with others. The second type of people, on the contrary, should be a little more restrained. Remember that everything must be kept secret.
People born on this day often suffer from their insecurity and from internal fluctuations. Often, people around cannot even imagine that such people can have real problems of this nature.
Indeed, very often these people were able to achieve a good position in life, were able to realize themselves in the profession and are good family people.
Their internal problems are their problems. Problems about which they very rarely can speak openly, without fear of condemnation.
People born 2 July love to dream and fantasize. And very often their thoughts are far from reality. But the most interesting thing is that after comprehending their fantasies, which, one way or another, affect their lives, they become more self-confident.
What changes their emotional life and often even their image. This implies the following: for inner growth it is necessary to understand and comprehend where your fantasies and desires come from.
Turn the unconscious into the conscious. Of course, self-knowledge requires a lot of time and effort, but people born on July 2 often devote their time to solving simple, everyday and everyday problems.
But if suddenly they have a desire to understand themselves, to learn about their inner world, this can fundamentally change their life, and attract not small dividends to them.
In changing character and becoming a person, love partners often play a huge role. But do not forget one important detail, people who came to earth that day are very vulnerable and take everything to heart.
Therefore, you need to approach them carefully, in no case should you show aggression.
These are people in need of understanding, with them you need to be sensitive and tolerant. Extroverts often feel confused when their emotional background is not correctly interpreted by others.
They cannot always endure the aggressive behavior of others. And often at such moments they demonstrate an explosive character or simply go aside.
But when finally people born on July 2 manage to balance their emotions and fantasies, they turn into stable, faithful and very kind friends.
---
July 2 Birthday : Compatibility with other Zodiac Signs
People born on July 2 have Cancer Sun Sign.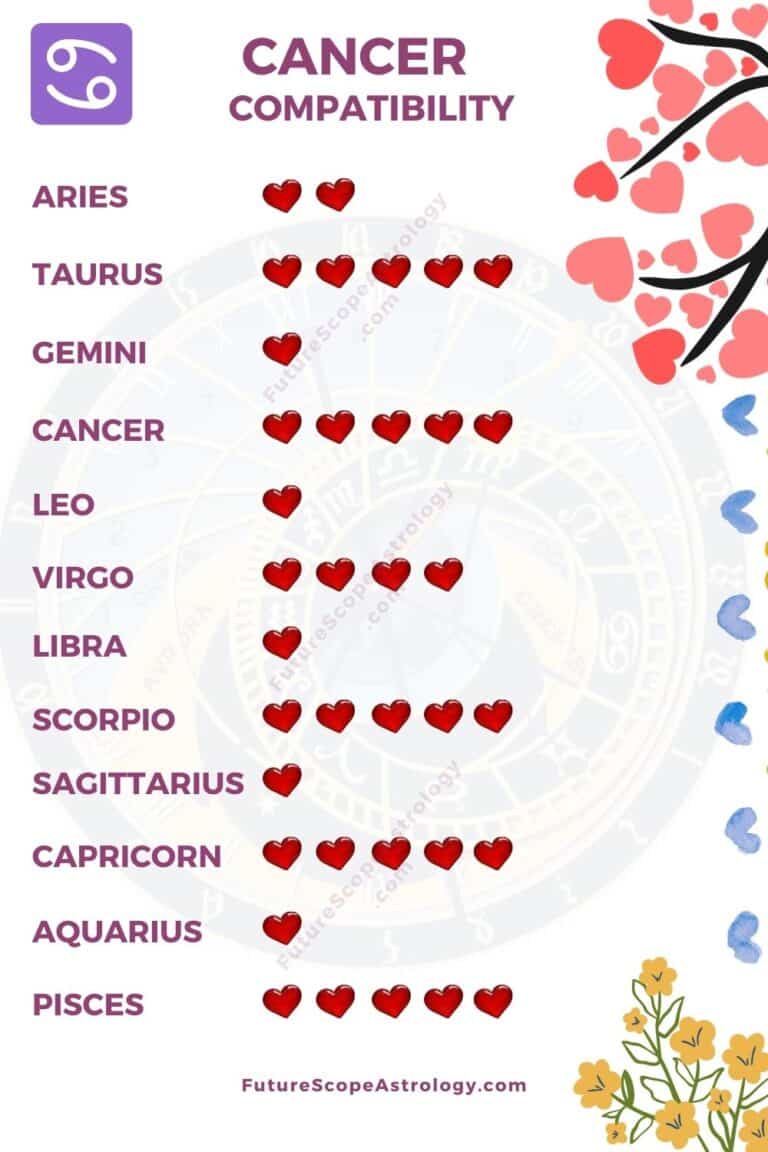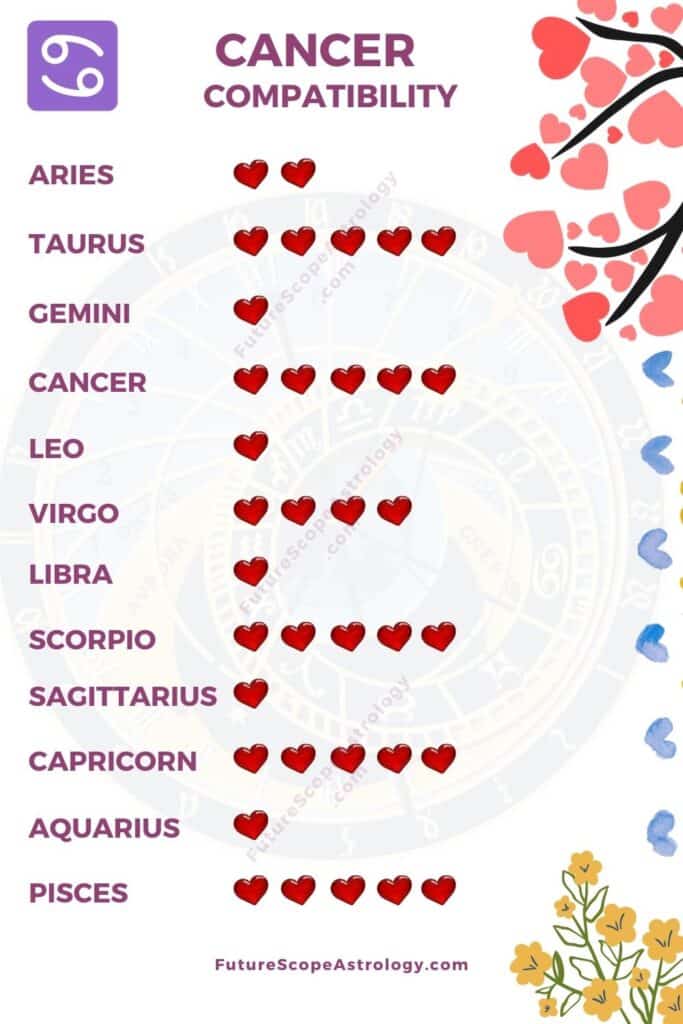 Zodiac Signs Most Compatible with 2 July birthday (Cancer)
The zodiac signs best match for people with Cancer Zodiac are
Taurus (86%)
Cancer (85%)
Virgo (75%)
Scorpio (88%)
Capricorn (78%)
Pisces (82%)
Cancer is a water sign. Scorpio and Pisces are also water signs. Hence, Scorpio and Pisces are best Compatible with people with Cancer Zodiac sign.
---
Zodiac Signs Incompatible with 2 July birthday (Cancer)
Zodiac signs incompatible with Cancerians are:
Aries (38%)
Gemini (30%)
Leo (33%)
Libra (32%)
Sagittarius (32%)
Aquarius (30%)
---
2 July: Zodiac Love Compatibility
In love relationship, following zodiac signs are most compatible with Cancer
Taurus
Cancer
Virgo
Scorpio
Capricorn
Pisces
Click here to check the compatibility of Cancer with various other Zodiac Signs.
---
July 2 Birthstone: Ruby
Ruby is the birthstone for those born on 2 July.
Ruby has been long considered a symbol of love and passion. Ruby is said to enhance the wearer's vitality and promote health, while also providing protection from misfortune.
Ruby is a July birthstone that is associated with happiness and joy. This gemstone is believed to bring good luck to its wearer and promote positive energy.
Know More about July 2 Birthstone (Ruby) …
---
July 2 Birthday : Health
Most extroverts born July 2 exhibit hysterical behavior. At the same time, they themselves get tired of senseless worries and emotions. From such a futile hustle and bustle, they often do not have enough life energy and strength to realize and just have productive communication.
Due to the increased excitement and frequent experiences, they earn a number of chronic diseases. But everything is not as bad as it might seem at first glance. All these problems do not require medical treatment. One has only to plunge into the world of love and harmony.
For spiritual and mental health, such people need a partner who can help in difficult times. Which can rationally explain what is happening. Those born July 2 require regular exercise, but without fanaticism. As well as a good and balanced diet.
---
Advice for People Born on July 2
Observe your thoughts and fantasies. Evaluate how they resonate with your emotional background. And after this analysis, make a choice whether it is worth behaving further. Tidy your outer and inner world. There must be harmony between them. Pay more attention to family and friends, as well as just familiar people.
---
Know about Zodiac Signs:
Aries, Taurus, Gemini, Cancer, Leo, Virgo, Libra, Scorpio, Sagittarius, Capricorn, Aquarius, Pisces