July 30 Birthday
Personality, Zodiac Sign, Compatibility, Ruling Planet, Element, Health and Advice
---
Is your Birthday on July 30 ? Know the Sun Sign, Personality, Compatibility and more….
---
July 30 Zodiac sign
Leo

July 30 Ruling Planet
Sun
July 30 Element
Fire
July 30 Lucky day
Sunday
July 30 Lucky Colors
Orange, Red, Gold
July 30 Lucky Numbers
1, 10, 19, 28
July 30 Birthstone
Ruby

July 30 Zodiac Compatibility
Most Compatible with Sagittarius and Aries

More about Compatibility
---
July 30 Zodiac Sign: Leo
For People born on July 30 the Zodiac sign is Leo.
Leos have a magnetic personality. They are generous, loyal, enthusiastic, optimistic and passionate about their work.. In turn, as a negative note of their personality, they are people who tend to be somewhat arrogant, stubborn and attention seeking.
The Leo zodiac sign is usually associated with Sunday as its day of the week and Orange, Red & Gold as its color. Leo is associated with planet Sun and its related element is 'Fire'.
---
What Does your Birthdate Say About you
---
July 30 Birthday: Personality
July 30 Birthday Positive Traits:
Generous
Magnanimous by nature
Loyal
Optimistic
Honest
Leadership
Protective
Confident
Ambitious
July 30 Birthday Negative Traits:
Dominating
Stubborn
Arrogant
Inflexible
Jealous
Constant desire for Recognition
July 30 Birthday: Personality
People born 30 July independent, independent, fearless individuals. They love freedom, they are wary of reacting to other people's interference in their lives. Born 30 July very successful in business, as well very successful in the financial sector.
The only drawback is their restlessness, they are sprayed on several things at the same time, there is not enough energy for everything, as a result, not a single thing that has not been brought to its logical conclusion – this leads both to financial problems and to further disappointment in life.
Born 30 July, like to stand out from the crowd, they can not be unnoticed. Strong, persistent and flexible individuals who know what they want and what they strive for, stand firmly on their feet.
They will not be distracted by empty things, in their opinion: on contemplation and philosophy, it is difficult for them to understand the other side of life, which is not material, it is even more difficult to penetrate into it.
Born 30 july very loudly express their creative ideas and thoughts. They are closed enough for metaphysical phenomena. Interest in the metaphysical concept appears over the years, they become more loyal and open.
One of the difficult questions for them is death and love. It is not easy for them to put up with the fact that death is the end of existence, but they are also skeptical of the immortality of the soul. As for love, for some, in general, a concept such as – love, is in question.
They believe that love does not exist, there is only a physiological need – sex. That is why they eventually become cynical, which complicates life and further personal development. Many consciously do not want a normal relationship, in their head there is a line between bright feelings and natural instincts.
Born 30 july live and act pragmatically, according to earthly principles, and only closer to 50 years old they become interested in philosophy and religion. They begin to think and new and exciting impressions and interests appear in their lives, life opens up on the other side (as a rule, this coincides with the second appeal of Saturn).
Born 30 july mobile and physically developed individuals. They are fond of all types of physical activity. Women who were born on July 30 are very tidy, paying special attention to personal hygiene and physical fitness.
But often they are completely unprepared for life's trials, it is difficult for them to fight with their phobias, any unexpected turn of events is perplexing. However, there is a positive side, thanks to such shocks, those born on July 30 throw a challenge to their fears and will certainly overcome them.
This gives them an incentive to learn spirituality, which leads them to personal development and will help deepen their ideas about the values ​​of life.
---
July 30 Birthday : Compatibility with other Zodiac Signs
People born on July 30 have Leo Sun Sign.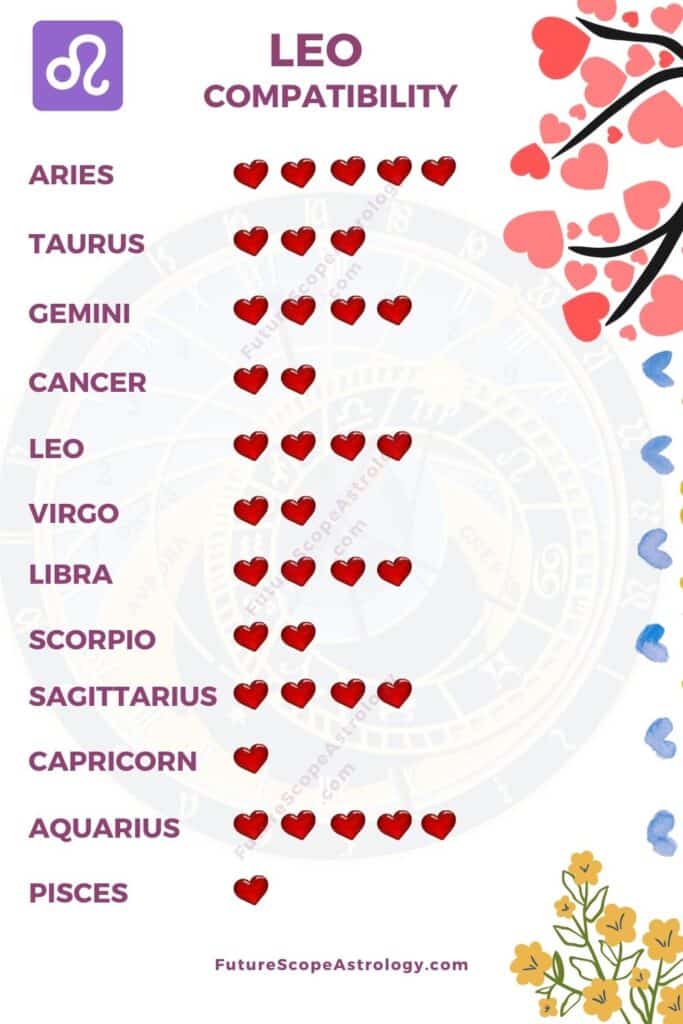 Zodiac Signs Most Compatible with 30 July birthday (Leo)
The zodiac signs best compatible with Leo are
Aries (82%)
Gemini (77%)
Leo (72%)
Libra (75%)
Sagittarius (75%)
Aquarius (85%)
Leo is a fire sign. Aries and Sagittarius are also fire signs. Hence, Aries and Sagittarius are best Compatible with Leo.
Zodiac Signs Moderately Compatible with 30 July birthday (Leo)
Zodiac signs moderately compatible with Leo are:
Zodiac Signs Incompatible with 30 July birthday (Leo)
Zodiac signs incompatible with Leo are:
Cancer (33%)
Scorpio (33%)
Capricorn (32%)
Pisces (18%)
30 July: Zodiac Love Compatibility
Aries
Gemini
Leo
Libra
Sagittarius
Aquarius
Click here to check the compatibility of Leo with various other Zodiac Signs.
---
July 30 Birthday : Health
Born 30 July should carefully monitor their diet, comply with the norm in the use of food, not overeat. Overeating is their biggest problem, as excess protein and sugar can be detrimental to health.
Very restrained people, which is why they often suffer from suppressed aggression, they are afraid to break loose and throw out their negative emotions, showing their imbalance.
Born 30 july they monitor their physical form and in frequent cases physically-disadvantaged people may experience a mental disorder – hypochondriac syndrome. As you know, people with a similar syndrome fanatically monitor their health, look for more and more sores, are afraid for themselves and for life itself.
---
Advice for People Born on July 30
Try not to get hung up on the material world, go beyond it, show interest in metaphysical phenomena. Develop spiritually, discovering in yourself the spiritual qualities.
Try to be more active and open, do not withdraw into yourself. Be cheerful, optimistic, leading a stable and measured lifestyle.
---
Know about Zodiac Signs:
Aries, Taurus, Gemini, Cancer, Leo, Virgo, Libra, Scorpio, Sagittarius, Capricorn, Aquarius, Pisces