July 7 Zodiac (Cancer) Birthday
Personality, Zodiac Sign, Compatibility, Ruling Planet, Element, Health and Advice
---
Is your Birthday on July 7 ? Know the Sun Sign, Personality, Compatibility and more….
---
July 7 Zodiac sign
Cancer

July 7 Ruling Planet
Moon
July 7 Element
Water
July 7 Lucky day
Monday
July 7 Lucky Colors
White, Silver
July 7 Lucky Numbers
2, 7, 11, 16, 20, 25
July 7 Birthstone
Ruby

July 7 Zodiac Compatibility
Most Compatible with Scorpio and Pisces

More about Compatibility
---
July 7 Zodiac Sign: Cancer
For People born on July 7 the Zodiac sign is Cancer.
People born on July 7 are usually are loving and full of emotions. They believe in deep emotional connections with people rather than general socializing. Only chosen few can be a part of their inner circle. They make very good friends. In turn, as a negative note of their personality, they are people a little moody, suspicious and over protective.
The Cancer zodiac sign is usually associated with Monday as its day of the week and White and Silver as its color. Cancer is associated with planet Moon and its related element is 'Water'.
---
What Does your Birthdate Say About you
---
July 7 Birthday: Personality
July 7 Birthday Positive Traits:
Caring
Loyal
Protective
Intuitive
Creative
Family Oriented
Generous
July 7 Birthday Negative Traits:
Moody
sensitive
Sometimes Vindictive
Suspicious
Insecure
Pessimistic
July 7 Birthday: Personality
People born on July 7th are loving and protective. They are sensitive and emotional. They are affected by people who are around them.
Some born on July 7 will have a desire to change their fate by correcting karma. However, despite the difficulties that will accompany these people all their lives, they will grow and learn from the circumstances. their financial side will consistently bring good profit.
Personal life develops successfully with time.
For those born on July 7, the main theme of life will be the discovery. These are direct and sincere people who are used to sharing their innermost thoughts, feelings and fantasies and waiting for a frank and trusting attitude from others.
They easily launch people into their world. This type of people refers to extroverts who are always ready for communication and to the attention of people, they are impulsive and sometimes unpredictable.
Born 7 July people can cause a different reaction in society. To some they seem overly simple. Others are attracted by their compassion, and openness.
Vivid imagination, inspiration, unusually rich and developed psyche of these individuals do not leave anyone indifferent.
Life position and attitude to the world around determine the subconscious mindset. It is easy for them to understand the actions of people in the current situations.
Born 7 July people who are open in their ideas, thoughts and feelings to others, but introvert in everything that relates to their personal lives.
Usually, with people born on July 7 are emotional. They like declaration of love and understanding of their extraordinary deeds.
They are often considered reliable partners, visionaries and dreamers. They can be overly protective about their children and keep a keen attention in their personal lives.
Often, good performers or entrepreneurs in various fields are born on July 7th, but this is especially true of trading activities. To achieve success, they should firmly hold on to their goals, not paying attention to the criticism.
---
July 7 Birthday : Compatibility with other Zodiac Signs
People born on July 7 have Cancer Sun Sign.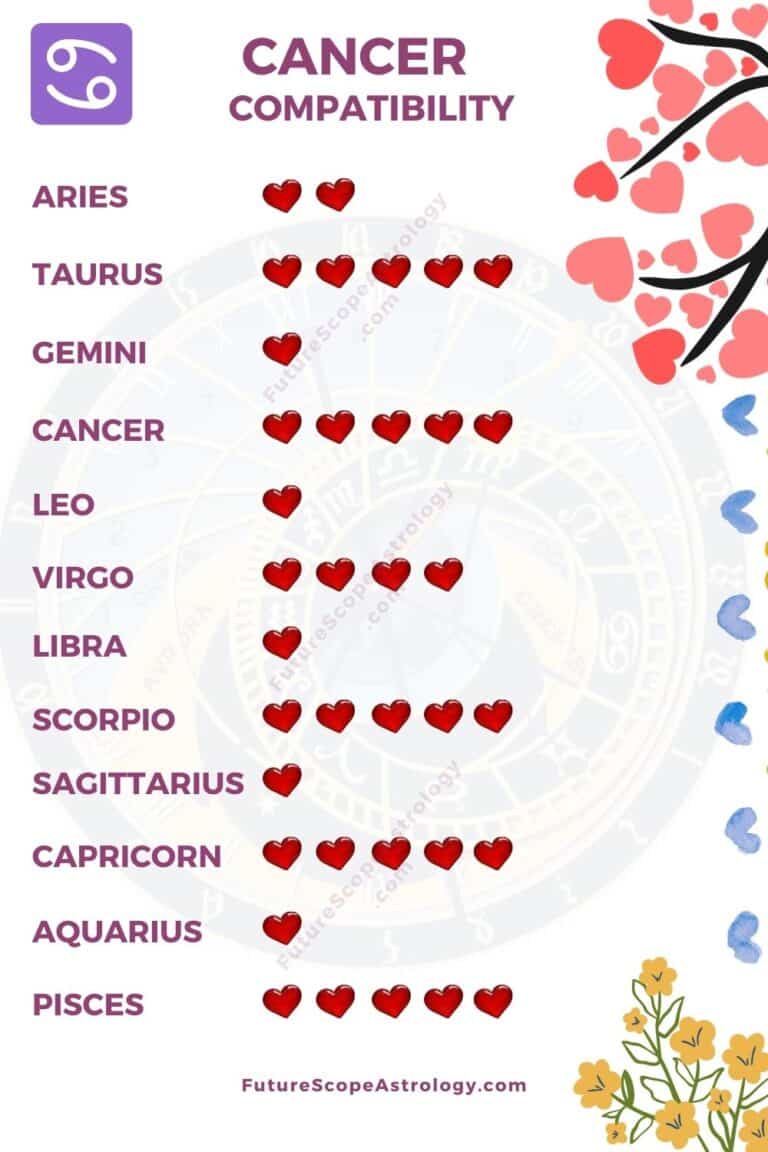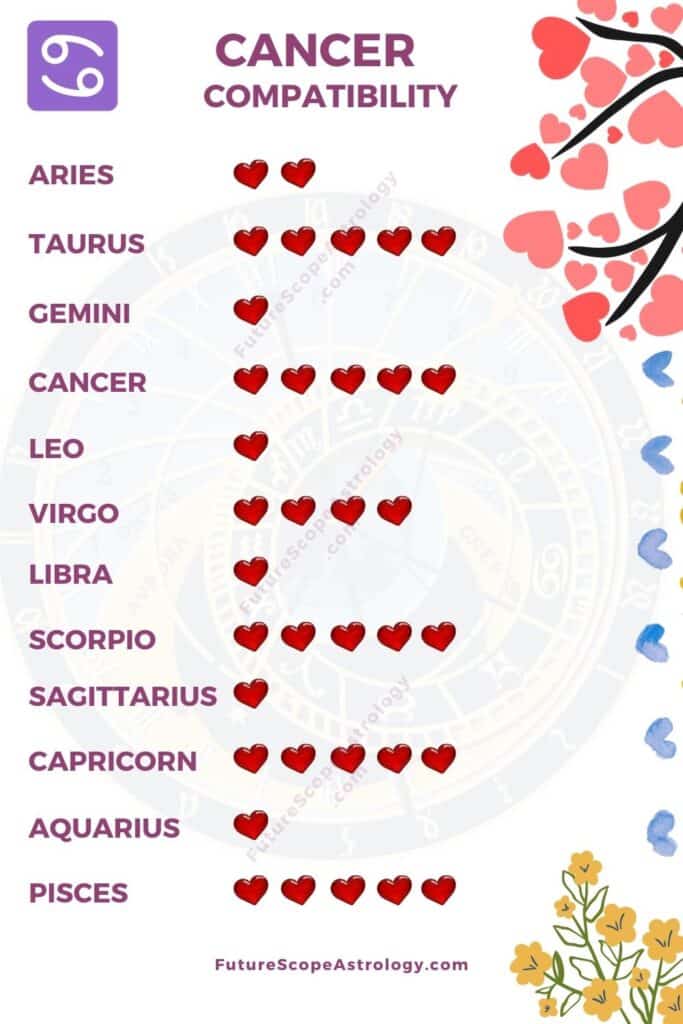 Zodiac Signs Most Compatible with 7 July birthday (Cancer)
The zodiac signs best match for people with Cancer Zodiac are
Taurus (86%)
Cancer (85%)
Virgo (75%)
Scorpio (88%)
Capricorn (78%)
Pisces (82%)
Cancer is a water sign. Scorpio and Pisces are also water signs. Hence, Scorpio and Pisces are best Compatible with people with Cancer Zodiac sign.
---
Zodiac Signs Incompatible with 7 July birthday (Cancer)
Zodiac signs incompatible with Cancerians are:
Aries (38%)
Gemini (30%)
Leo (33%)
Libra (32%)
Sagittarius (32%)
Aquarius (30%)
---
7 July: Zodiac Love Compatibility
In love relationship, following zodiac signs are most compatible with Cancer
Taurus
Cancer
Virgo
Scorpio
Capricorn
Pisces
Click here to check the compatibility of Cancer with various other Zodiac Signs.
---
July 7 Birthstone: Ruby
Ruby is the birthstone for those born on 7 July.
Ruby has been long considered a symbol of love and passion. Ruby is said to enhance the wearer's vitality and promote health, while also providing protection from misfortune.
Ruby is a July birthstone that is associated with happiness and joy. This gemstone is believed to bring good luck to its wearer and promote positive energy.
Know More about July 7 Birthstone (Ruby) …
---
July 7 Birthday : Health
Born 7 July people are often susceptible to stress and nervous tension, which will be directly related to activities and numerous criticisms in relation to them. Due to the sensitive nervous system, they should devote more time to rest.
They need to minimize situations that may affect their health, especially the normal functioning of the cardiovascular and gastrointestinal systems.
Born 7 July people will find complete relaxation and balance only in their comfortable home and family circle.
The physical health of this type of people depends more on spiritual health, so sports and exercise are not in the foreground for them.
For them, direct participation in the preparation or tasting of various dishes in the kitchen will be very useful for relaxation and spiritual enjoyment – both as a chef and as a grateful foodie. Calories accumulated by them quickly burn out and do not bring problems with excess weight.
---
Advice for People Born on July 7
Be diplomatic and more restrained in your revelations. Do not interfere in someone else's life if you do not want to. Learn to understand people.
Do not stop, despite criticism and difficulties. Be strong and do not let you defeat you on the way to the goal and the implementation of your ideas.
Remember, only strong and persistent people summit to great heights in life.
---
Know about Zodiac Signs:
Aries, Taurus, Gemini, Cancer, Leo, Virgo, Libra, Scorpio, Sagittarius, Capricorn, Aquarius, Pisces