July 8 Zodiac (Cancer) Birthday
Personality, ZodiacSign, Compatibility, Ruling Planet, Element, Health and Advice
---
Is your Birthday on July 8 ? Know the Sun Sign, Personality, Compatibility and more….
---
July 8 Zodiac sign
Cancer

July 8 Ruling Planet
Moon
July 8 Element
Water
July 8 Lucky day
Monday
July 8 Lucky Colors
White, Silver
July 8 Lucky Numbers
2, 7, 11, 16, 20, 25
July 8 Birthstone
Ruby

July 8 Zodiac Compatibility
Most Compatible with Scorpio and Pisces

More about Compatibility
---
July 8 Zodiac Sign: Cancer
For People born on July 8 the Zodiac sign is Cancer.
People born on July 8 are usually are loving and full of emotions. They believe in deep emotional connections with people rather than general socializing. Only chosen few can be a part of their inner circle. They make very good friends. In turn, as a negative note of their personality, they are people a little moody, suspicious and over protective.
The Cancer zodiac sign is usually associated with Monday as its day of the week and White and Silver as its color. Cancer is associated with planet Moon and its related element is 'Water'.
---
What Does your Birthdate Say About you
---
July 8 Birthday: Personality
July 8 Birthday Positive Traits:
Caring
Loyal
Protective
Intuitive
Creative
Family Oriented
Generous
July 8 Birthday Negative Traits:
Moody
sensitive
Sometimes Vindictive
Suspicious
Insecure
Pessimistic
July 8 Birthday: Personality
People born on this day, fate gives many talents, great creative opportunities and artistry. They have well-developed leadership qualities that can bring people together and entail. These individuals love travel and various kinds of movement.
This is the birthday of people who can become talented artists, musicians, writers, inventors. They are excellent specialists in all fields of activity.
These are experts in public relations, priests, ministers, they will succeed in all areas where communication with people is necessary.
Often they are fond of magic and occult sciences. They are characterized as excellent guardians of the family hearth, for whom the harmony of relations and established traditions are very important.
Born 8 july people are pragmatists by nature. For them, the most important is the practice of obtaining a useful result than theoretical axioms.
They are inherent in a thorough, rational nature, strong will and categorical assessment.
They are able to create a huge enterprise, organization, business and ensure their prosperity and development.
This date of birth gives a happy chance to increase your fortune and gain great power. The power that they receive in life often leads them to the deprivation of moral principles and ideals.
As a result of this, it is likely that the people united by them can be carried along the wrong path. It is rare that any of the people born on this day is interested in philosophy and religion. Born 8 July, individuals are excessive workers who have the only goal in their life:
Of course, the realization of such a goal takes away all their free time, and this minimizes communication with family and friends.
On the contrary, if those born on July 8 choose their family as the main goal of their life, their children and the "second half" will be surrounded by excessive care, exactingness and constant control.
These people know how to represent their person in everything, as irreplaceable. It is very important for them to leave a good memory and a fairly distributed inheritance, so they are preparing for this with all seriousness and responsibility.
---
July 8 Birthday : Compatibility with other Zodiac Signs
People born on July 8 have Cancer Sun Sign.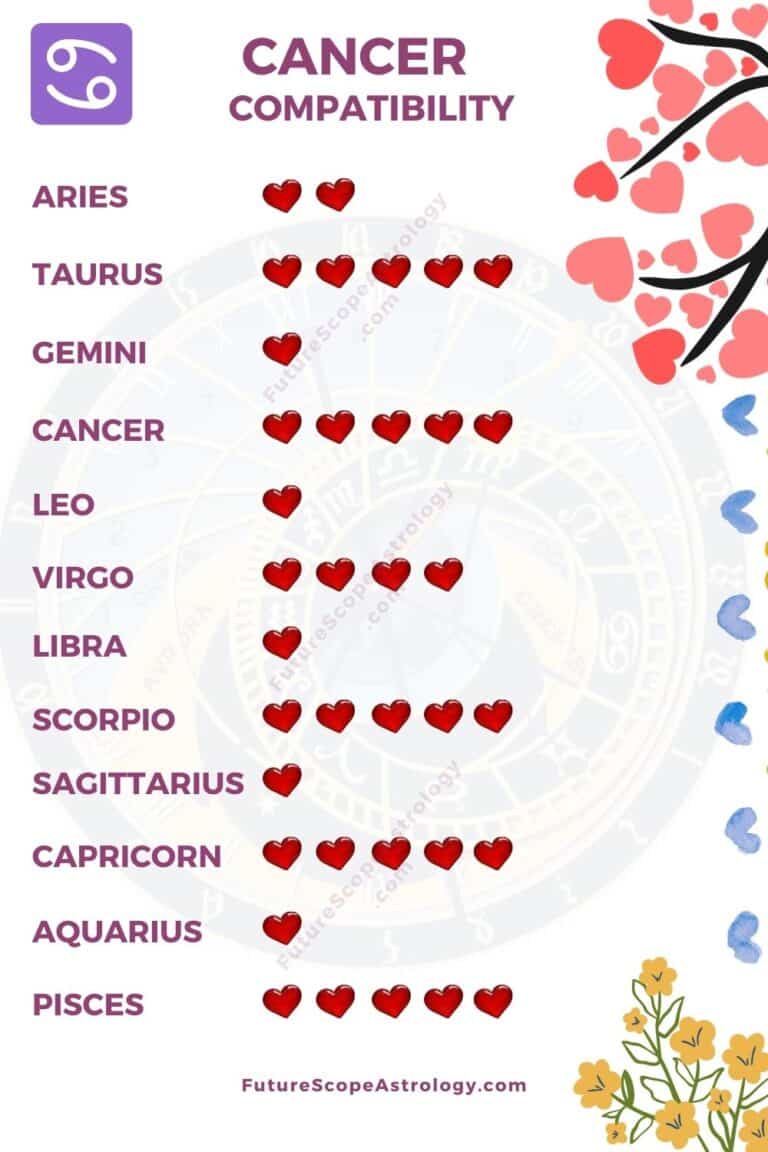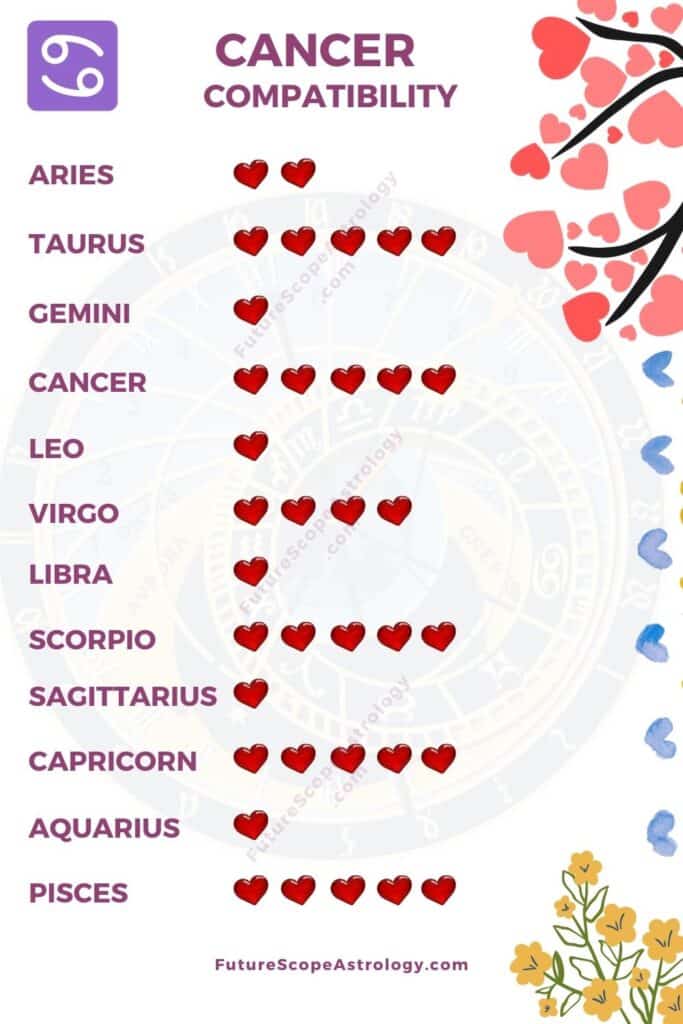 Zodiac Signs Most Compatible with 8 July birthday (Cancer)
The zodiac signs best match for people with Cancer Zodiac are
Taurus (86%)
Cancer (85%)
Virgo (75%)
Scorpio (88%)
Capricorn (78%)
Pisces (82%)
Cancer is a water sign. Scorpio and Pisces are also water signs. Hence, Scorpio and Pisces are best Compatible with people with Cancer Zodiac sign.
---
Zodiac Signs Incompatible with 8 July birthday (Cancer)
Zodiac signs incompatible with Cancerians are:
Aries (38%)
Gemini (30%)
Leo (33%)
Libra (32%)
Sagittarius (32%)
Aquarius (30%)
---
8 July: Zodiac Love Compatibility
In love relationship, following zodiac signs are most compatible with Cancer
Taurus
Cancer
Virgo
Scorpio
Capricorn
Pisces
Click here to check the compatibility of Cancer with various other Zodiac Signs.
---
July 8 Birthstone: Ruby
Ruby is the birthstone for those born on 8 July.
Ruby has been long considered a symbol of love and passion. Ruby is said to enhance the wearer's vitality and promote health, while also providing protection from misfortune.
Ruby is a July birthstone that is associated with happiness and joy. This gemstone is believed to bring good luck to its wearer and promote positive energy.
Know More about July 8 Birthstone (Ruby) …
---
July 8 Birthday : Health
Born 8 July people are in good health, but they need to engage in light sports or perform daily morning exercises, as they usually lead a sedentary lifestyle. Their activity consists in conducting numerous negotiations, moving on various vehicles.
Therefore, sports loads will help them not only strengthen muscles, work the cardiovascular system, prevent weight gain, but also calm the nervous system, relieve aggression and fatigue after prolonged mental work.
Sports with notes of rivalry (basketball, tennis, volleyball, handball) and types that are aimed at developing the will to win and leadership (running, swimming, wrestling) are very useful for them.
For individuals born on July 8 in nutrition, they should give preference to healthy food and not violate the regime of its adoption.
---
Advice for People Born on July 8
Be more sociable with people, often give yourself a rest in the circle of people who are pleasant to you. Drop your arrogance and title.
Let your emotions go out in sports games and competitions. Trust more people. Learn to restrain aggression.
Do not discard the help offered and do not be afraid to ask for it. Finding the power to acknowledge one's weakness or wrongness is great courage.
---
Know about Zodiac Signs:
Aries, Taurus, Gemini, Cancer, Leo, Virgo, Libra, Scorpio, Sagittarius, Capricorn, Aquarius, Pisces