June 23 Zodiac (Cancer) Birthday
Personality, Zodiac Sign, Compatibility, Ruling Planet, Element, Health and Advice
Jan | Feb | Mar | Apr | May | June | July | Aug | Sept | Oct | Nov | Dec
---
Is your Birthday on June 23 ?
Know the Sun Sign, Personality, Compatibility and more….
---
June 23 Zodiac sign
Cancer

June 23 Ruling Planet
Moon
June 23 Element
Water
June 23 Lucky day
Monday
June 23 Lucky Colors
White, Silver
June 23 Lucky Numbers
2, 7, 11, 16, 20, 25
June 23 Birthstone
Pearl , Alexandrite, Moonstone

June 23 Zodiac Compatibility
Most Compatible with Scorpio and Pisces

More about Compatibility
---
June 23 Zodiac Sign: Cancer
For People born on June 23 the Zodiac sign is Cancer.
People born on June 23 are usually are loving and full of emotions. They believe in deep emotional connections with people rather than general socializing. Only chosen few can be a part of their inner circle. They make very good friends. In turn, as a negative note of their personality, they are people a little moody, suspicious and over protective.
The Cancer zodiac sign is usually associated with Monday as its day of the week and White and Silver as its color. Cancer is associated with planet Moon and its related element is 'Water'.
Famous Cancer Zodiac Celebrities
---
What Does your Birthdate Say About you
Jan | Feb | Mar | Apr | May | June | July | Aug | Sept | Oct | Nov | Dec
---
June 23 Birthday: Personality
June 23 Birthday Positive Traits:
Caring
Loyal
Protective
Intuitive
Creative
Family Oriented
Generous
June 23 Birthday Negative Traits:
Moody
sensitive
Sometimes Vindictive
Suspicious
Insecure
Pessimistic
June 23 Birthday: Personality
Contradictions in character are inherent in people born on this day. Change of mood, distraction, impracticality everywhere follow the shadow behind them, leaving an imprint on all spheres of their life.
They are often unsettled in their personal lives, and social activities do not shine with success. Often changing their place of residence, inconstancy in everything becomes their norm of life, and focusing on something is difficult.
It is vital for them to pull themselves together, to get together, to believe in themselves and set specific goals for themselves, to direct all their efforts to achieve them.
Love lyrics and the charm of an exciting relationship are part of the ups and downs of life born June 23. They are easily involved in relationships, value intimacy with a partner and cherish these relationships.
Moreover, they let all their charm to subdue their chosen one. Love is their natural state.
The eve of Ivan's Day gives magical power to those born on June 23: they seek to know the intimate details of human life and physiology, to answer the question why people are looking for their halves.
Their curiosity can go to his perverted manifestations in a sexual way.
Born 23 June like no one is influenced by the social environment around, social principles, moral laws, and this influence can fetter them in intimate life. For these reasons, problems may arise on the personal front.
Guided by generally accepted rules, they cannot break them. And if one day the object of love offers an escape to a remote village or a thicket of woods, born June 23 will never agree to this.
Spreading freely about their hobbies and passions, they enjoy the privileges of society for a couple of lovers. However, the formal consolidation of relations and marriage is not their first priority, we can say that it is not mandatory
if their religious beliefs allow. Art is love and commitment that is unshakable in those born on June 23.
Creativity in the form of literature, music wins their hearts forever, they are attracted to magical stories and turns, the splashing of a colorful palette and unusual performance.
They make excellent admirers of talents, listeners in love with art, readers, spectators, since they do not think of themselves outside of art and its attractive forces.
Passionate about a book or a movie, they can even neglect real people, their needs and their responsibilities. But it does not mean,
Born 23 june without emotions involved in routine affairs and worries and successfully cope with them, although not with the same zeal and zeal as in love affairs.
A serious approach to the study of human relationships can result in structured and quite serious conclusions.
They can become authors of new theories about love and sexual relations, incredible and absurd. Despite this, those born on June 23 spread their ideas and conclusions within their circle, and this gives them pleasure.
This quality, combined with tactlessness and incontinence, can turn them into gossips that violate the personal space of others.
Trying to learn all about personal secrets and answer all questions about love, this task becomes impossible because of their excessive curiosity, which closes someone else's life from intrusion.
Frivolous people born 23 June, watch out for envious and evil people. For those who appreciate constant and deep feelings, it is necessary to stock up on patience and get rid of jealousy and hatred, which appear outward at critical and crisis moments.
---
June 23 Birthday : Compatibility with other Zodiac Signs
People born on June 23 have Cancer Sun Sign.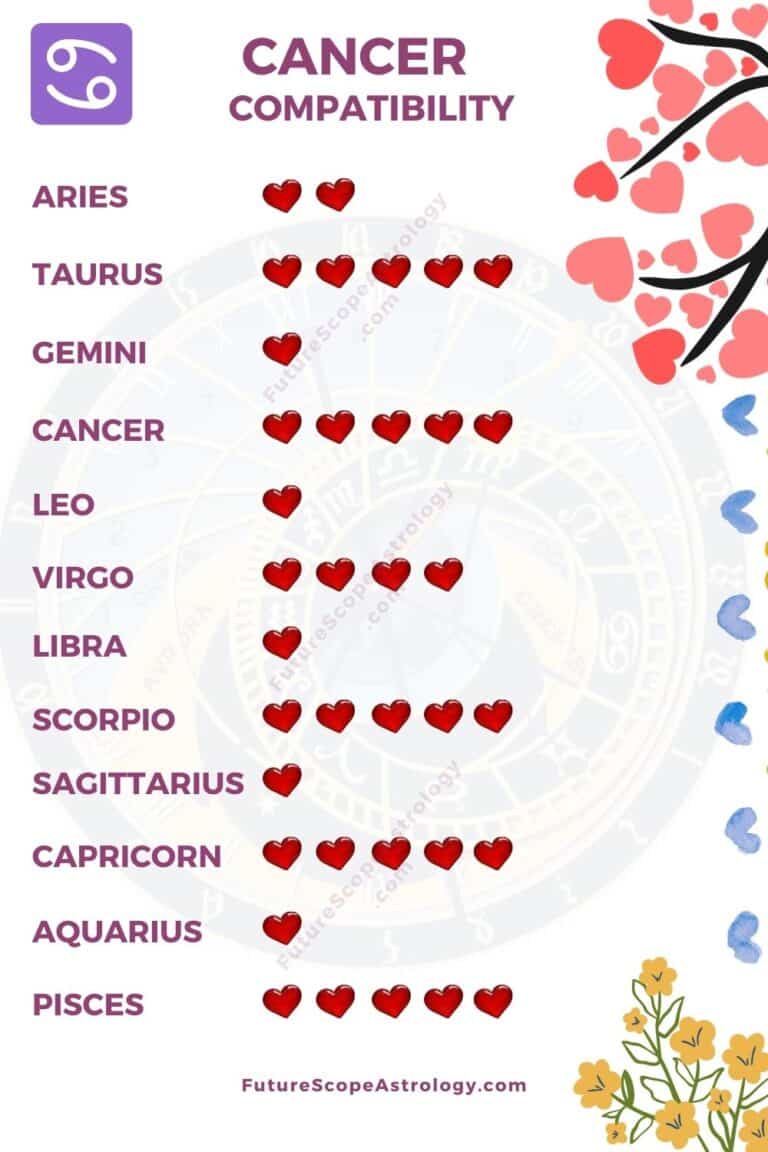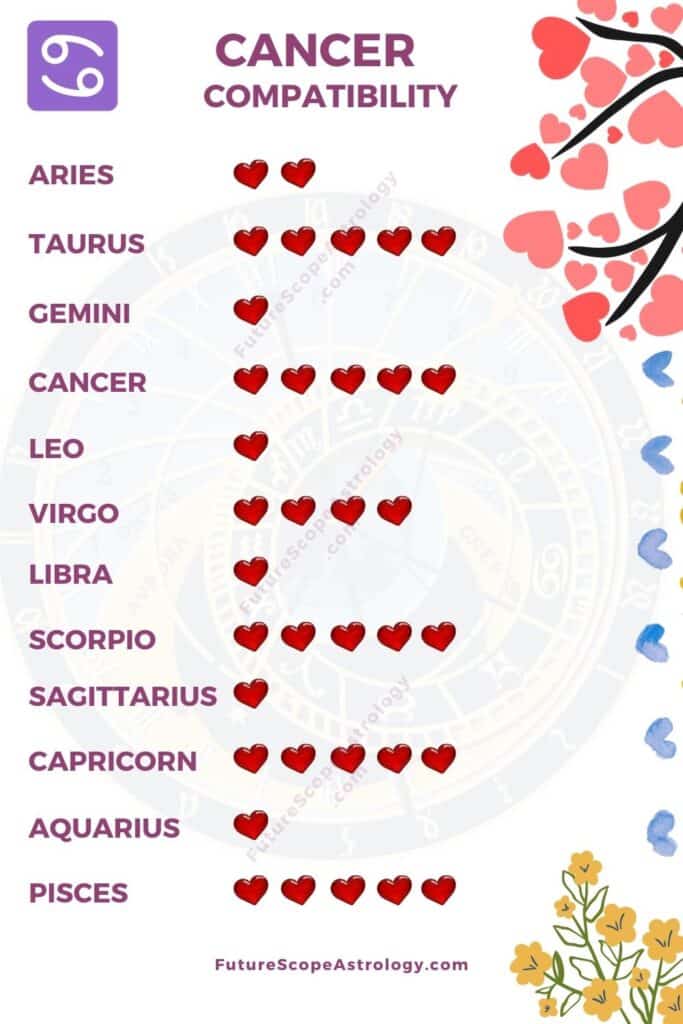 Zodiac Signs Most Compatible with 23 June birthday (Cancer)
The zodiac signs best match for people with Cancer Zodiac are
Taurus (86%)
Cancer (85%)
Virgo (75%)
Scorpio (88%)
Capricorn (78%)
Pisces (82%)
Cancer is a water sign. Scorpio and Pisces are also water signs. Hence, Scorpio and Pisces are best Compatible with people with Cancer Zodiac sign.
---
Zodiac Signs Incompatible with 23 June birthday (Cancer)
Zodiac signs incompatible with Cancerians are:
Aries (38%)
Gemini (30%)
Leo (33%)
Libra (32%)
Sagittarius (32%)
Aquarius (30%)
---
23 June : Zodiac Love Compatibility
In love relationship, following zodiac signs are most compatible with Cancer
Taurus
Cancer
Virgo
Scorpio
Capricorn
Pisces
Click here to check the compatibility of Cancer with various other Zodiac Signs.
---
June 23 Birthstone: Moonstone, Alexandrite, Pearl
Moonstone, Pearl , Alexandrite are the birthstones for those born on 23 June.
1. Alexandrite:
This gemstone is known for its amazing ability to change color depending on the light source. It can go from a deep green to a purplish hue, making it a very unique and special choice for June birthdays.
Alexandrite is said to promote self-confidence and creativity.
2. Moonstone:
Moonstone gets its name from the way it seems to glow in the moonlight. It has a pearly sheen that makes it look almost like it's glowing from within. Moonstone is thought to bring good luck and harmony.
3. Pearls:
Pearls are a symbol of purity and innocence.
Each of these stones has its own unique properties and meanings.
Know More about June 23 Birthstone (Moonstone, Alexandrite, Pearl ) …
---
June 23 Birthday : Health
The embodiment of their needs and desires in entertainment, parties, dancing contribute to the well-being of those born on June 23.
However, their amusements and constant revelry activities are inextricably linked with harmful addictions – smoking, alcohol, fast food, which affects the stomach and lungs.
For those born 23 June it is necessary to bypass drugs, in view of the fact that they can drag them into dangerous games with health, physical and moral.
These people love sex, for them it is like daily morning washing and water procedures, so they are recommended to deal with it more often, though not forgetting about safety measures.
The same applies to eating habits – a love of exotic and sophisticated dishes without measure can cause various stomach problems.
---
Advice for People Born on June 23
Be more loyal to everyday routine and show enthusiasm in their implementation, try to deal with them regularly. Install the system both in household chores and in your own life, do not leave to chance that you can do yourself.
Stop gossiping. Be considerate of others and be choosy in words and deeds.
---
Know about Zodiac Signs:
Aries, Taurus, Gemini, Cancer, Leo, Virgo, Libra, Scorpio, Sagittarius, Capricorn, Aquarius, Pisces