June 25 Zodiac (Cancer) Birthday
Personality, Zodiac Sign, Compatibility, Ruling Planet, Element, Health and Advice
Jan | Feb | Mar | Apr | May | June | July | Aug | Sept | Oct | Nov | Dec
---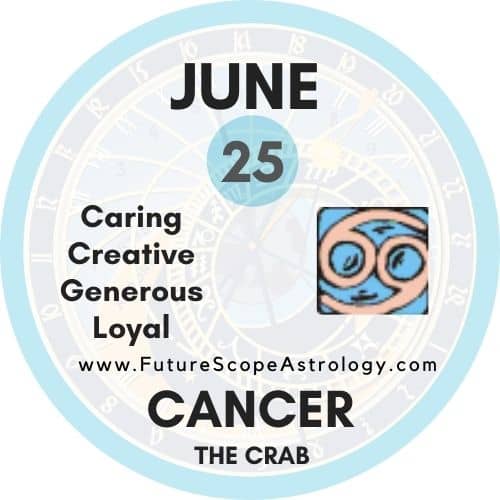 Is your Birthday on June 25 ? Know the Sun Sign, Personality, Compatibility and more….
---
June 25 Zodiac sign
Cancer

June 25 Ruling Planet
Moon
June 25 Element
Water
June 25 Lucky day
Monday
June 25 Lucky Colors
White, Silver
June 25 Lucky Numbers
2, 7, 11, 16, 20, 25
June 25 Birthstone
Pearl , Alexandrite, Moonstone

June 25 Zodiac Compatibility
Most Compatible with Scorpio and Pisces

More about Compatibility
---
June 25 Zodiac Sign: Cancer
For People born on June 25 the Zodiac sign is Cancer.
People born on June 25 are usually are loving and full of emotions. They believe in deep emotional connections with people rather than general socializing. Only chosen few can be a part of their inner circle. They make very good friends. In turn, as a negative note of their personality, they are people a little moody, suspicious and over protective.
The Cancer zodiac sign is usually associated with Monday as its day of the week and White and Silver as its color. Cancer is associated with planet Moon and its related element is 'Water'.
Famous Cancer Zodiac Celebrities
---
What Does your Birthdate Say About you
Jan | Feb | Mar | Apr | May | June | July | Aug | Sept | Oct | Nov | Dec
---
June 25 Birthday: Personality
June 25 Birthday Positive Traits:
Caring
Loyal
Protective
Intuitive
Creative
Family Oriented
Generous
June 25 Birthday Negative Traits:
Moody
sensitive
Sometimes Vindictive
Suspicious
Insecure
Pessimistic
June 25 Birthday: Personality
On this day, delicate and tactful people are born with a strong inner voice and intuition. They are very emotional, imaginative, and therefore can show talents in music and literature.
These are ambitious people, and they are also attracted to the unknown. It is not difficult for them to get involved in occultism and mysticism. They often travel in search of emotions and new experiences.
Changing the familiar environment for fresh feelings and sensations becomes a necessity, otherwise boredom and routine will lead to a decline in mood and depressive disorders. Happiness in family life, as a rule, is ensured for them, and the house is always a full bowl.
Born 25 june flair for success and the right direction to victory. Therefore, for them, good luck in business is natural and obvious. This unique ability to objectively understand the situation and intuition allows you to make any dream a reality.
Being in a common stream, they do not miss the opportunities offered by life. It is important for them to use their abilities to the maximum in the right direction, and even the creative forces implemented in the work will ensure the successful completion of any business and financial well-being.
However, the costs can be great: realizing their potential, they can fall into the financial hole.
Sometimes they invoke the trust of partners, as their projects may be inappropriate from a practical point of view. Active participation and understanding of others noticeably stimulate those born on June 25 to action and are necessary for self-affirmation of actions.
Relations with your family and friends plays an important role in their career successes. Finding no support and understanding, they are morally devastated and wasted on empty and unnecessary. It may end in total defeat on all fronts.
They often become slaves to their desires and feelings, forgetting about rationality.
Open and susceptible to other people's energy, born June 25, like sponges, absorb negative and positive impulses, so it is important for them to control the excessive influence of extraneous emotions on their internal state.
Therefore, for psychological calm and comfort, they need to develop their ability to analyze situations and to objectively relate to external circumstances. People – breadwinners – so see their role born June 25.
Moreover, this is manifested not only in the walls of the house and family life, but at work, they feel themselves as such. To save and increase – for them it is an important principle for well-being and prosperity.
They cannot be blamed for motivation and misuse of money; they treat them with the skill of a reputable banker.
Understanding that all that they sow someday will return with interest, makes them commit acts of mercy and kindness. Their personal lives are hidden by dense curtains, although their emotionality is a bright thread in all personal relationships.
Public expression of feelings is not permissible for them, unless they can easily show irritation or anger that can reach swearing outpourings.
Those who need attention and trust, on the one hand, and quick-tempered and fickle on the other, born on June 25, must maintain a balance between their emotions and needs in order to find this trust and maintain it.
Aggressive behavior can turn people away whose warmth and trust they need the most.
---
June 25 Birthday : Compatibility with other Zodiac Signs
People born on June 25 have Cancer Sun Sign.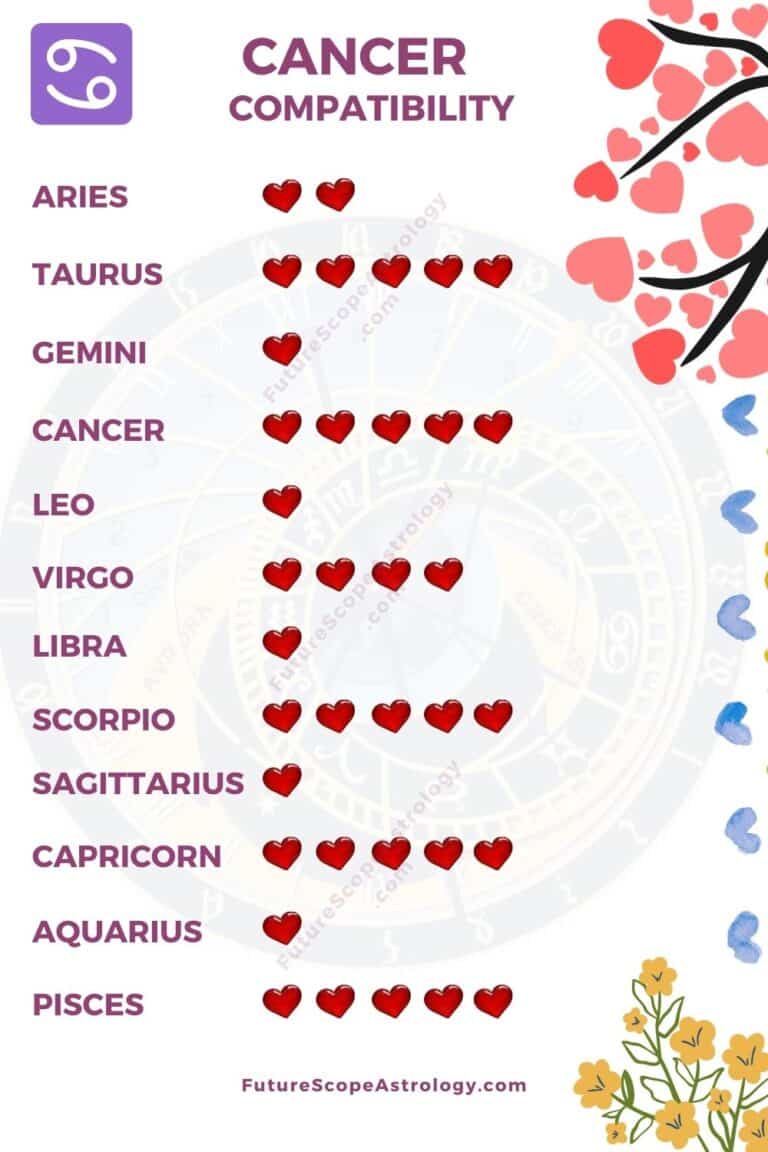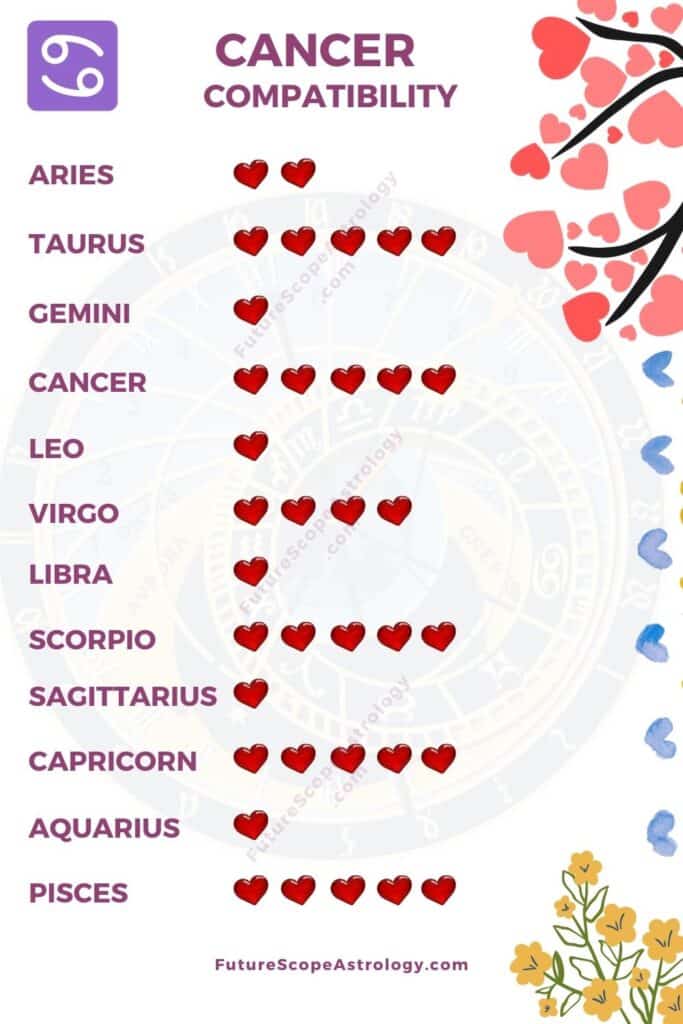 Zodiac Signs Most Compatible with 25 June birthday (Cancer)
The zodiac signs best match for people with Cancer Zodiac are
Taurus (86%)
Cancer (85%)
Virgo (75%)
Scorpio (88%)
Capricorn (78%)
Pisces (82%)
Cancer is a water sign. Scorpio and Pisces are also water signs. Hence, Scorpio and Pisces are best Compatible with people with Cancer Zodiac sign.
---
Zodiac Signs Incompatible with 25 June birthday (Cancer)
Zodiac signs incompatible with Cancerians are:
Aries (38%)
Gemini (30%)
Leo (33%)
Libra (32%)
Sagittarius (32%)
Aquarius (30%)
---
25 June : Zodiac Love Compatibility
In love relationship, following zodiac signs are most compatible with Cancer
Taurus
Cancer
Virgo
Scorpio
Capricorn
Pisces
Click here to check the compatibility of Cancer with various other Zodiac Signs.
---
June 25 Birthstone: Moonstone, Alexandrite, Pearl
Moonstone, Pearl , Alexandrite are the birthstones for those born on 25 June.
1. Alexandrite:
This gemstone is known for its amazing ability to change color depending on the light source. It can go from a deep green to a purplish hue, making it a very unique and special choice for June birthdays.
Alexandrite is said to promote self-confidence and creativity.
2. Moonstone:
Moonstone gets its name from the way it seems to glow in the moonlight. It has a pearly sheen that makes it look almost like it's glowing from within. Moonstone is thought to bring good luck and harmony.
3. Pearls:
Pearls are a symbol of purity and innocence.
Each of these stones has its own unique properties and meanings.
Know More about June 25 Birthstone (Moonstone, Alexandrite, Pearl ) …
---
June 25 Birthday : Health
Vulnerability from external factors is the main cause of diseases born on June 25. Sensitivity and susceptibility to the external emotional background must be minimized to the extent that negative influence from the outside does not harm health.
They should not be neglected as preventive measures to protect themselves. Psychological stresses become an important factor in overall health.
Therefore, those born on June 25 should confront external negativity and learn to form a comfortable interaction with the external environment.
Experience and growing up contribute to the selectivity of the environment, so with age they acquire the ability to repulse negative emotions from the outside.
This is also helped by intelligibility in people. Meetings with friends have a beneficial effect on the well-being of those born on June 25.
They should certainly learn how to cook and improve their culinary skills. Diet for them should be part of a set of actions to find psychological comfort and harmonious development. The most suitable sporting event for them is swimming.
---
Advice for People Born on June 25
Learn to objectively evaluate your own behavior, emotions, feelings. Beware of negative influences and, while estranging from external negative impulses, remain open to good, bright, positive actions.
Be picky. Learn to distinguish your own thoughts, feelings, ideas and others', not peculiar to you.
---
Know about Zodiac Signs:
Aries, Taurus, Gemini, Cancer, Leo, Virgo, Libra, Scorpio, Sagittarius, Capricorn, Aquarius, Pisces