June 30 Zodiac (Cancer) Birthday
Personality, Zodiac Sign, Compatibility, Ruling Planet, Element, Health and Advice
Jan | Feb | Mar | Apr | May | June | July | Aug | Sept | Oct | Nov | Dec
---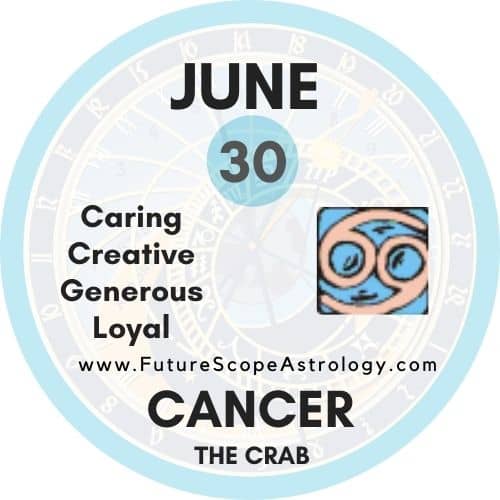 Is your Birthday on June 30 ? Know the Sun Sign, Personality, Compatibility and more….
---
June 30 Zodiac sign
Cancer

June 30 Ruling Planet
Moon
June 30 Element
Water
June 30 Lucky day
Monday
June 30 Lucky Colors
White, Silver
June 30 Lucky Numbers
2, 7, 11, 16, 20, 25
June 30 Birthstone
Pearl , Alexandrite, Moonstone

June 30 Zodiac Compatibility
Most Compatible with Scorpio and Pisces

More about Compatibility
---
June 30 Zodiac Sign: Cancer
For People born on June 30 the Zodiac sign is Cancer.
People born on June 30 are usually are loving and full of emotions. They believe in deep emotional connections with people rather than general socializing. Only chosen few can be a part of their inner circle. They make very good friends. In turn, as a negative note of their personality, they are people a little moody, suspicious and over protective.
The Cancer zodiac sign is usually associated with Monday as its day of the week and White and Silver as its color. Cancer is associated with planet Moon and its related element is 'Water'.
Famous Cancer Zodiac Celebrities
---
What Does your Birthdate Say About you
Jan | Feb | Mar | Apr | May | June | July | Aug | Sept | Oct | Nov | Dec
---
June 30 Birthday: Personality
June 30 Birthday Positive Traits:
Caring
Loyal
Protective
Intuitive
Creative
Family Oriented
Generous
June 30 Birthday Negative Traits:
Moody
sensitive
Sometimes Vindictive
Suspicious
Insecure
Pessimistic
June 30 Birthday: Personality
June 30 brings into the world talented people gifted with bright abilities in many areas. They do not take energy and determination, while they are ready to work hard and hard, they are remarkable for their amazing perseverance.
Pride and ambition are alien to them, they are always friendly and friendly with others. Even having achieved significant heights (this is always the result of hard work), they remain modest.
There are always many friends around these people who value the atmosphere of coziness and tranquility they create.
People born 30 june are happy to do only what they are internally tuned for. Otherwise, it is almost impossible to induce them to take any action. Those born on this day can be both extroverts and introverts, but in both cases they follow their own lofty goals.
They have a rich inner world, which in no case do not let outsiders. Representatives of the introverted type love their home very much and strive to organize the space around them as predictably as possible.
They value stability, order, reliability and safety above all else. Extroverts are quite sweet and good-natured.
However, if they find themselves in a game situation, their violent nature can get out of control and manifest in full glory.
The vast majority of people born on June 30 have pronounced technical talents.
They know how to stand up for themselves very well, but this ability finds expression either in the physical plane or in the intellectual, but never in both areas at the same time. Introverts born on June 30 can suppress aggression in themselves.
This poses a serious danger and is best avoided. Sometimes they are afraid to show their emotions, but this only harms themselves and their loved ones.
Less closed people openly express their feelings, but they should also avoid extremes, otherwise they can behave too violently.
Such personalities are very dangerous for those who oppose them. If they are in the company of those people whom they trust, even in a dispute they seem completely passive.
Born 30 june very much depend on the surrounding atmosphere and on their own mood, behave differently in different situations. Because of this, clearly separating representatives of this day into two psychological types is difficult, which gives them a certain amount of mystery.
A positive feature of those born on June 30 – the ability to properly manage money, both their own and those of others. These are excellent financial advisors with amazing business intuition.
People born 30 June are able to get the maximum profit from any investment, costs, on the contrary, while minimizing it.
Often, in addition to their main job, they have a hobby that is even more important to them than the profession itself. Most of all their activities can bring benefits when the personal interests of these people are in tune with the public.
Born 30 June best express themselves in areas related to the exchange, as well as with trusting relationships. Those who are fortunate enough to become their friend should be proud of: not everyone is granted such an honor.
---
June 30 Birthday : Compatibility with other Zodiac Signs
People born on June 30 have Cancer Sun Sign.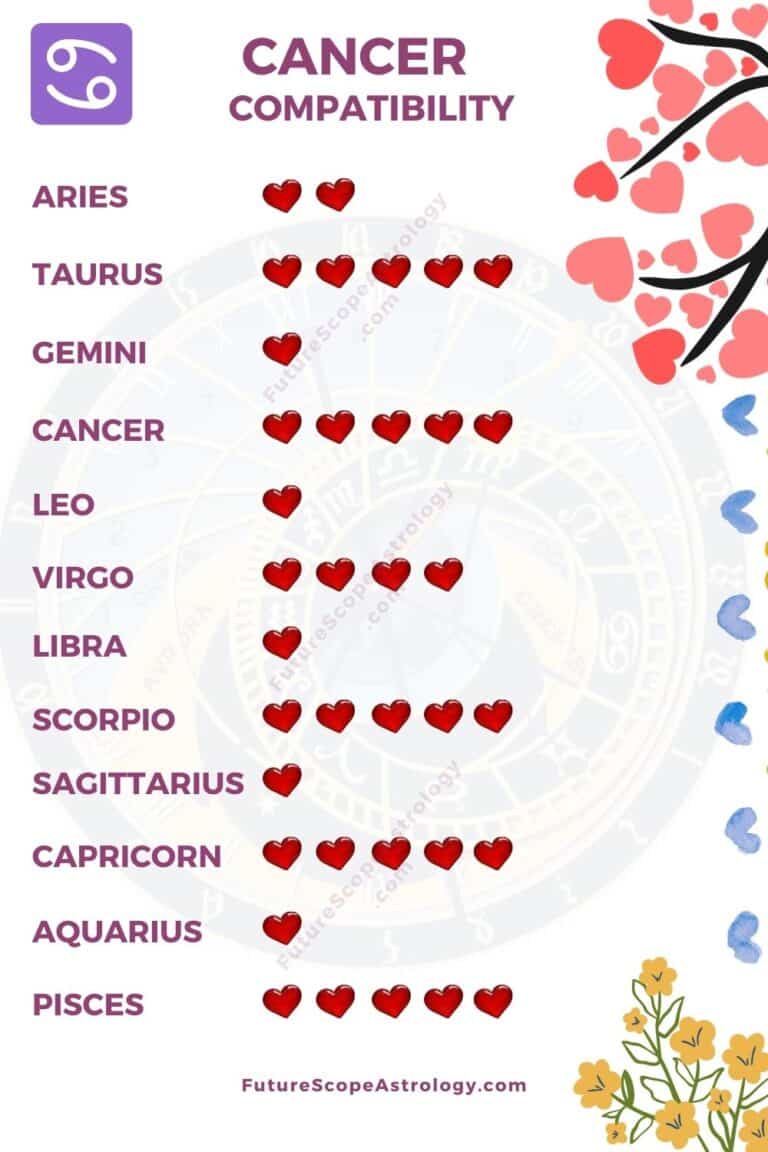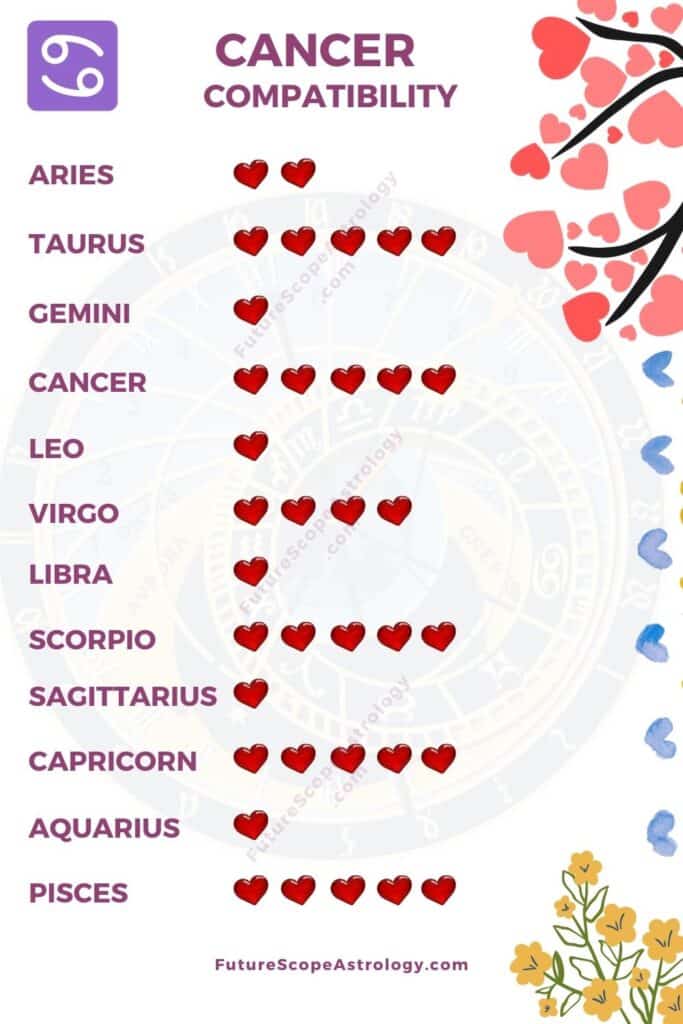 Zodiac Signs Most Compatible with 30 June birthday (Cancer)
The zodiac signs best match for people with Cancer Zodiac are
Taurus (86%)
Cancer (85%)
Virgo (75%)
Scorpio (88%)
Capricorn (78%)
Pisces (82%)
Cancer is a water sign. Scorpio and Pisces are also water signs. Hence, Scorpio and Pisces are best Compatible with people with Cancer Zodiac sign.
---
Zodiac Signs Incompatible with 30 June birthday (Cancer)
Zodiac signs incompatible with Cancerians are:
Aries (38%)
Gemini (30%)
Leo (33%)
Libra (32%)
Sagittarius (32%)
Aquarius (30%)
---
30 June : Zodiac Love Compatibility
In love relationship, following zodiac signs are most compatible with Cancer
Taurus
Cancer
Virgo
Scorpio
Capricorn
Pisces
Click here to check the compatibility of Cancer with various other Zodiac Signs.
---
June 30 Birthstone: Moonstone, Alexandrite, Pearl
Moonstone, Pearl , Alexandrite are the birthstones for those born on 30 June.
1. Alexandrite:
This gemstone is known for its amazing ability to change color depending on the light source. It can go from a deep green to a purplish hue, making it a very unique and special choice for June birthdays.
Alexandrite is said to promote self-confidence and creativity.
2. Moonstone:
Moonstone gets its name from the way it seems to glow in the moonlight. It has a pearly sheen that makes it look almost like it's glowing from within. Moonstone is thought to bring good luck and harmony.
3. Pearls:
Pearls are a symbol of purity and innocence.
Each of these stones has its own unique properties and meanings.
Know More about June 30 Birthstone (Moonstone, Alexandrite, Pearl ) …
---
June 30 Birthday : Health
Those born on June 30 should beware of hypochondria, which may result from minor ailments. The most common diseases that people born on June 30 suffer from are problems with the lungs and digestive system, as well as mental disorders.
Overeating is very dangerous for them, especially during periods of depression. It is necessary to ensure that the diet is healthy and balanced. It is good to supplement the correct diet with moderate physical activities – swimming, regular walks.
---
Advice for People Born on June 30
People of this day should learn to appreciate and love themselves enough. They can do a lot for others. It is necessary to understand and direct your energy in a good direction, not allowing it to go into aggression. You need to learn to face your fears and overcome them. The desire to isolate oneself from everyone and hide in one's shell, on the contrary, will not lead to anything good.
---
Know about Zodiac Signs:
Aries, Taurus, Gemini, Cancer, Leo, Virgo, Libra, Scorpio, Sagittarius, Capricorn, Aquarius, Pisces