March 18 Zodiac (Pisces) Birthday
Personality, Compatibility, Zodiac, Ruling Planet, Element, Health and Advice
Jan | Feb | Mar | Apr | May | June | July | Aug | Sept | Oct | Nov | Dec
---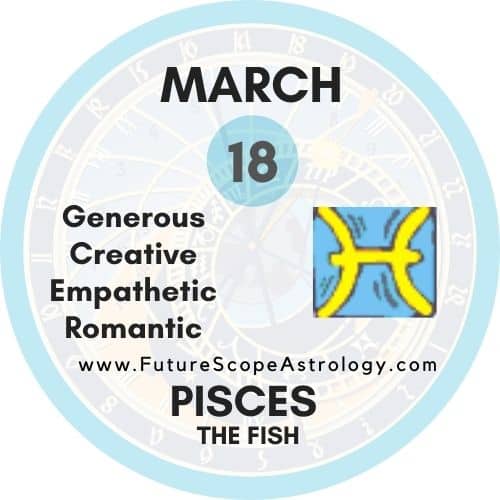 Is your Birthday on March 18 ? Know the Sun Sign, Personality, Compatibility and more….
March 18 Zodiac sign
Pisces
March 18 Birthstone
Aquamarine, Bloodstone
March 18 Ruling Planet
Jupiter
March 18 Element
Water
March 18 Lucky day
Thursday
March 18 Lucky Colors
Sea Green, Indigo, Aqua
March 18 Lucky Numbers
3, 7, 12, 16, 21, 25, 30
March 18 Zodiac Stone
Aquamarine and Amethyst.
March 18 Zodiac Compatibility
Most Compatible with Cancer and Scorpio
More about Compatibility
---
March 18 Zodiac Sign: Pisces
For People born on March 18 the Zodiac sign is Pisces.
Pisces tend to have an impetuous character, they are usually excellent partners, since they are quite romantic, affectionate and kind. In turn, as a negative note in their personality, they are excessively clueless and somewhat shy.
The Pisces zodiac sign is usually associated with Thursday as its day of the week and Green and Indigo as its color. Pisces is associated with planet Jupiter and its related element is 'Water'.
---
What Does your Birthdate Say About you
Jan | Feb | Mar | Apr | May | June | July | Aug | Sept | Oct | Nov | Dec
---
March 18 Birthday: Personality
March 18 Birthday Positive Traits:
Creative
Empathetic
Talented
Generous
Dreamy
Romantic
March 18 Birthday Negative Traits:
Overly Emotional
Easily Trust others and are swayed
Sometimes dishonest
Misguided in Illusion
Unrealistic expectations
March 18 Birthday Personality
These people can overcome all the obstacles and succeed. They have wonderful opportunities that will allow them to realize their wildest dreams, fulfill their cherished desires.
These people have quick thinking, smart and can communicate with people. They are endowed with the talent of an organizer, a leader.
They are able to attract the attention of others, to lead. These are purposeful people; having reached one goal, they continue to move forward. They do not like to stagnate and, if desired, can achieve much in life.
The theme of return often comes to the fore in the lives of those born on March 18, taking various forms, but mainly it concerns internal self-improvement. The most successful of them are able to make a full circle of changes in the value system.
The weak-character natures, however, tend to repeat endlessly and adhere to some absolutely unattainable pattern all the time, which, unfortunately, does not allow them to advance and grow as a person.
Born 18 march often attract other people, displaying the obvious abilities of a leader, intuition.
They persistently translate their dreams into reality. Although sometimes it may seem that they are ready to deviate from the previously declared principles, those born on this day rarely change their plans, preferring to fully implement carefully designed projects.
"Full", "Affordable", "Simple" are the defining words for these people, who usually have well-defined ideas about their fate.
They can show the greatest patience when they wait for an opportunity to prove themselves.
Less enlightened individuals born on this day, encountering difficulties on their way, sometimes fall into prostration, losing the ability to move on – and then patience becomes an apology for inaction.
Thus, the balance between action and inaction becomes very significant for these people. Born 18 march usually focus on the picture as a whole.
The smallest details and nuances, as a rule, do not cause them interest.
Such inattention to details can play a fatal role in their lives. In addition, those born on this day should be wary of dealing with uncertainty. When a society, family or work requires something special from them, they must learn to fulfill these requirements without delay.
Born 18 march often have problems with children. They are removed from them as soon as children begin to show a desire for independence.
Perhaps they do it with good intentions, wanting to give complete freedom to their offspring, but they sometimes perceive the parental gift as a monstrous indifference to themselves.
Those born on March 18 make excellent brokers, sales agents, lawyers. Possessing diplomacy, they are not only able to view reality from various points of view, but they can also offer ways of reconciliation between the two conflicting parties.
---
March 18 Birthday Compatibility with Zodiac Signs
People with March 18 Birthday have Pisces Sun Sign. Click here to check the compatibility of Pisces with various other Zodiac Signs.
---
March 18 Birthday : Health
Born 18 march consciously strive to attract all kinds of energy – both useful and harmful.
However, they need to separate the negative influence from the favorable one. Energy vampires who can stick to them, like parasites, pose a special danger to those born on this day.
In addition, those born on March 18 often surface their own psychological flaws – such as extreme egoism or ruthlessness, which ultimately causes antagonism from others. Over time, these people become less selfish.
Born 18 march they prosper in the family circle – here they feel much better than when they are left alone.
Diet and a variety of physical exercises can be very beneficial for them.
---
March 18 Birthstones: Aquamarine and Bloodstone
Aquamarine and bloodstone are the two birthstone for those born on 18 March.
The color of official birthstone for March 18 (Aquamarine) is Blue.
March 18 Birthstone – Benefits of Aquamarine:
Aquamarine heals emotional traumas
Aquamarine releases stress
Aquamarine appeases conflicts
Aquamarine releases suppressed feelings
Aquamarine helps in achieving peace with oneself
Aquamarine helps to deal with fear
Aquamarine provides protection in difficult situations.
March 18 Birthstone – Benefits of Bloodstone:
Bloodstone is also called as Hematite. Following are the benefits of using Bloodstone:
Bloodstone increases vitality and dynamism.
Bloodstone helps in keeping focus.
Bloodstone calm anxiety and panic attacks.
Bloodstone eliminates mental dispersions and overcomes the excessive tendency to dream.
Bloodstone stimulates productions of blood cells. Hence, it is useful to treat anemia.
Bloodstone helps to relieve headache.
Know more about your Birthstone …
---
Know about Zodiac Signs:
Aries, Taurus, Gemini, Cancer, Leo, Virgo, Libra, Scorpio, Sagittarius, Capricorn, Aquarius, Pisces