March 20 Zodiac (Pisces) Birthday
Personality, Compatibility, Zodiac, Ruling Planet, Element, Health and Advice
Jan | Feb | Mar | Apr | May | June | July | Aug | Sept | Oct | Nov | Dec
---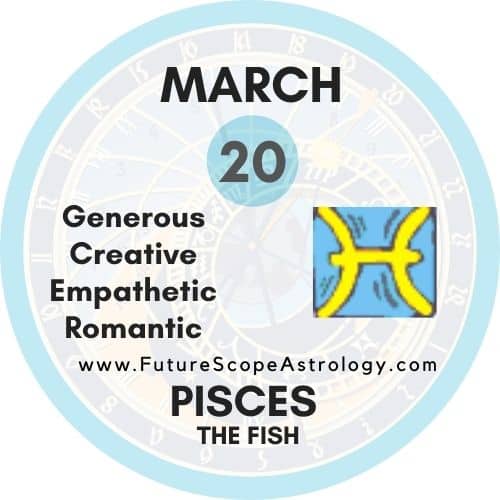 Is your Birthday on March 20 ? Know the Sun Sign, Personality, Compatibility and more….
March 20 Zodiac sign
Pisces
March 20 Birthstone
Aquamarine, Bloodstone
March 20 Ruling Planet
Jupiter
March 20 Element
Water
March 20 Lucky day
Thursday
March 20 Lucky Colors
Sea Green, Indigo, Aqua
March 20 Lucky Numbers
3, 7, 12, 16, 21, 25, 30
March 20 Zodiac Stone
Aquamarine and Amethyst.
March 20 Zodiac Compatibility
Most Compatible with Cancer and Scorpio
More about Compatibility
---
March 20 Zodiac Sign: Pisces
For People born on March 20 the Zodiac sign is Pisces.
Pisces tend to have an impetuous character, they are usually excellent partners, since they are quite romantic, affectionate and kind. In turn, as a negative note in their personality, they are excessively clueless and somewhat shy.
The Pisces zodiac sign is usually associated with Thursday as its day of the week and Green and Indigo as its color. Pisces is associated with planet Jupiter and its related element is 'Water'.
---
What Does your Birthdate Say About you
Jan | Feb | Mar | Apr | May | June | July | Aug | Sept | Oct | Nov | Dec
---
March 20 Birthday: Personality
March 20 Birthday Positive Traits:
Creative
Empathetic
Talented
Generous
Dreamy
Romantic
March 20 Birthday Negative Traits:
Overly Emotional
Easily Trust others and are swayed
Sometimes dishonest
Misguided in Illusion
Unrealistic expectations
March 20 Birthday Personality
On this day strong personalities are born, with great will, courageous, active, confident in themselves and their strengths, independent and proud. They used to act alone, not hoping for anyone and not asking for help.
Their determination helps them do a lot. They are interested in everything, they can prove themselves in many areas, in science, theater, and literature. They will have warm relations in the family, and stability in the material sphere.
March 20 is a very symbolic day, considered the last day of winter and the end of the astrological year, so those born on the 20th of the day are significantly different from other people.
For example, among them often there are very gifted natures, possibly, to some extent determining the evolution of human life. On the other hand, sometimes they have to make desperate efforts to get rid of the burden of accumulated problems and leave the past behind them.
Making an important decision, especially one that can make a significant difference in their lives, unfortunately, takes them too long.
Born 20 march generously endowed with versatile talents, but sometimes unreasonable optimism can put these people in a puddle. It's hard not to agree that daydreaming gives them a special charm, but it also often makes their point of view completely unrealistic.
However, if those born on March 20 are lucky enough to find their calling and life partner, they will be reliably protected from many failures.
As already noted, those born on March 20 are exceptionally talented individuals.
Therefore, it is difficult for them to immediately find the right path. In addition, sometimes they tend to devoutly worship fictitious or real-life heroes – often to the detriment of personal development.
Often it turns out that because of a romantic revaluation of someone, they unconsciously begin to belittle their own capabilities, and this, in turn, leads to a lack of self-confidence.
As a result, those born on this day begin to suffer brutally from an extremely painful inferiority complex, which can only be removed with the help of a specialist.
Born 20 march often become depressed. The cause of depression can be a lack of admiration for others from them.
A great role in the lives of these people is played by friends and colleagues who are able to support in difficult times. Ultimately, self-affirmation will help to avoid a burden for the psyche born to that day, no matter how difficult the approaches to it seem at first glance.
At the same time, those born on March 20 often manifest themselves as good psychologists, perhaps even endowed with extrasensory qualities.
Having certain abilities in this area, they must be extremely careful not to cross the permissible boundaries. Such addictions sometimes lead to a separation from reality, which devastates not only their hearts, but the hearts of those they love.
If those born on this day are able to use their talents in moderation, they will achieve considerable success in life. Born 20 march are very sensitive to art.
Singing, for example, can be a great hobby or even a profession for those with a musical ear. A genuine attention to the needs of others will help these people become excellent counselors for those who need support and comfort.
If possible, those born on this day need to be objective, as their opinions have weight and a strong influence on friends or people around them.
---
March 20 Birthday Compatibility with Zodiac Signs
People with March 20 Birthday have Pisces Sun Sign. Click here to check the compatibility of Pisces with various other Zodiac Signs.
---
March 20 Birthday : Health
Born 20 march are usually more developed mentally than physically, and tend to bind their natural feelings into a tight knot.
Excess energy can cause frequent headaches for them and ultimately lead to exhaustion if you do not rest and look for a stable position in life. Moderate, regular exercises will train their bodies, and open manifestations of emotions will help fight depression.
For those born March 20, a healthy diet is important – the sooner you choose the right diet, the better it will be for the body. However, the wastefulness of Pisces and excessive attention to food does not always contribute to the choice of the most rational menu.
These people should avoid malnutrition. Cereals, vegetables, and low-fat foods are best for them. On the other hand, extremes in the diet can also cause serious problems.
---
Advice for People Born on March 20
Your worries can be harmful. Move them aside. Direct your forces towards real goals.
---
March 20 Birthstones: Aquamarine and Bloodstone
Aquamarine and bloodstone are the two birthstone for those born on 20 March.
The color of official birthstone for March 20 (Aquamarine) is Blue.
March 20 Birthstone – Benefits of Aquamarine:
Aquamarine heals emotional traumas
Aquamarine releases stress
Aquamarine appeases conflicts
Aquamarine releases suppressed feelings
Aquamarine helps in achieving peace with oneself
Aquamarine helps to deal with fear
Aquamarine provides protection in difficult situations.
March 20 Birthstone – Benefits of Bloodstone:
Bloodstone is also called as Hematite. Following are the benefits of using Bloodstone:
Bloodstone increases vitality and dynamism.
Bloodstone helps in keeping focus.
Bloodstone calm anxiety and panic attacks.
Bloodstone eliminates mental dispersions and overcomes the excessive tendency to dream.
Bloodstone stimulates productions of blood cells. Hence, it is useful to treat anemia.
Bloodstone helps to relieve headache.
Know more about your Birthstone …
---
Know about Zodiac Signs:
Aries, Taurus, Gemini, Cancer, Leo, Virgo, Libra, Scorpio, Sagittarius, Capricorn, Aquarius, Pisces