April 2 Zodiac (Aries) Birthday
Personality, Compatibility, Zodiac, Ruling Planet, Element, Health and Advice
Jan | Feb | Mar | Apr | May | June | July | Aug | Sept | Oct | Nov | Dec
---
Is your Birthday on April 2 ? Know the Sun Sign, Personality, Compatibility and more….
April 2 Zodiac sign
Aries
April 2 Ruling Planet
Mars
April 2 Element
Fire
April 2 Lucky day
Tuesday
April 2 Lucky Colors
Red
April 2 Lucky Numbers
9, 18, 27
April 2 Birthstone
Ruby, Bloodstone, coral, Jasper
April 2 Zodiac Compatibility
Most Compatible with Leo and Sagittarius
More about Compatibility
---
April 2 Zodiac Sign: Aries
For People born on April 2 the Zodiac sign is Aries.
Aries tend to have an impetuous character, who usually have a high sense of duty. They are hard-working people, with an entrepreneurial character and with a lot of energy and vitality. In turn, as a negative note of their personality, they are people who tend to be too possessive and in turn, a bit rebellious and a bit aggressive in character.
The Aries zodiac sign is usually associated with Tuesday as its day of the week and Red as its color. Aries is associated with planet Mars and its related element is 'Fire'.
---
What Does your Birthdate Say About you
Jan | Feb | Mar | Apr | May | June | July | Aug | Sept | Oct | Nov | Dec
---
April 2 Birthday: Personality
April 2 Birthday Positive Traits:
Courageous
Passionate
Confident
Determined
Honest
Strong Leadership
Generous
Ambitious
Independent
April 2 Birthday Negative Traits:
Aggressive
Competitive
Temperamental
Impulsive
Attention Seeking
selfishness
Less Patience
April 2 Birthday: Personality
These are people with a very strong and decisive disposition. Having made a certain choice, they can thereby change their fate and the fate of others. A lot in their life depends on the chosen direction. Their life directly depends on parenting and the dominance of negative or positive aspects of character. People who were born on this date are famous for their determination, courage, and fearlessness.
They can easily get out of any extreme situation and simply cannot live without risk and adrenaline rushing into the blood. They have a very developed intuition and leadership skills. Only these qualities should be used for good, otherwise the life of such a person will turn into a nightmare. She will be joyless, endowed with deceit and pretense.
People born on April 2 are creepy idealists. Their naivety and childishness, even in adulthood, do not allow the development of perseverance and firmness of character that contribute to the achievement of goals. It is because of this that they often have difficulties with a career. To avoid these difficulties, people who were born on this day need to finally decide on their life goals and set for themselves the limit of dreams and hopes, it is advisable to lower the bar a little. Until a person does this, he will be doomed to empty pastime, meaningless wanderings around the world and eternal vanity.
People who appeared on this day love to talk about their dreams and ideals, while imposing their vision of the world. It is sometimes difficult for others to listen to this confession. Persons born April 2 are often in their imaginary world, and therefore their sincerity and honesty may not be adequately perceived.
Because of their honesty and sincerity, these people rarely compromise, and perceive any misunderstanding as a personal betrayal. Even if they are surrounded by people who love and support them, they always need to take care of themselves so as not to confuse dear people. That is why they need to perfectly master the art of compromise. As a rule, the world for them exists only in black and white. Intermediate colors are not acceptable for them, so the world is divided into two warring parties.
They achieve respect in the eyes of others because of their humanity and openness, which is why it is very important for them to restrain their anger and their irritation. In addition to all this, they always defend the weaker, offended and received an undeserved insult, and as a result make enemies from the most influential segments of the population. But at the same time they make new friends and fans.
Born 2 april very often do not understand and are surprised at the emotions of other people, because it is not so easy for them to experience such emotions. To do this, go through difficulties and suffering. For such people, it does not matter what the rest of the individuals say about them. Therefore, they do not immediately realize that those around them do not understand. And such a misunderstanding for them becomes a big tragedy.
---
April 2 Birthday Compatibility with Zodiac Signs
People with April 2 Birthday have Aries Sun Sign. Click here to check the compatibility of Aries with various other Zodiac Signs.
---
April 2 Birthday : Health
Those born on April 2 need to constantly take care of their health. They will benefit from regular, moderate intensity, exercise. Such exercises will help keep the body normal and have a relaxing effect after intellectual overstrain.
These people should carefully monitor their nervous system. Because their violent imagination can lead to latent depressions and mental disorders. You should constantly listen to the slightest signs of illness in the body, for example, back pain, constant discomfort, fatigue. And, of course, at the slightest suspicion of running to the doctor for a consultation.
Because the individuals who were born of this number are in no hurry to go to the hospital, and illnesses are dragging on to the extreme degree, it is extremely important for them to undergo a medical examination 2 times a year.
And what about extra pounds, then such people really like to treat themselves to delicious, and just love to eat. Therefore, it is especially important for them to control their weight and exclude the consumption of milk, meat and alcohol from the diet.
---
Advice for People Born on April 2
Take a chance and try to become realistic. Discard unrealizable illusions and ideals. Listen more to someone else's opinion, it may be more true than your own. And remember, sometimes criticism of you may even be useful to you.
---
April 2 Birthstone: Diamond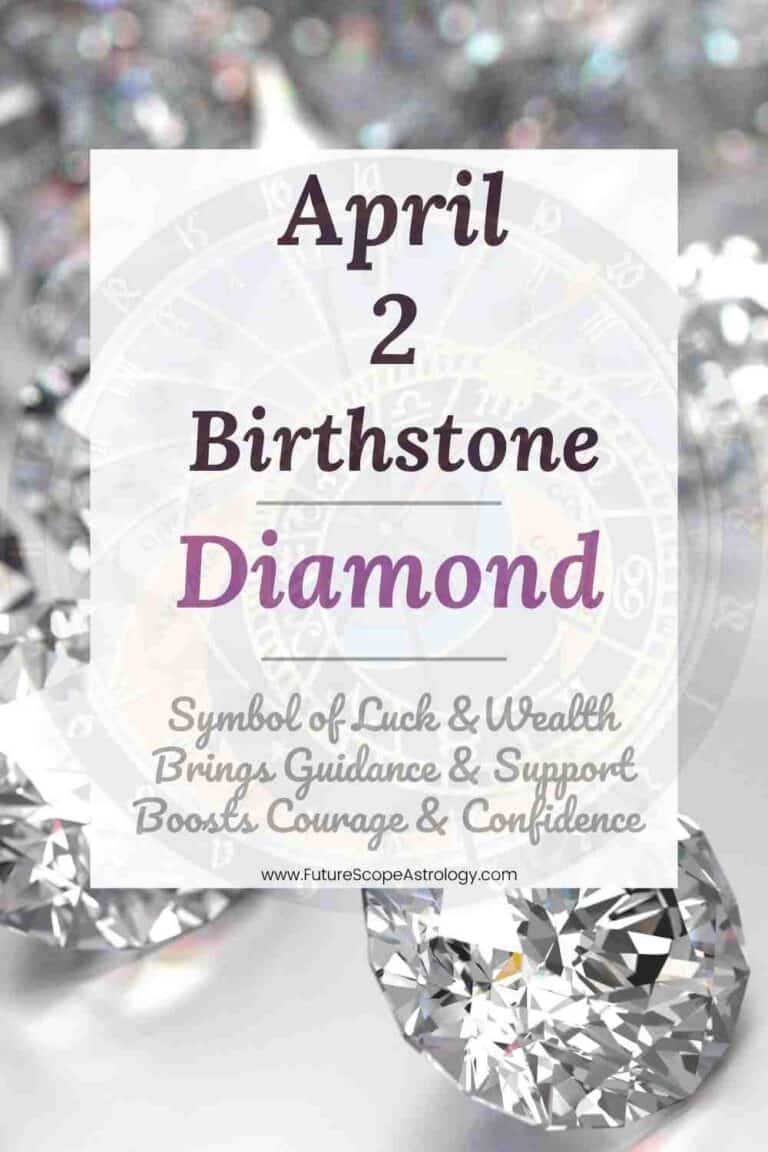 Diamond is the birthstone for those born on 2 April.
Diamond is a precious stone. It a symbol of everlasting love and is thought to bring the wearer luck, wealth and success. It is the hardest natural mineral on Earth and is therefore very durable. Diamonds come in a variety of colors, but the most popular color is white. They are often used in jewelry because of their beauty and durability.
April 2 Birthstone – Benefits of Diamond
Diamonds are thought to be able to amplify energy and promote clarity of thought, making them beneficial for meditation and other spiritual practices.
They are also said to help connect with the divine, bringing guidance and support in times of need.
Diamonds are associated with increased purity, and strength of will.
They are also said to promote courage, confidence, and creativity.
Owning a diamond is considered to be a sign of high status and wealth.
Diamonds are a symbol of love and commitment and make the perfect engagement or wedding ring.
They are an excellent investment that will hold its value over time.
Know More about April 2 Birthstone (Diamond) …
---
What Does your Birthdate Say About you
Jan | Feb | Mar | Apr | May | June | July | Aug | Sept | Oct | Nov | Dec
Zodiac Compatibility:
ARIES Compatibility , TAURUS Compatibility , GEMINI Compatibility , CANCER Compatibility , LEO Compatibility , VIRGO Compatibility , LIBRA Compatibility , SCORPIO Compatibility , SAGITTARIUS Compatibility , CAPRICORN Compatibility , AQUARIUS Compatibility , PISCES Compatibility
Tarot for Zodiac:
Tarot For Aries , Tarot For Taurus , Tarot for Gemini , Tarot for Cancer , Tarot for Leo ,, Tarot for Virgo , Tarot for Libra , Tarot for Scorpio , Tarot for Sagittarius , Tarot for Capricorn , Tarot for Aquarius , Tarot for Pisces
Know about Zodiac Signs:
Aries, Taurus, Gemini, Cancer, Leo, Virgo, Libra, Scorpio, Sagittarius, Capricorn, Aquarius, Pisces