April 7 Zodiac (Aries) Birthday
Personality, Compatibility, Zodiac, Ruling Planet, Element, Health and Advice
---
4/7: Aries Zodiac Star Sign
"As an Aries born on April 7th, you are tenacious, kind, and brave. Your intuition guides you, and communication is your strength. Embracing faith and positivity, you flourish. While you are naturally responsible, ensure you balance life's demands. Your relationships are a source of joy and strength, guiding you through challenges."
April 7 Zodiac sign
Aries
April 7 Ruling Planet
Mars
April 7 Element
Fire
April 7 Lucky day
Tuesday
April 7 Lucky Colors
Red
April 7 Lucky Numbers
9, 18, 27
April 7 Birthstone
Ruby, Bloodstone, coral, Jasper
April 7 Zodiac Compatibility
Most Compatible with Leo and Sagittarius
More about Compatibility
---
April 7 Aries Horoscope
For People born on April 7 (4/7), the Zodiac sign is Aries.
As an Aries born on April 7, you are an intriguing blend of visionary and action-taker. Your gifts aren't just for personal gain; you consistently channel them to uplift those in your orbit. Unlike many, you possess a selfless demeanor, allowing you to deeply resonate with the emotions and needs of others.
Your essence isn't dominated by ego or self-centered pursuits. Instead, you navigate life with genuine compassion, always eager to lend a hand or share a word of encouragement. This unique ability to empathize makes you not just relatable but also a beacon of support for many.
Your dual nature of dreaming big and putting those dreams into tangible actions is inspiring. While some may just get lost in dreams, you ensure that they are grounded in reality, translating visions into meaningful outcomes for the collective good. In essence, your presence enriches the world around you.
---
What Does your Birthdate Say About you
Jan | Feb | Mar | Apr | May | June | July | Aug | Sept | Oct | Nov | Dec
---
April 7 Birthday: Personality
April 7 Birthday Positive Traits:
Courageous
Passionate
Confident
Determined
Honest
Strong Leadership
Generous
Ambitious
Independent
April 7 Birthday Negative Traits:
Aggressive
Competitive
Temperamental
Impulsive
Attention Seeking
selfishness
Less Patience
April 7 Birthday: Personality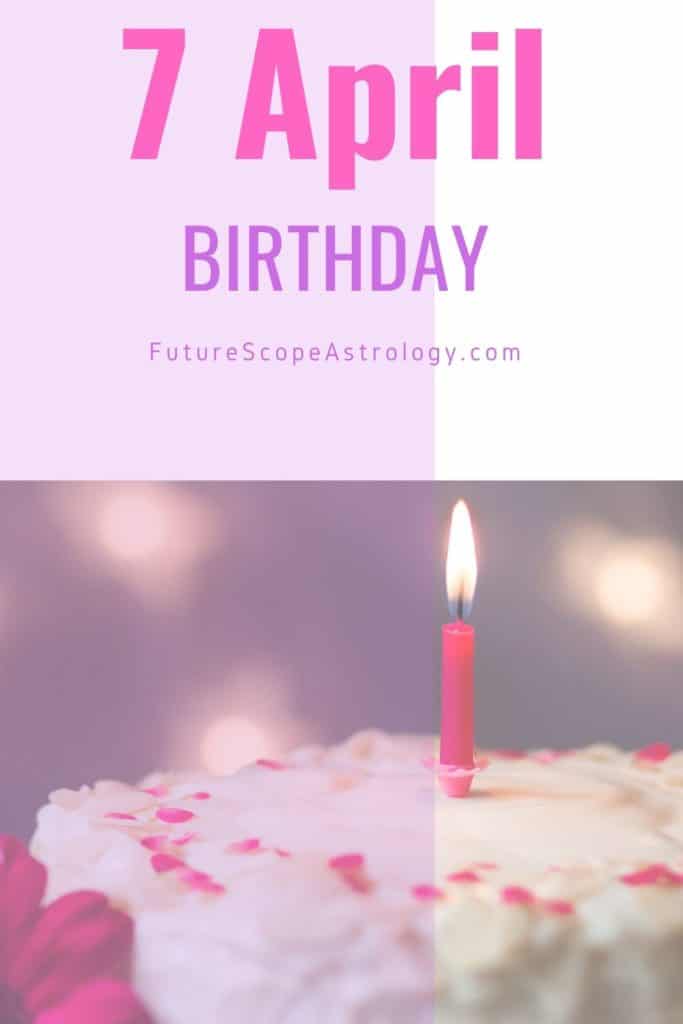 Those born on this day have difficulties in character, but they have tenacity, kind, independent and brave. If those born on this day learn to control the facets of their character, they will undoubtedly receive universal love and respect. 
People born on 7 April have the gift of communication with others – they can get along with at least someone. Born 7 April have a very developed intuition – they know what needs to be done at this particular time, therefore they are successful.
If friends, relatives or colleagues help this person, he will achieve great success. Living together with another person is ordinary and happy, filled with vivid emotions.
The arrangement of stars on this day contributes to the birth of energetic people, filled with enthusiasm. A very big influence on people born on April 7 is provided by childhood, if it was not happy, and the child lacked love and attention, or he grew up in adverse conditions, this will remain with him forever – sadness will be present in his life.
Active in their youth, they strive to provide themselves with a dignified and well-fed future life. The sign of Aries leaves a rebellious imprint on them – they spend a lot of energy in youth to find out the relationship, but with age these people become wiser, but the internal anger and rebellious spirit remain an obstacle for them.
A feature of those born on April 7 is that in life there comes a moment when mental abilities reach their full height and you have to make an informed choice to continue your life.
This moment usually occurs at an age close to 28 years – Saturn completes its first cycle, but it can also be transferred to a later period of -42 years, when Uranus and Saturn will be at points diametrically opposite to those at birth. With the successful passage of these ages, the life of a person born on April 7 will be successful.
These people more than others feel the positive energy emanating from other people, so they can become servants of religious movements. Basically, these people honor the laws of God – their life is often based on church commandments, regardless of the faith of the confession.
Since these people are optimistic, they should not be too loyal to events and people around – perhaps not all of them are hospitable and good.
Representatives born on this day, but not possessing high intellect, can evaporate in difficult life situations, leaving a loved one alone with their problems, a sense of reality is also poorly developed in them, but a feeling of bitterness is aggravated.
Highly intelligent and enlightened individuals who have achieved great success in something may have a crushing sense of responsibility. When it comes, these people try to find a nook where they can retire from everyone.
The second halves born on April 7th were lucky: they encourage a sense of dignity in partners, and are also ready to assist them. These people can easily work in public positions, but they react sharply to failures and unfulfilled hopes.
---
April 7 Birthday Compatibility with Zodiac Signs
People with April 7 Birthday have Aries Sun Sign. Click here to check the compatibility of Aries with various other Zodiac Signs.
---
April 7 Birthday : Health
People Born on 7 April, if they are in harmony with themselves, are characterized by good health and high life expectancy. However, they should not subject their body to excessive loads, reaching any goal.
They believe that their health will withstand everything, but this is not so – any of us has a tensile strength. In critical situations, it can be useful to change the pace and rhythm of life, which will positively affect life expectancy.
Those born on April 7 must learn endurance and patience – not all goals will be fulfilled at lightning speed, sometimes it's worth to be patient and take care of yourself. Working for 18 hours a day, lack of sleep and nutrition will not bring anything good, except health problems.
Since these people are inherently prone to gastrointestinal diseases, they should try to avoid unrest and stress. In addition, reduce the consumption of spicy, acidic, highly salty, fatty and fried foods. Born 7 april it is better to use a fractional order of food in food – eat in small portions 4-5 times a day, without rushing and chewing thoroughly.
---
Advice for People Born on April 7
Not everyone has such an enthusiasm and desire for a goal, so you should not impose your own model of behavior on people, each of them reacts to the situation around him in his own way.
Each of us has the right to choose, let people use it. Fulfilling your desires without hunting, the result of joint activities may be unsatisfactory.
---
What Does your Birthdate Say About you
Jan | Feb | Mar | Apr | May | June | July | Aug | Sept | Oct | Nov | Dec
Know about Zodiac Signs:
Aries, Taurus, Gemini, Cancer, Leo, Virgo, Libra, Scorpio, Sagittarius, Capricorn, Aquarius, Pisces