December 9 Zodiac (Sagittarius) Birthday
Personality, Birthstone, Compatibility, Zodiac Stone, Ruling Planet, Element, Health and Advice
---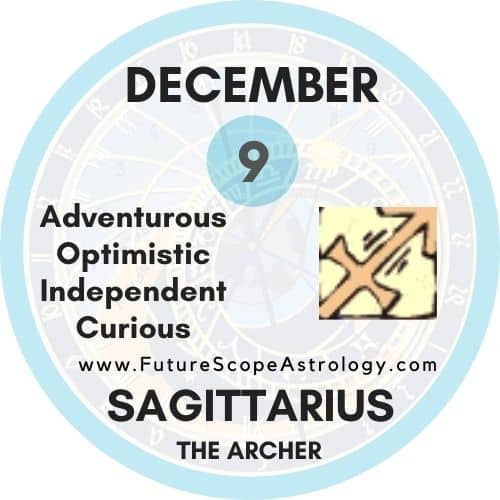 Is your Birthday on December 9 ? Know the Sun Sign, Personality, Compatibility and more….
9 December Zodiac sign
Sagittarius
9 December Birthstone
Topaz, Citrine
9 December ruling Planet
Jupiter
9 December Element
Fire
9 December Lucky day
Thursday
9 December Lucky Colors
Gold
9 December Lucky Numbers
6, 9
9 December Zodiac Stone
Turquoise
9 December Zodiac Compatibility
Most Compatible with Aries and Leo.
More about Compatibility
---
December 9 Zodiac Sign: Sagittarius
For People born on December 9, the Zodiac sign is Sagittarius.
---
December 9 Birthday: Personality
December 9 Birthday Positive Traits
December 9 Birthday Negative Traits
Independent
Optimistic
Risk-Takers
Honest
Adventurous
Curious
Reliable
Blunt
Judgmental
Impatient
Unforgiving
Inconsistent
Over Confident
December 9 Birthday Positive and Negative Traits
People born on this day have good patience.
Those born on December 9 have a rich imagination. They love to be in the spotlight. For them, life is a romantic adventure filled with bold discoveries and surprises.
Like no other, born on december 9 should feel like a star of a colorful show, the main character in the drama of life.
In childhood, they are usually quiet, sensitive, endowed with the ability to fantasize. Exciting, heroic roles in which they imagine themselves as children, later, already in adulthood, are embodied in reality.
Those of them who live a relatively calm life continue to mentally fantasize, introducing themselves as the main characters of exciting adventures. Sooner or later, they come to understand the need for self-expression, if only they want to be happy.
Many of those born on December 9 live in a subjective world, and their opinions on various situations are in many ways are different from the opinions of friends, associates, and relatives.
For example, others can be quite satisfied with the existing status quo, while those born on December 9 see the need for change.
Perhaps this, in fact, manifests their orientation towards heroic acts, which only an uncompromising person is capable of.
In relation to their children and loved ones, those born on December 9 behave like blind protectors and patrons, ready at all costs to protect people dear to their hearts from various encroachments from the outside world.
Performing such a role throughout life is quite difficult, since changing circumstances usually require new rules of behavior. Thus, if those born on December 9 decide to devote themselves to the noble cause of caring for their neighbors, they need to be as flexible as possible.
Perhaps they should reconsider the whole range of responsibilities that they take upon themselves and move from more spectacular to purely practical.
If aggressiveness prevails in those born on December 9, it must in no case be let out of control, since it can cause estrangement from friends and loved ones. It is generally better for those born on this day to press down their capricious character more tightly.
Achieving maturity, which brings calm, is a favorable prospect for those born on this day. Overcoming obstacles and challenges of fate is an integral part of their personality.
With the advent of wisdom, those born on December 9 begin to rethink their role in this life. Becoming more philosophically oriented and objective, they bring much greater benefit to society.
---
December 9 Birthday Love and Compatibility
People with December 9 Birthday have Sagittarius Sun Sign. Click here to check the compatibility of Sagittarius with various other Zodiac Signs.
---
December 9 Birthday : Health
Extrovert people born on December 9 should soften and control their aggressive impulses. Those who are introverts should avoid the temptation to plunge into the world of illusions and fantasies.
Light physical exercises (gymnastics, aerobics, running) are recommended.
---
Advice for People Born on December 9
Dare to become ordinary. You do not always need to be a star.
Discover the joys of the inner world; live and let others live. Do not let anger prevail – find a reliable way to tame it. Stand firmly on your feet.
---
Famous people born on December 9th
Those born on December 9th share birthday with there famous people:
Kelly Oubre Jr., Basketball Player (USA), December 9 1995
Shin Yuna, K-Pop Singer (South Korea), December 9 2003
Kurt Angle, Wrestler (USA), December 9 1968
Donny Osmond, TV Actor (USA), December 9 1957
Lori Greiner, Entrepreneur (USA), December 9 1969
Felicity Huffman, TV actress (USA), December 9 1962
PnB Rock, Rapper (USA), December 9 1991
---
What Does your Birthdate Say About you
Jan | Feb | Mar | Apr | May | June | July | Aug | Sept | Oct | Nov | Dec
---
Zodiac Compatibility:
ARIES Compatibility , TAURUS Compatibility , GEMINI Compatibility , CANCER Compatibility , LEO Compatibility , VIRGO Compatibility , LIBRA Compatibility , SCORPIO Compatibility , SAGITTARIUS Compatibility , CAPRICORN Compatibility , AQUARIUS Compatibility , PISCES Compatibility
Know about Zodiac Signs:
Aries, Taurus, Gemini, Cancer, Leo, Virgo, Libra, Scorpio, Sagittarius, Capricorn, Aquarius, Pisces