June 24 Zodiac (Cancer) Birthday
Personality, Zodiac Sign, Compatibility, Ruling Planet, Element, Health and Advice
Jan | Feb | Mar | Apr | May | June | July | Aug | Sept | Oct | Nov | Dec
---
Is your Birthday on June 24 ? Know the Sun Sign, Personality, Compatibility and more….
---
June 24 Zodiac sign
Cancer

June 24 Ruling Planet
Moon
June 241 Element
Water
June 24 Lucky day
Monday
June 24 Lucky Colors
White, Silver
June 24 Lucky Numbers
2, 7, 11, 16, 20, 25
June 24 Birthstone
Pearl , Alexandrite, Moonstone

June 24 Zodiac Compatibility
Most Compatible with Scorpio and Pisces

More about Compatibility
---
June 24 Zodiac Sign: Cancer
For People born on June 24 the Zodiac sign is Cancer.
People born on June 24 are usually are loving and full of emotions. They believe in deep emotional connections with people rather than general socializing. Only chosen few can be a part of their inner circle. They make very good friends. In turn, as a negative note of their personality, they are people a little moody, suspicious and over protective.
The Cancer zodiac sign is usually associated with Monday as its day of the week and White and Silver as its color. Cancer is associated with planet Moon and its related element is 'Water'.
Famous Cancer Zodiac Celebrities
---
What Does your Birthdate Say About you
Jan | Feb | Mar | Apr | May | June | July | Aug | Sept | Oct | Nov | Dec
---
June 24 Birthday: Personality
June 24 Birthday Positive Traits:
Caring
Loyal
Protective
Intuitive
Creative
Family Oriented
Generous
June 24 Birthday Negative Traits:
Moody
sensitive
Sometimes Vindictive
Suspicious
Insecure
Pessimistic
June 24 Birthday: Personality
Born 24 June have a special charm and energy that attracts and attracts so much that they fascinate other people and have an impact on them.
They are eloquent and charming, their love ardor is enough for several marriages, which often happens. They have a strong potential for creativity, music and literature, and can also manifest themselves in religion and healing.
Their financial affairs can turn into brilliant victories.
People born 24 June are scrupulous in work, they rush at it whole, surrendering to it completely. Strong moral and most intelligent individuals direct their energies toward creative creative projects, while others focus on projects with a destructive orientation.
Despite this, their common approaches are characterized by thoughtfulness, sensibility and are carried out with enviable enthusiasm.
The skills and mastery that they possess are an indispensable attribute of their self-realization, tools through which they can show individuality and gain an authoritative opinion, power, popularity among others.
The most spiritually developed individuals embark on the path to achieving moral ideals embodied in Divine Love for everything and everyone.
They cultivate within themselves and surround their lives with a halo of kindness and respect, forgiveness and religious devotion, attention and sensitivity to others.
Individuals not striving for perfection are realized in opposite aspirations and concerns, for them the conflict state is ordinary and habitual, and life proceeds against the background of the struggle for supremacy and superiority.
But here everything is not so hopeless, the possibility of rethinking life values ​​and the acquisition of moral values ​​is not ruled out.
However, in the framework of one life, hardly anyone succeeds. There must be a huge stimulus, push, an endless desire to change and choose the right path – kindness and self-improvement.
The tendency towards religious fanaticism born on June 24 can often permeate all their actions. They purposefully go to self-discipline and are able to amazing ability to concentrate.
They relate to improvisations and surprises at work, as long as they are based on professionalism and skill that will lead to good work results.
Even those who are not distinguished by morality realize that in their deeds not only evil, but also good impulses, their combination, without which life in general is inconceivable.
Therefore, a crisis can occur at the forty-year-old born on June 24, rethinking their living standards and correlating them with social ethical standards. In silence, they like to think and do what they love, so loved ones should not impede their solitude.
It is in the native walls that their masterpieces are born, if they are creative people, or significant results are achieved.
Without home warmth, life on 24 June does not make sense; they concentrate their energy reserves for privacy, leaving behind the front door vanity and work problems.
They value their home more than their place of work and position.
---
June 24 Birthday : Compatibility with other Zodiac Signs
People born on June 24 have Cancer Sun Sign.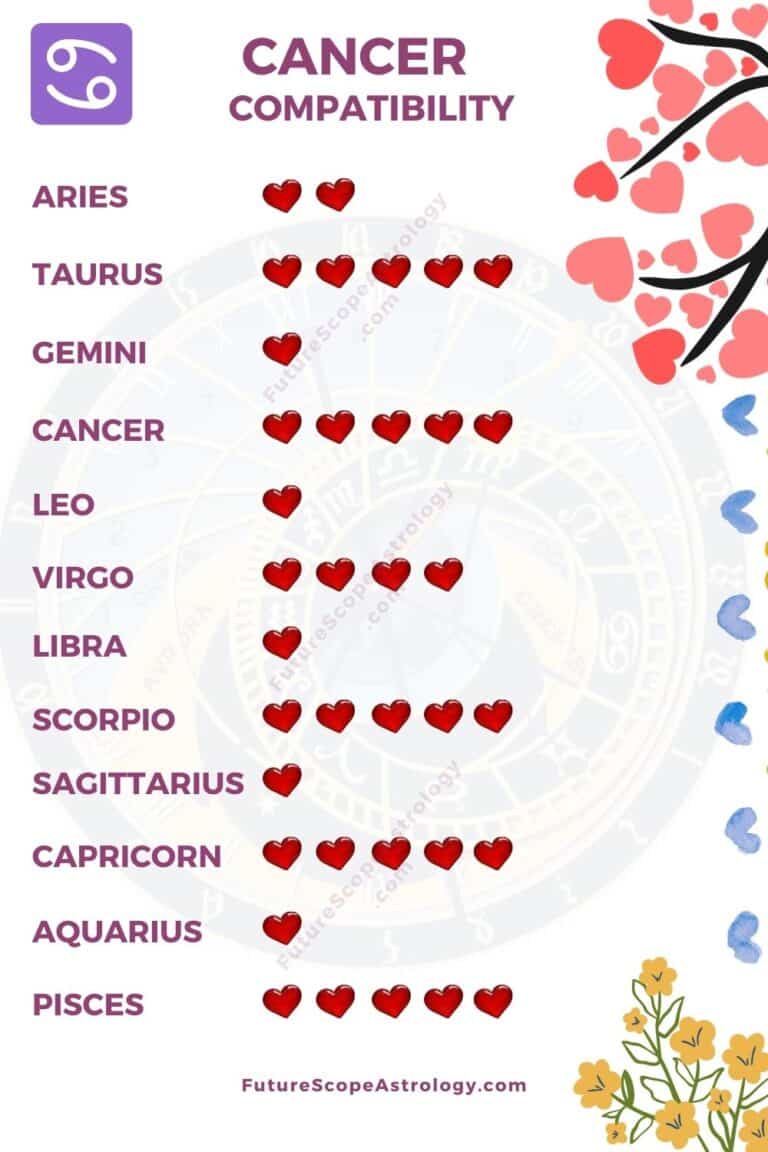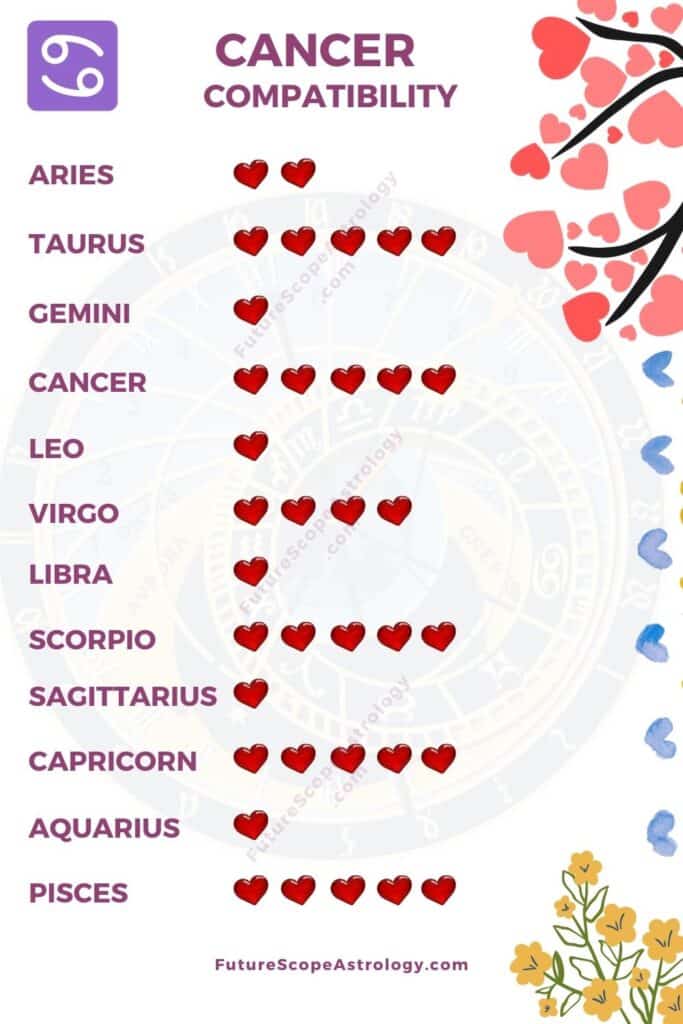 Zodiac Signs Most Compatible with 24 June birthday (Cancer)
The zodiac signs best match for people with Cancer Zodiac are
Taurus (86%)
Cancer (85%)
Virgo (75%)
Scorpio (88%)
Capricorn (78%)
Pisces (82%)
Cancer is a water sign. Scorpio and Pisces are also water signs. Hence, Scorpio and Pisces are best Compatible with people with Cancer Zodiac sign.
---
Zodiac Signs Incompatible with 24 June birthday (Cancer)
Zodiac signs incompatible with Cancerians are:
Aries (38%)
Gemini (30%)
Leo (33%)
Libra (32%)
Sagittarius (32%)
Aquarius (30%)
---
24 June : Zodiac Love Compatibility
In love relationship, following zodiac signs are most compatible with Cancer
Taurus
Cancer
Virgo
Scorpio
Capricorn
Pisces
Click here to check the compatibility of Cancer with various other Zodiac Signs.
---
June 24 Birthstone: Moonstone, Alexandrite, Pearl
Moonstone, Pearl , Alexandrite are the birthstones for those born on 24 June.
1. Alexandrite:
This gemstone is known for its amazing ability to change color depending on the light source. It can go from a deep green to a purplish hue, making it a very unique and special choice for June birthdays.
Alexandrite is said to promote self-confidence and creativity.
2. Moonstone:
Moonstone gets its name from the way it seems to glow in the moonlight. It has a pearly sheen that makes it look almost like it's glowing from within. Moonstone is thought to bring good luck and harmony.
3. Pearls:
Pearls are a symbol of purity and innocence.
Each of these stones has its own unique properties and meanings.
Know More about June 24 Birthstone (Moonstone, Alexandrite, Pearl ) …
---
June 24 Birthday : Health
Blissful fever from falling in love or passion can lead to those born on June 24th who feel unwell and have health problems. Heart diseases, complications with ENT organs and the stomach often accompany those born on June 24.
Therefore, they are advised to do meditation, freeing the brain from meditation and heavy emotions, eliminating physical problems. A balanced diet for them is the way out, it provides for regular food intake and is easily perceived by those born on June 24.
Such a diet reduces aggressiveness, especially if the consumption of sugar and meat is minimized. Nicotine and alcohol should be treated with caution, it is advisable to exclude them altogether.
---
Advice for People Born on June 24
Evaluate the results of your actions from a moral point of view, objectively and impartially. Do not neglect public values. Excessive self-isolation and loneliness are contraindicated for you.
---
Know about Zodiac Signs:
Aries, Taurus, Gemini, Cancer, Leo, Virgo, Libra, Scorpio, Sagittarius, Capricorn, Aquarius, Pisces