December 8 Zodiac (Sagittarius) Birthday
Personality, Birthstone, Compatibility, Zodiac Sign, Ruling Planet, Element, Health and Advice
Jan | Feb | Mar | Apr | May | June | July | Aug | Sept | Oct | Nov | Dec
---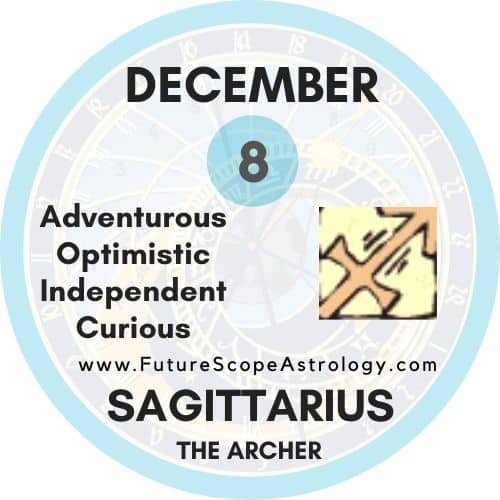 Is your Birthday on December 8 ? Know the Sun Sign, Personality, Compatibility and more….
8 December Zodiac sign
Sagittarius
8 December Birthstone
Topaz, Citrine
8 December ruling Planet
Jupiter
8 December Element
Fire
8 December Lucky day
Thursday
8 December Lucky Colors
Gold
8 December Lucky Numbers
6, 9
8 December Zodiac Stone
Turquoise
8 December Zodiac Compatibility
Most Compatible with Aries and Leo.
More about Compatibility
Those born on December 8th are attractive and graceful. Overtime, you will develop an influential social circle.
Your zodiac sign is Sagittarius and your astrological symbol is the archer.
You are ruled by the planet Jupiter. It gives you wisdom, youthfulness and optimism.
You are governed by the 'Fire' element. this fire element give you a constant pursuit for change and growth.
---
December 8 Zodiac Sign: Sagittarius
For People born on December 8, the Zodiac sign is Sagittarius.

Sagittarius tend to have an impetuous character, who tend to be great athletes, quite cheerful and jovial, and are very studious. In turn, as a negative note of their personality, they are somewhat reckless, a bit radical and somewhat capricious.
The zodiac sign Sagittarius is usually associated with Thursday and purple, blue, violet colors. Sagittarius is associated with planet Jupiter and its related element is fire.
---
Traits of a person born on December 8
December 8 Birthday Positive Traits
December 8 Birthday Negative Traits
Independent
Optimistic
Risk-Takers
Honest
Adventurous
Curious
Reliable
Blunt
Judgmental
Impatient
Unforgiving
Inconsistent
Over Confident
December 8 Birthday Positive and Negative Traits
Those born on December 8th are under the sign of Sagittarius. They are full of optimism, calm, joyful and very direct. They are loyal companions although they are always "with their heads in the clouds".
They have a very moody mind, and are prone to distraction, as they lack strict rules and don't like to fixate on something for too long. They believe a lot in tomorrow, they are good and it almost seems that they do not fear poverty.
It is difficult for them to grasp the difference between "mine" and "yours", but only because they feel that everyone should share what they have with others.
Their life is full of change and panache. They are great sportsmen, lovers of nature, holidays and long walks. Often faithful and gifted with deep intuition, they enjoy good health even if the weak points are related to digestion.
Common characteristics of the sign are positivity, self-confidence, cheerfulness, energy, intuition, non-sense of danger, independence, the wisdom; is a very complex character, which has in itself the ability to be an excellent conversationalist and a bad listener.
Sagittarius can be on the one hand an idealist and philosopher or an adventurer in search of new adrenaline experiences.
Sagittarius is very attached to family members both of origin and not; his wrath does not last long.
They are true friends, sensitive, very charming: their sensuality is exuberant and healthy. Nature has given this sign the gift of a long youth thanks to the love for sport and the outdoors.
They love the most pleasant things that existence can offer, but if, especially at a young age, they indulge too much in these pleasures, they will certainly suffer from it at a mature age.
---
December 8 Birthday: Personality
December 8 Birthday (Sagittarius) : Strengths
✓ Independent
Sagittarians have a strong independent trait like no other sign. Independence and the freedom to pursue what they want when they want is of the utmost importance to a Sagittarius.
They are travelers, risk takers, and have a great mind for business and sport. This means they tend to be among the most innovative people. They are not afraid to go their own way, even if it means going alone.
✓ Analyze
Sagittarius is a seeking and spiritual soul, with a tendency to become philosophical and, well, profound. One of the things that most draws people to Sagittarians is their ability to see the big picture, analyze, to be able to diagnose and advise on their friends' problems. Being Sagittarius's best friend can be like having an emotional counselor or life coach.
✓ Openness
Thanks to their openness to new experiences and lack of restrictions, Sagittarians get along very well with various groups of people and are always willing to empathize with the experience of others.
To this end, Sagittarians tend to be brilliant conversationalists. Their warm and generous willingness to reassure people stems from a genuine concern for the experiences and well-being of others.
✓ Honest
People born under the sign of Sagittarius are often known for their honesty. They are the type of people who hate lying and being deceived which means they are also incredibly reliable.
They have great integrity and expecting the same in return.
✓ Curiosity
Sagittarius is a natural hunter, especially when it comes to knowledge. Therefore, Sagittarians are always on the lookout for new information.
One of the most distinguishing characteristics of Sagittarians is an insatiable curiosity. Sagittarians are happiest when they have new experiences that allow them to add new data to their knowledge base.
December 8 Birthday (Sagittarius) : Weaknesses
✗ Adamant
They can also rebel against the authorities, which can cause conflicts at work. Also, while Sagittarians are excellent to have on a team, their independent nature can make it difficult for people to build consensus.
✗ Overconfident
Being so gifted emotionally and intellectually, our Sagittarians can easily get trapped in selfishness if they are not careful. Whenever being able to understand multiple nuances and facets of a subject is simple for you, it's easy to feel overconfident in your abilities,
✗ Believe Others Easily
Their willingness to believe in everyone's essential goodness means they don't always have the ability to judge if someone wants to harm them
✗ Tactless Speech
Sagittarius' honesty can be tactless. Sagittarius will always focus on the big picture, the greater good, and if their feelings get in the way, it's not something that concerns them that much.
Those of a more sensitive nature will always be hurt by a Sagittarius, because the truth is the truth, even if it stings a little.
✗ Bored Easily
Being driven by the search for the new also means getting bored with the old. A Sagittarius can be restless and sometimes have a tendency to abandon the tried and true to experience what follows.
This means that although Sagittarians tend to be great beginners, they often leave things unfinished.
December 8 Birthday: Overall Personality
On this day, strong, decisive and ambitious people are born. But sometimes they are characterized by insecurity in themselves and their strengths. This duality of character disturbs them in life.
Self-digging, an underestimated assessment of their abilities prevents them from making the right decision in time, which helps them to often miss those happy moments that fate provides them with.
In order to achieve stability and comfort in life, they should cultivate self-confidence, become more open and friendly, learn sequence in actions and decisions, and then they can achieve a lot in life.
Those born 8 december they plunge into their own beginnings. This applies not only to their professional activities, but also to personal life. They surrender to friendship and love as a whole, without a trace.
Once they have made their choice, they will forever become their captives. Problems may arise regarding the depth of their obligations and responsibilities.
If the circumstances are such that those born on December 8 are forced to leave their family or team, they experience painful guilt for a long time, even if they know for sure that the situation is beyond their control.
However, the experience of disappointment that comes over the years teaches these people to leave something in reserve (without compromising their generosity).
People born on 8 december are charged with tremendous energy, but they are not always able to direct it in the right direction. Very often they devote themselves knowingly to losing projects.
Nevertheless, they are rarely satisfied with "normal" relationships, as if they are looking for the most extravagant and exciting partners who take all their energy from them.
Sometimes those born on 8 December are obsessed with such impulses in an attempt to escape from their own problems, fears and anxieties. The most developed personalities give vent to their excess energy, devoting themselves entirely to work.
Their unbridled disposition at work sometimes leads to absolutely fantastic results.
Such people are worthy of envy since they manage to express themselves and take advantage of the fruits of their own labor.
For those born on December 8, it is extremely important to cultivate caution and prudence.
But they still should understand that friends, loved ones are not always able to return to them what they themselves generously bestow.
---
December 8 Birthday Love and Compatibility
Those born on December 8 experience love as a splendid adventure and are not, by nature, led to fidelity. The amorous conquest fascinates them, except to leave again after having overcome every resistance of the chosen person.
This does not necessarily mean that they will never start a home and family, but they hate having breath on their necks. Their partner will have to take this into account, respecting their need to have no pre-established limits and boundaries.
The Sagittarius in love is a free spirit therefore often their relationships are not stable and lasting, despite this once they have found the soulmate they be dedicated.
Sagittarius likes a partner who gives attention to details and has original flare. Mysteries about their partner arouses their interest.
Sagittarians are love is enterprising.
However, they hate boring relationships. New trips, hobbies to work on a a couple will add newness to their relationship.
Once in a relationship, Sagittarius will not tend to change their mind about you, she will continue their choice trying to make the relationship solid.
They expect their partners to be faithful.
December 8 Birthday Compatibility with other Zodiac Signs
Compatibility chart of Sagittarius clearly shows Sagittarius Compatibility with other zodiac signs.
Zodiac Signs Most Compatible with December 8 Birthday (Sagittarius)
The zodiac signs best compatible with Sagittarius are
Aries (83%)
Gemini (88%)
Leo (75%)
Libra (72%)
Sagittarius (72%)
Aquarius (80%)
Sagittarius is a fire sign. Aries and Leo are also fire signs. Hence, Aries and Leo are best Compatible with Sagittarius.
Zodiac Signs Moderately Compatible with December 8 Birthday (Sagittarius)
Zodiac signs moderately compatible with Sagittarius are:
Capricorn (45%)
Pisces (52%)
Zodiac Signs Incompatible with December 8 Birthday (Sagittarius)
Zodiac signs incompatible with Sagittarius are:
Taurus (28%)
Cancer (32%)
Virgo (35%)
Scorpio (38%)
December 8 Birthday : love compatibility
Aries
Gemini
Leo
Libra
Sagittarius
Aquarius
People with December 8 Birthday have Sagittarius Sun Sign. Click here to check the compatibility of Sagittarius with various other Zodiac Signs.
---
December 8 Birthday : Health
Those born 8 December should avoid any form of physical and psychological addiction that could result in damage to their health. Perhaps, due to the release of endomorphins in the brain, many of us quickly get used to unpleasant things, phenomena and even people.
For those born on December 8, this danger is especially great. Therefore, they must develop in themselves thoughtfulness, moderation, caution and the ability to dispassionately reflect on their experience.
---
Advice for People Born on December 8
You can succeed in taming yourself without losing inspiration. Give yourself a chance to experience happiness.
---
Famous people born on December 8th
Those born on December 8th share birthday with there famous people:
Nicki Minaj, Rapper (USA), December 8, 1982
Ian Somerhalder, TV Actor (USA), December 8, 1978
Jessalynn Siwa, Reality Star (USA), December 8, 1974
Sam Hunt, Country Singer (USA), December 8, 1984
AnnaSophia Robb, Movie Actress (USA), December 8, 1993
Jim Morrison, Rock Singer (USA), December 8, 1943 (to July 3 1971; Age: 27)
Teri Hatcher, TV Actress (USA), December 8, 1964
---
December Birthdays
What Does your Birthdate Say About you
Zodiac Compatibility:
ARIES Compatibility , TAURUS Compatibility , GEMINI Compatibility , CANCER Compatibility , LEO Compatibility , VIRGO Compatibility , LIBRA Compatibility , SCORPIO Compatibility , SAGITTARIUS Compatibility , CAPRICORN Compatibility , AQUARIUS Compatibility , PISCES Compatibility
Know about Zodiac Signs:
Aries, Taurus, Gemini, Cancer, Leo, Virgo, Libra, Scorpio, Sagittarius, Capricorn, Aquarius, Pisces