---
Lucky Life Path Number 3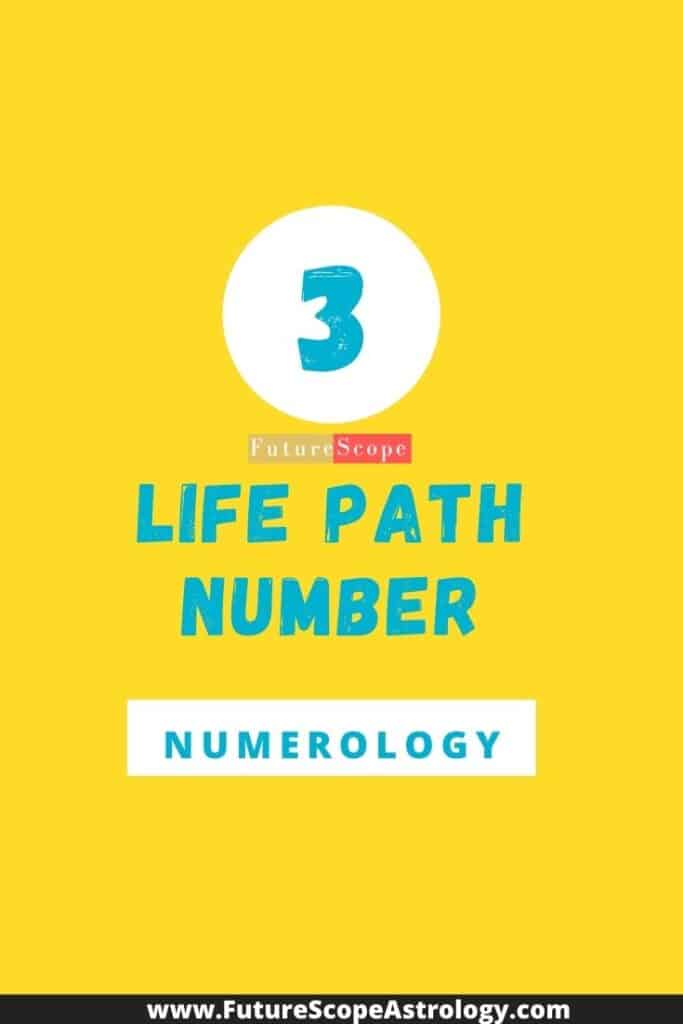 The people with Life Path number 3 is blessed with a strong sense of creativity and an excellent conversational aptitude. If your Life Path number is 3, you have a strong potential to attain success by employing your originality and creative manifestation.
Individual with Life Path number 3 while displaying positive traits of this number may exhibit an exceptionally well pioneering aptitude, while displaying strong artistic endeavors in different areas like writing, speaking, acting, etc.
The strongest part for the positive trait of this number may opt for harmony, aesthetics and satisfaction.
Directing your abilities towards creative expression is the highest level of accomplishment for you, if you are blessed with Life Path number 3.
Those who are having Life Path number 3 usually spend their lives without having much worry about future.
However, you are not so good in managing money since you have an inadequate ability to do so. You tend to spend money quite abruptly when you have it with you.
Life Path number 3 symbolizes a great communicative abilities with people living around in the environment. It represents friendliness, warmth in character, social and open-minded.
Have a natural ability to listen keenly, the individuals with Life Path number 3 are usually greeted with warmness in any sort of social gathering. They are fun loving, characteristically enthusiastic and positive in nature.
The Life Path number 3 symbolizes a sense of strong sensitivity. Although people with Number 3 are able to recover from many critical ups and downs in life, they may become unusually silent when hurt to their soul.
Due to their own natural sensitiveness to hurt, they show a strong sense of caring persona for other people and in most of the cases they react with an intensified level of consciousness for other people's condition, feeling and emotion.
When it comes about romantic relationship, people with this number are found to be very loyal and ardent. If they have to experience break ups, the pain of break up may last long.
Any variety of emotional experiences may play leading role in these people's life and sometimes situations may turn out to be melodramatic as well.
Since they are possessed with a strong offering disposition, people with demanding characteristic attract them more. Concerning to the life issues of people with Life Path number 3, the harmony in emotional relationship is often found to be illusive in nature.
The difficult task for people with Number 3 is to manage life in between highs and lows. They do not function well under the pressure of dominating management. Slow thinkers and excessively meditative individuals do not drive people having 3 as the Life Path number.
If they have to work with this prototype, their ability to function may be seriously disrupted. It is the enthusiastic temperament that inspires people with Number 3 to move on further in life.
There are minimum negative traits associated with this number. People with this number may become scattered while organizing their wide array of qualities and may express a little sense of purpose sometimes.
Being moody sometimes without any apparent cause may influence the direction of life adversely in few cases. People with Life Path number 3 may exhibit an escapist tendency; hence it may turn out to focus on particular aspect of life or on their unique qualities.
Excessive optimism, impatience, intolerance and criticism are other negative traits associated with this number.
---
Life Path Number 3 Positive Traits
Number 3 life route is playful, carefree, and lively. Their uniqueness is in their colorful expression through writing and art. They have an invidious way with the spoken and written word and they are always optimistic.
All number 3 individuals stand out with their creative talent and a good sense of humor. They perform the best in front of an audience, and they always crave for applause in every aspect of their lives.
---
Life Path Number 3 Negative Traits
Number 3 can get easily depressed and superficial during their lows. They become  over submissive to gossip.
---
Zodiac Compatibility:
ARIES Compatibility , TAURUS Compatibility , GEMINI Compatibility , CANCER Compatibility , LEO Compatibility , VIRGO Compatibility , LIBRA Compatibility , SCORPIO Compatibility , SAGITTARIUS Compatibility , CAPRICORN Compatibility , AQUARIUS Compatibility , PISCES Compatibility
Tarot for Zodiac:
Tarot For Aries , Tarot For Taurus , Tarot for Gemini , Tarot for Cancer , Tarot for Leo ,, Tarot for Virgo , Tarot for Libra , Tarot for Scorpio , Tarot for Sagittarius , Tarot for Capricorn , Tarot for Aquarius , Tarot for Pisces
Know about Zodiac Signs:
Aries, Taurus, Gemini, Cancer, Leo, Virgo, Libra, Scorpio, Sagittarius, Capricorn, Aquarius, Pisces