---
Aries Man and Gemini Woman Compatibility Percentage – 63%
| | |
| --- | --- |
| Aries Gemini Intimacy and Love Compatibility Percentage | 90% |
| Aries Gemini Emotional Compatibility Percentage | 70% |
| Aries Gemini Communication Compatibility Percentage | 40% |
| Aries Gemini Trust Percentage | 40% |
| Aries Gemini Intellectual Compatibility Percentage | 80% |
| Aries Gemini Common Interests | 60% |
| Aries Gemini Overall Compatibility Percentage | 63% |
---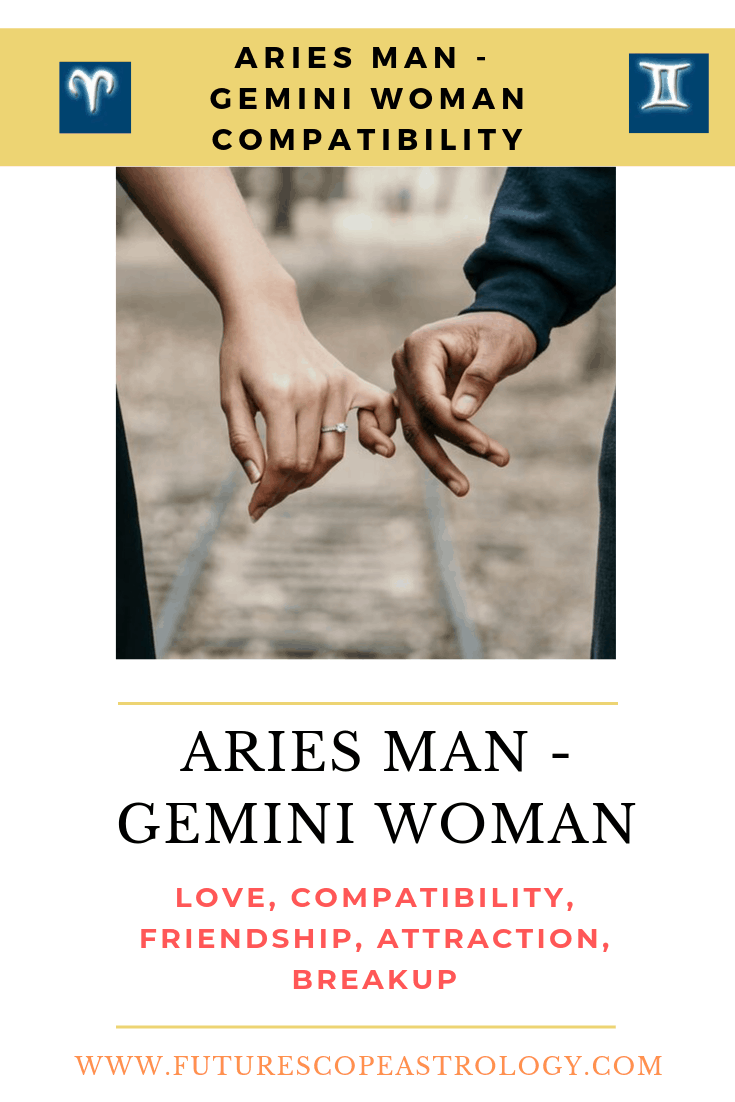 Zodiac Element Compatibility
Aries and Gemini. Fire + Air
Aries Man and Gemini Woman know how to enjoy life and they never have a dull time when they are together. The Aries man is sincere and direct, he is what is on his mind. He is a man of action.
Aries Man and Gemini Woman relationship has a great potential and if they are able to overcome their fear of commitment. They are bound to a happy future full of love, games and challenges.
The only problem that may arise is the unwillingness of Aries Man to listen to the Gemini woman – he believes that things can be explained with only a few words.
The Aries man is more sexually aggressive than Gemini Woman, but if she tries to put out his fire that will only make his fire blaze even stronger than before.
Unless they met at the institute and soon got married, which happens with these two signs quite often, because they are always in a hurry, the Aries man can be incredibly angry with the past love life of the Gemini woman, most likely too saturated by the standards of generally accepted morality.
In her past, there will almost certainly be, if not a couple of ex-husbands, then at least half a dozen annulled engagements or a few still flickering sparks.
All representatives of the sign of Gemini should be careful with early marriages, unless they have the Moon or Ascendant in the signs of Capricorn, Virgo, Cancer or Taurus.
---
---
Gemini Woman Personality
All her life, Gemini woman believes that there are golden windows at the top of the hill near the house. She scrambles hard; there and, looking down, discovers that the coveted house is at the foot.
Then she slides back and reopens that at the bottom of the house are the most ordinary windows, as she thought at first, then she looks up, sees the gold windows, decides that she was wrong, and again wearily rises up for the next disappointment.
Why are these golden windows so elusive?
She will have to spend a lot of spiritual and physical strength until she understands that the reflection of the Sun is only an illusion, depending on the time of day, and the position of the viewer.
Sometimes a Gemini woman may think that the old love was exactly the one with the golden opportunities, but before she realizes that this is an illusion, she will lose the man, leaving him standing alone on the top of the hill or at the foot.
Her nostalgia for yesterday's novels would never arouse Aries Man's sympathy, even if he would sigh from time to time about days gone by.
Remember the egocentrism of Aries. He can do that. She is not. Why? Because he knows that his nostalgia is innocent and will not lead to anything. But in his companion, he is not so sure.
---
Aries Man and Gemini Woman Relationship
The Aries man may not insist that his Gemini woman sit at home, wipe off dust, wear an apron and water the garden.
Most likely, he realizes that he can use her flexible views and original thinking in his business life or career, and therefore they can often be found working together both after marriage and before him. An excellent team usually comes out of them.
He knows exactly what he wants, and she has enough ideas on how to help him achieve his goal. In addition, it's easier for him to watch her if she's around all day, and he may not think about the milkman, shoe shine, grocer and that handsome guy who works as a lifter in their house.
Her Mercurial tendency are harmless, as a rule, flirting adds fuel to the fire of Aries jealousy, and everything that can contain such outbreaks is only welcome.
Study, how many Aries husbands sooner or later offer their wives to be their secretaries or full partners, could be interesting for astrologers.
On the other hand, these lovers often meet at work. They are interested in the same occupations and careers.
You will never see Aries man and Gemini woman, no matter how long they are married, sitting at a table in a restaurant and reading a newspaper or looking at other visitors in silence, not noticing each other, which happens, unfortunately, with many couples..
Aries Man and Gemini Woman always have something to say to each other, sometimes even too much. In any case, their conversation will not be sluggish.
Most of the time their conversation is a brilliant exchange of views, but if she puts her sharp tongue to hurt him, the conversation can turn into a heated debate in which this couple will tell each other a lot of nasty things.
However, fortunately, they both tend to forgive and forget resentment as easily as to inflict them.
Strange, but the loving relationships of these men and women are sometimes harder for others than for themselves.
The more sincere and deeply in love they are, the more likely it is that their friends, neighbors or relatives may suffer from this novel, in which Air inflates Fire.
From time to time, Gemini women will have various events that actually weren't there. She will find a secret meaning in completely innocent words, accidentally abandoned by someone, and tell her lover or husband Aries about it, mercilessly distorting the phrases she heard. (Her Mercurial imagination simply replaces boring or uninteresting places with more picturesque ones.)
Loving her as much as only an Aries man is capable of, he can become furious because of these slightly exaggerated insults inflicted on the honor of his lady, and will direct all the power of Mars's anger to a shocked poor man who does not even suspect that he offended her with something . (Aries men are exclusively devoted to their friends to their relatives, and especially to the spouses.)
Later, honesty of nature will prevail, sharp injections of conscience will remind the Gemini woman that everything did not happen exactly as she colorfully described to her man.
Then, perhaps, she will tell him the truth, and it would be better if he extinguishes the angry outburst of Mars and accepts her attempt to separate the real from the imaginary with sensitivity.
After all, the twin woman is made of fragile material. She is not protected on her life journey by the frantic warrior Mars, but only by the unpredictable wizard Mercury, who often hides from her – just when the girl especially needs the wisdom of her guiding planet.
There are so many sounds in her heart that haunt her music. All of her is a symphony of memories created from wonder and light, disgrace and shadow, and this makes the more direct Aries man who loves her sometimes wonder: "Who is she, this close, familiar and alien? Who is she? .. And what is she like that? "
Who is she? Lead of twins for every given moment. What is she like? A bouquet of marigolds in a sky-blue vase on her teacher's desk in third grade, a circus parade that she once saw when a clown threw her pretzels … Carriage rides with hay and hurricanes, the first pair of black varnished "boats", a summer thunderstorm forest, in a scout camp, after which the pine trees were fragrant, like hyacinths … A field of purple heather, where she sat once for many hours … A nestling that she fed from the nest, while he still could not fly, when she was five years old . That is her. All this.
So, the female girl of the Gemini sign must learn to a certain degree to control her imagination if she wants to achieve harmony with the direct and honest Aries man whom she loves.
But this must be done carefully so as not to destroy this magical quality, because it is because of this that she looks so exquisitely feminine in the eyes of her lover. Children also have a vivid imagination, and the Aries man thinks of her as a little girl, who needs his love and protection more often than she thinks.
Except, of course, those cases when she breaks his ideas about her helplessness, beating him in tic-tac-toe, checkers or something else. Some twin women, when they want to, can be as intelligent as terrorists with a speech and amazing insight, which hurts the Aries man's vanity.
As for him, it consists not only of rude courage and boasting. He is full of memories of the day when he first sailed, water overflowed him and he could not swim, but he managed; about the unconquered summit, about lost dreams … About shapeless night visions caused by the buried, now forgotten childhood fear … Christmas, when Santa Claus forgot to add the puppy to his list …
About crackers and firecrackers that he lit in Independence Day, when he was nine … About the first time he saw a horse and inhaled the intoxicating smell of the stable … About feelings, when he first learned how sacred can be a quiet night when he slept alone under countless blinking stars and they sang a memorable tune to him that no one else could yshat …
They are so diverse, this man and this woman! Usually they are temporary inhabitants of one country, a kingdom, which they themselves discovered, where everything is so beautiful, but lonely. And other eyes are needed to also see this country, because only in this way it can become a reality …
---
Aries Man and Gemini Woman Love Compatibility
As for sex, these men and women will be sure at first that they are perfect for each other. The Aries man dreams of arriving in the garden of love on a carpeted carpet right from the Arabian night (or from centuries of chivalry, anyway), and the Twin Woman will brilliantly play a role in his dream play.
With her, he will never know who is waiting for him in the evening in the privacy of the bedroom. It could be Cleopatra, George Sand, Mata Hari, Lady Hamilton or anyone else. This cannot but excite him.
His own sexual expression is direct and powerful. Her is a little more elusive and complicated. True, he likes to make their lovemaking look like a poetic novel, but he prefers to quench his thirst in a stream of direct and pure passion.
There is often something incomprehensible in her attitude to physical love, so he can even accuse her of being somewhere else in moments of intimacy, and she may be offended by his gross invasion of the most secret – in her thoughts.
---
Aries Man and Gemini Woman Problems and Breakup
In their relationship, there may be several more traps associated with a possible lack of willpower and stability. Aries Man has more than enough strength and energy, but the ability not to quit what has been started is not on the list of his advantages.
A man always subconsciously depends on his woman, who must make up for what he lacks. Relying on a Gemini woman is like holding onto a feather during a strong wind.
Neither willpower nor reliability are among her talents (unless her Ascendant or Moon are in the sign of Cancer or any sign of the Earth, and, of course, the same is true for him). Consequently, these two are able to rekindle a lot of quarrels, condoning weaknesses to put aside everything for later and each other's instabilities.
---
In Conclusion
He, sometimes feeling that she was looking for something that never existed, could not understand that if he was a little softer, she could turn the fruits of a living imagination into an equally wonderful reality. In the imagination of the Gemini woman, a truthful picture sparkles of what could have happened if the images took shape.
These forever young man and woman can hear the same music together and follow its sounds for many happy years, if she understands that his jealous and sharp anger stems from the emotional vulnerability of the Aries sign, and if he respects her intrigue with her second "I "
He is so bright and brave, so friendly, open and energetic. She is so feminine, charming, versatile and spontaneous. Unless they try to change each other, they can forever remain a boy and a girl. And children are the happiest people in the world.
---
Zodiac Compatibility:
Tarot for Zodiac:
Tarot For Aries , Tarot For Taurus , Tarot for Gemini , Tarot for Cancer , Tarot for Leo ,, Tarot for Virgo , Tarot for Libra , Tarot for Scorpio , Tarot for Sagittarius , Tarot for Capricorn , Tarot for Aquarius , Tarot for Pisces
Know about Zodiac Signs:
Aries, Taurus, Gemini, Cancer, Leo, Virgo, Libra, Scorpio, Sagittarius, Capricorn, Aquarius, Pisces