Virgo Man and Libra Woman Compatibility (38%, low)
love, marriage, friendship, profession
---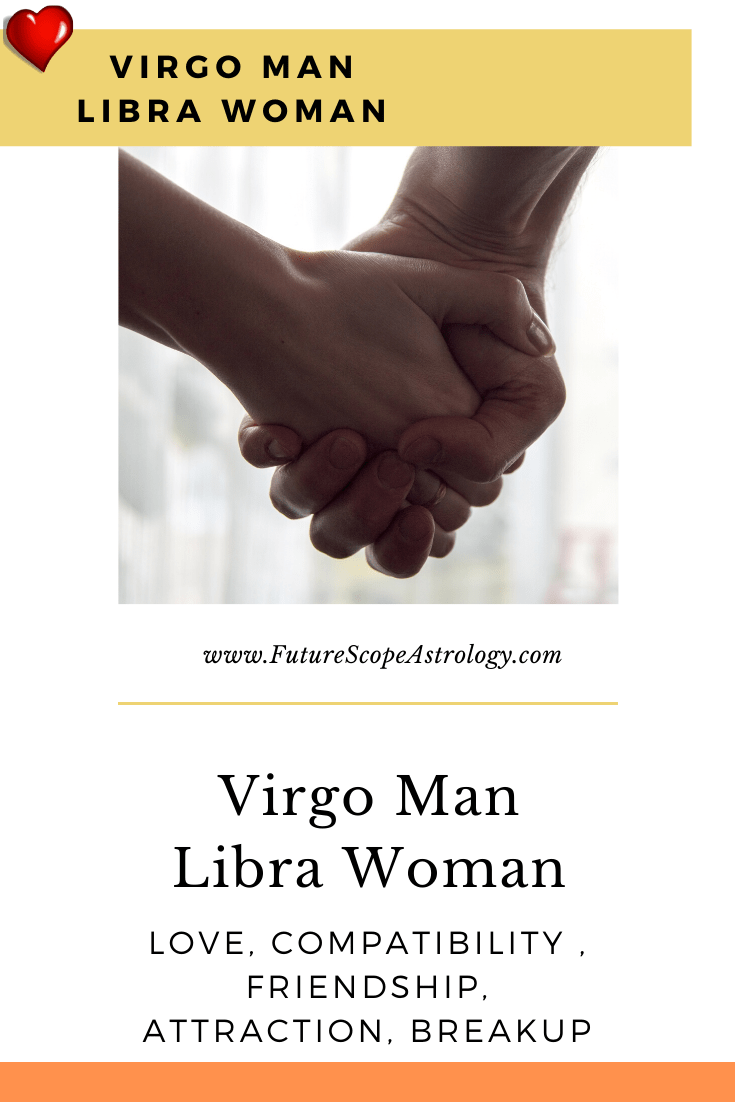 Zodiac Element Compatibility
Virgo and Libra = Earth + Air
The compatibility of Libra with Virgo is not very high and for the relationship to work both signs will have to compromise.
However, when it works, it can form a very balanced and very special couple , especially when both manage to turn their differences into a complementary asset for their partner.
Virgo men like to associate with people who are complacent and who know how to tolerate criticism well.
For their part, Libra women always seek love and harmony, do the impossible to avoid conflicts, and this gives them a minimal advantage when it comes to being compatible with Virgo men. She is the type of woman who makes difficult things easy.
The Libra woman's desire to make love and not war will make her the ideal companion for the Virgo man, despite the fact that it is often not entirely fair and equitable. The compatibility of these two signs can go from perfection to frustration in a matter of seconds.
---
Libra Woman
There is something seductive in this woman. She promises bliss, like a down pillow in a satin or velvet cover with silk tassels. Such women were loved by Rembrandt and Leonardo da Vinci. Magical, luxurious … Rounded shapes and a melodious voice – resembles a golden harp. She envelops herself in a cloud of aromas.
Almost all Libra spends a lot of money on fragrant Soap, perfumes, eau de toilette, fragrant candles and exotic incense.
It is possible, however, that the Virgo Man will think of less pleasant associations. For no reason, he recalls the small officer who trained him in the army. Isn't it strange? What is common between the embodiment of temptation and a dumb servant? The desire to rule.
---
Virgo Man and Libra Woman: Love Compatibility
The Physical compatibility of these two signs is quite good, although Libra tends to be more daring. It is advisable to control yourself a little early in the relationship, since Virgo will not be able to reciprocate until you feel completely safe with your partner.
These signs can give surprises in the intimate and loving part, we all know that the Virgo man will bring out his adventurous and playful side when he feels true confidence in his partner.
Libra women, for their part, are passionate lovers, becoming emotionally involved with the Virgo man . 
---
Virgo Man and Libra Woman: Friendship
Libra women make friends easily, this is because they are always willing to provide help to those in need. The Libra woman is appreciated in her circle of friends for defending the weakest, in addition to always having assertive words for everyone.
For their part, Virgo men tend to be much more careful, therefore, they take much longer when it comes to making strong friends.
The insecurities that men of this sign handle make many people come closer, who when receiving the first criticism they move away. The good news is that when you make a solid friendship, you are a loyal friend to the end.
He never abandons his loved ones and does not usually pay much attention to small mistakes.
---
Virgo Man and Libra Woman: Compatibility in Work
The Virgo man has a very natural passion for work, because of this, he rarely needs someone to supervise him, there is a use for that critical side that makes them strive to make things go perfectly.
If the Virgo man is good for something, it is for things to be organized. It is for this reason that when you are bosses in your work, it is very difficult for your coworkers to keep up with your demands and expectations.
For their part, Libra women are also usually successful and orderly in their activities, being much more efficient when they form work teams that share their passion for a job well done.
This combination of signs can make the work environment very good or very bad. The good thing is that neither of them like fights and conflicts, on the contrary, they share their strengths to combat their weaknesses.
---
Virgo Man and Libra Woman: Problems and Breakup
The spontaneous character of Libra is far from that of Virgo who usually opts for meticulous planning. This can cause some misunderstandings and both of you will have to compromise something so that Virgo doesn't get irritated and Libra doesn't feel controlled.
You will have to implement some readjustments and talk a lot to achieve a balance that satisfies both parties.
Libra are not usually touchy people, because they have a good sense of justice and are able to see both sides of a dispute. This is an advantage for the couple, since Virgos tend to be very critical, which can discourage or offend more susceptible signs.
However, the ability of Libra to accept the criticism of his partner and try to put his suggestions into practice will, over time, make Virgo less demanding and more understanding and will generally favor a good harmony between the two.
Most Libras want to improve, and this allows them to listen to their partner and view many of their criticisms as constructive.
But he should throw away the magnifying glass through which he looks at other people's flaws. Inappropriate barbs, an ironic look will turn it into an ice. The Libra woman wants to be idolized, and she respects all criticism as sacrilege.
Her lover can hardly be called fiery, so soon blocks of ice will pile up between them. Melt them is not so simple.
A Libra woman who loves a Virgo man must come to terms with the fact that he will not change his zodiac mission for her.
He will help other people even to the detriment of his needs, and if that is required by duty and purpose, then to the detriment of her needs. He hopes to fix the world around him, to turn chaos and confusion into order, to correct the mistakes of others.
Let her understand and forgive him. For the sake of the melancholy charm of their love, for the sake of golden leaves on black brooding water.
---
In Conclusion
Virgo Man and Libra Woman ( 38% Compatible)
| | |
| --- | --- |
| Virgo and Libra Intimacy and Love Compatibility Percentage | 10% |
| Virgo and Libra Emotional Compatibility Percentage | 10% |
| Virgo and Libra Communication Compatibility Percentage | 50% |
| Virgo and Libra Trust Percentage | 30% |
| Virgo and Libra Intellectual Compatibility Percentage | 60% |
| Virgo and Libra Common Interests | 70% |
| Virgo and Libra Overall Compatibility Percentage | 38% |
---
Zodiac Compatibility:
Tarot for Zodiac:
Tarot For Aries , Tarot For Taurus , Tarot for Gemini , Tarot for Cancer , Tarot for Leo ,, Tarot for Virgo , Tarot for Libra , Tarot for Scorpio , Tarot for Sagittarius , Tarot for Capricorn , Tarot for Aquarius , Tarot for Pisces
Know about Zodiac Signs:
Aries, Taurus, Gemini, Cancer, Leo, Virgo, Libra, Scorpio, Sagittarius, Capricorn, Aquarius, Pisces