Virgo Man and Taurus Woman Compatibility (80%, high)
love, marriage, friendship, profession
---
Virgo and Taurus = Earth + Earth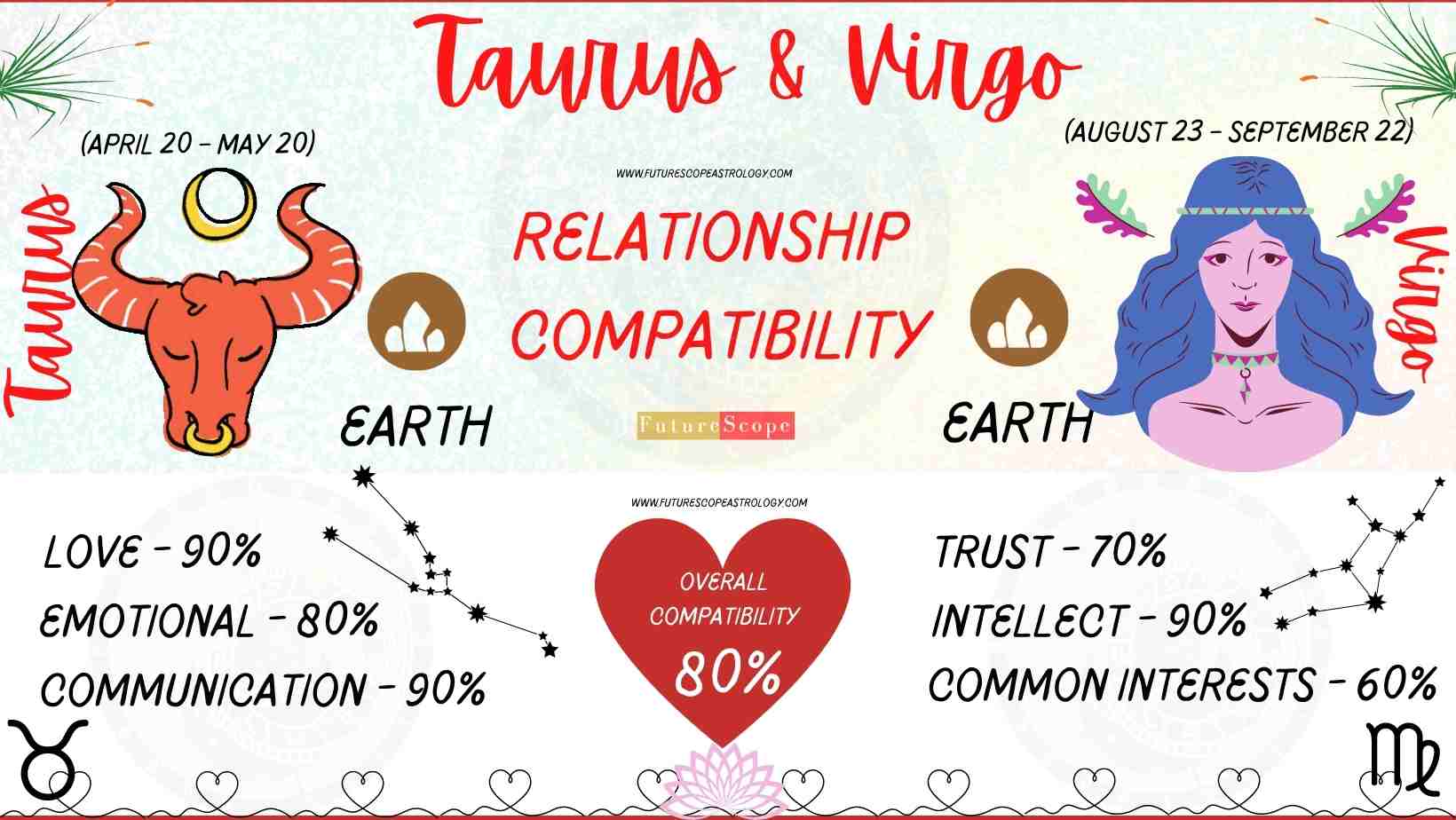 A combination with very high compatibility, in reality Taurus and Virgo have all possibilities , to have a happy and stable relationship for many years.
Taurus and Virgo can enjoy a very harmonious life. Neither of them likes quirks or inconsistencies. Your relationship will not lack dedication and loyalty.
The compatibility of these two signs has a lot to cut, since with only the scrutinizing gaze of the Virgo man, the Taurus woman will feel that she is being analyzed and will become defensive.
The Taurus woman carries with her a series of defects, like all the other signs of the zodiac, but she has something that the Virgo man loves and that is that he does not miss the opportunity to be happy.
The Taurus woman is not the blue princess who comes to the rescue, but with her brave and remarkable actions she will conquer the heart of the Virgo man in any situation.
---
Virgo Man and Taurus Woman: Love Compatibility
She is very good at listening and speaks great. The Virgo man, as a rule, speaks very cleverly, subtly and interestingly, although not particularly effectively. But in bed, both of them are most often silent. She prefers not to be distracted by verbal romantic coquetry, immersed in love.
He is silent, because those passionate sincere words that could be said do not come to mind. And if he had found them, he would probably have been embarrassed to pronounce them. He is not cold, he has nothing against physical expression of love – he can even achieve perfection in it.
For a Taurus woman, this silence is not an objection, and she is right. The love of her Virgo man is actually stronger and brighter than the short-lived flame of random lovers.
But sometimes Virgo Man does not mind playing a little in love. But the Virgo Man does not take these frivolous relationships to heart. He just takes healthy pleasure from these relationships.
However, he himself never seeks casual connections for himself and soon gets tired of the pettiness of this fun, ripening for a constant relationship. If at this moment the Taurus girl is nearby, then he will be very prone to serious relationships with matrimonial consequences.
She, however, should remember that marriage is an unnatural state for the Virgo. Initially Virgo Man may feel that he is a toy in the hand of Taurus Woman.
No matter how she lets go off the leash, he will use it only to find his way home in the dark. He is in many ways a man of habit.
He gets used to her face, to her smell, to the fresh orange juice that she prepares for him in the morning, to carefully washed shirts neatly folded in the closet.
Does he really want to dry his socks in someone else's bathroom now? Moreover, accurate darning on them will remind him of her and cause a feeling of guilt.
He may not understand her desire to surround herself with superfluous things, and she will be annoyed that he has Spartan ideas about personal comfort; but they are both are not prone to reckless spending money, so money is unlikely to become the subject of their disagreement.
Regardless of whether the Sun and the Moon are harmonious or not in their birth charts, they can rely on a combination of zodiac signs 5-9 (The Virgo Taurus relation). This will help them understand and forgive each other.
Taurus succeeds almost always in winning his heart. Moreover, she can "melt" the skeptical soul of the Virgo man with her special, ardent and selfless devotion. If she is consistent, she will be able to learn from Virgo man, a critical view of the world.
Physical relations is one of the strengths of these two signs. We know that it will take a little longer for the Virgo man to achieve the confidence he needs to let himself be completely carried under the sheets, this is where the Taurus woman comes into action, eliminating all insecurity.
Virgo has a strong connection with Taurus in romantic matters, so there will definitely be a good physical connection between them.
---
Virgo Man and Taurus Woman: Friendship
In the loving and sentimental aspect, these signs are usually introverted, but they do not think twice when it comes to having to make new friends. The amazing thing about these signs is that once they decide to establish a friendship with someone, it is to last a lifetime.
Both signs are characterized by reaching out to help anyone who needs it regardless of time or space. These signs are friends with a lot of charisma and devotion to the well-being of the person to whom they offer their friendship.
Unfortunately the beautiful things end at this point, as we have a Taurus woman who is not very good with words, but very good at giving help.
For her part, we find a Virgo man with her usual negative characteristic: she does not hesitate to criticize with all her might what she considers is wrong or is being done in a way that is not her own.
This way of being of the Virgo man will be devastating for those people who do not like to be judged or advised. It goes without saying that these signs are not the best of friends when it comes to having fun.
The Taurus woman loves to be playful once her workday is over, on the other hand, the Virgo man never feels that the work is finished, investing many hours in planning, correcting and reevaluating everything he has done in the day.
---
Virgo Man and Taurus Woman: Compatibility in Work
Both the Taurus woman and the Virgo man are hardworking signs by nature, although in the end the ways of spending what they earn brings them problems. As we have already mentioned,
Taurus women work hard to achieve what they want, in order to finally be able to give themselves those luxuries that they long for. The Taurus woman does not like shortcuts and goes straight for what she needs.
She spares no effort at work, always hoping to get to the end of the day so that she can fully relax once her day is over.
We know that the Virgo man works hand in hand with perfection and order, they always consider that there is much more to finish the job, but they do not stop feeling pride in what they have achieved and it gives them good results.
Virgo man is a born controller, bossy without restraint and very perfectionist. For their part, Taurus women do not have problems when it comes to excelling in their respective jobs and they are usually excellent bosses.
Although it seems impossible, this union can achieve happiness if both propose it, since it is only a matter of patience and time for the sweetness of the Taurus woman to reach the Virgo man and if the two do their part, something good will result.
---
Virgo Man and Taurus Woman Compatibility Percentage
Virgo Man and Taurus Woman Compatibility Percentage – 80%
| | |
| --- | --- |
| Virgo and Taurus Intimacy and Love Compatibility Percentage | 90% |
| Virgo and Taurus Emotional Compatibility Percentage | 80% |
| Virgo and Taurus Communication Compatibility Percentage | 90% |
| Virgo and Taurus Trust Percentage | 70% |
| Virgo and Taurus Intellectual Compatibility Percentage | 90% |
| Virgo and Taurus Common Interests | 60% |
| Virgo and Taurus Overall Compatibility Percentage | 80% |
---
Zodiac Compatibility:
Tarot for Zodiac:
Tarot For Aries , Tarot For Taurus , Tarot for Gemini , Tarot for Cancer , Tarot for Leo ,, Tarot for Virgo , Tarot for Libra , Tarot for Scorpio , Tarot for Sagittarius , Tarot for Capricorn , Tarot for Aquarius , Tarot for Pisces
Know about Zodiac Signs:
Aries, Taurus, Gemini, Cancer, Leo, Virgo, Libra, Scorpio, Sagittarius, Capricorn, Aquarius, Pisces