Virgo Man and Virgo Woman Compatibility (65%, medium)
love, marriage, friendship, profession
---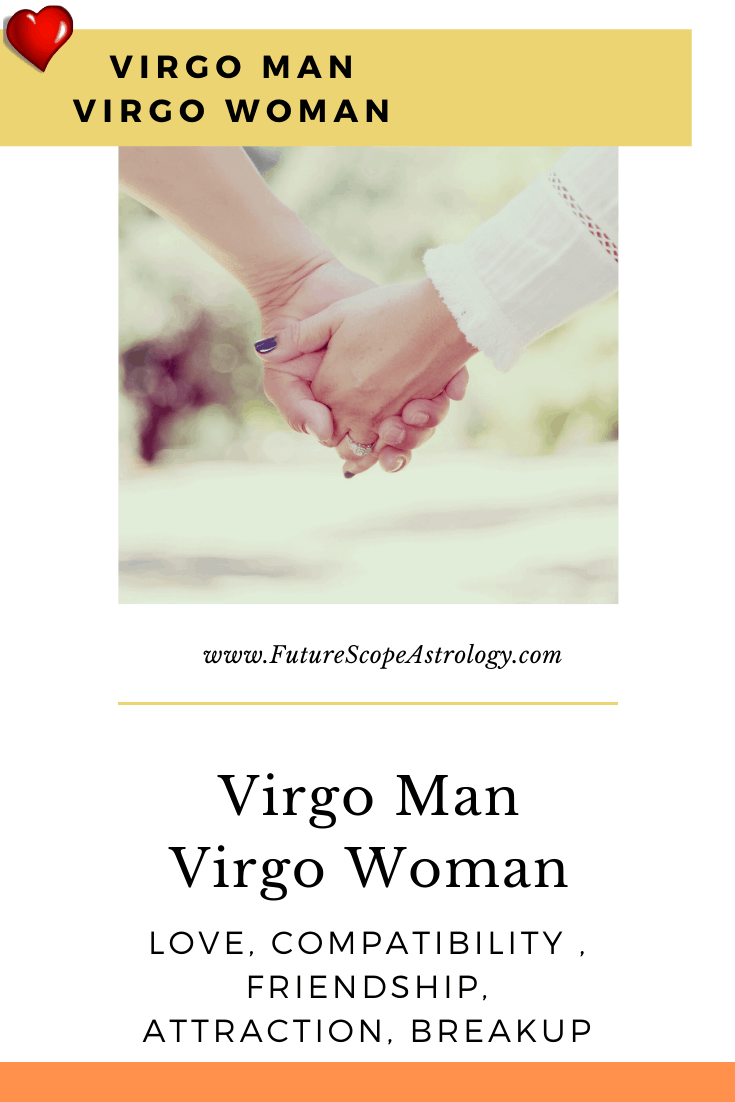 Zodiac Element Compatibility
Virgo and Virgo. Earth + Earth
The compatibility of Virgo with Virgo is in the range of medium to high and in this relationship the key word is perfectionism and from there derives the main problem, which they must overcome – excessive demands.
Virgo is tremendously applied and if they work as a couple, together they will be able to move mountains.
By having the same characteristics, and being considered the analytical of the zodiac, it means that when it comes to linking they will not stop seeing, reviewing and analyzing everything before taking the first step, so this would be a relationship where nothing is left to chance.
The couple made up of both members of this sign are usually people with a broad sense of reality and very hardworking, they achieve success quickly due to the equality of thoughts and ideas, this includes not only the work part but also the love part.
However, this does not mean that you have to sing victory, remember that Virgo is a sign that by nature presents itself with a difficult and introverted personality, which makes it very difficult to reach that sensitive side.
---
Virgo Man and Virgo Woman: Love Compatibility
Physical Relations will be easy and uncomplicated , since both will have a similar way of expressing their love. If both of you put your mental problems aside, your life as a couple can be extremely sweet and satisfying.
Physical Relation for Virgo lovers is usually an out-of-this-world experience, and it usually lasts for a long time.
This sign is not unpredictable making all the arrangements for your way to the altar to be carried out in the best way especially when both of you do your part to achieve that goal.
Virgo is a sign that has been given the power to grow and evolve, leading you to be more communicative about your emotions. This turns out to be very positive when considering a long-term love relationship.
Physical satisfaction can be difficult in the early stages, but that will only last until you are comfortable. This is because each of them needs exclusive attention as they reach the comfort stage. This can be made worse only if the criticism is harsh.
---
Virgo Man and Virgo Woman: Friendship
Because it is a sign characterized by being introverted, it is normal to see that Virgo's circle of friends is very small. As we already know, they tend to be fussy and picky about all their friends, especially those who are already on the long-term proven friends list.
Fortunately, this sign does not stand out for being rude, but it is very demanding when it comes to defining the characteristics of the friendship they want. An ideal partner for Virgo is one who shares their own values, so friendship between two people of this sign is very easy.
Remember that this is a sign that he is loyal and devoted to the friendships that they consider productive, since a Virgo friend never leaves anyone in his circle behind. For this sign, the passage of time is very important so that trust is strengthened between friends.
---
Virgo Man and Virgo Woman: Compatibility in Work
Two people of this sign usually work wonderfully due to the pleasure they have in the perfection of details. This gives Virgos great opportunities for rapid advancement in their jobs, and there is no risk that the success of one will cause the other Virgo to be jealous.
Remember that this sign tends to be based on its approach to work and that it turns out perfect, investing a lot of time in the details.
The only thing to be afraid of is that both have a different vision of what the perfection of their respective jobs should be, which would bring an internal conflict due to the criticism between them.
A relationship, whether of love or work, between two people of this sign will not be entirely easy, but once they find the balance point, this relationship will become a satisfactory experience since both will recognize the same values ​​in the other, opening your eyes and seeing from this point that ideal person to spend the rest of your days, having happiness as a companion.
---
Virgo Man and Virgo Woman: Problems and Breakup
Virgo-Virgo can be a formidable combination , as long as they avoid that the standards of both are so high that neither of them can reach them. Otherwise their lives will be very miserable, so both should try not to be too critical of the other or set the bar excessively high.
---
In Conclusion
Virgo Man and Virgo Woman ( 65% compatible)
| | |
| --- | --- |
| Virgo and Virgo Intimacy and Love Compatibility Percentage | 30% |
| Virgo and Virgo Emotional Compatibility Percentage | 30% |
| Virgo and Virgo Communication Compatibility Percentage | 80% |
| Virgo and Virgo Trust Percentage | 70% |
| Virgo and Virgo Intellectual Compatibility Percentage | 90% |
| Virgo and Virgo Common Interests | 90% |
| Virgo and Virgo Overall Compatibility Percentage | 65% |
The Virgos most compatible with each other are those born between August 24 and September 2.
---
Zodiac Compatibility:
Tarot for Zodiac:
Tarot For Aries , Tarot For Taurus , Tarot for Gemini , Tarot for Cancer , Tarot for Leo ,, Tarot for Virgo , Tarot for Libra , Tarot for Scorpio , Tarot for Sagittarius , Tarot for Capricorn , Tarot for Aquarius , Tarot for Pisces
Know about Zodiac Signs:
Aries, Taurus, Gemini, Cancer, Leo, Virgo, Libra, Scorpio, Sagittarius, Capricorn, Aquarius, Pisces