December 6 Zodiac (Sagittarius) Birthday
Personality, Birthstone, Compatibility, Zodiac Stone, Ruling Planet, Element, Health and Advice
---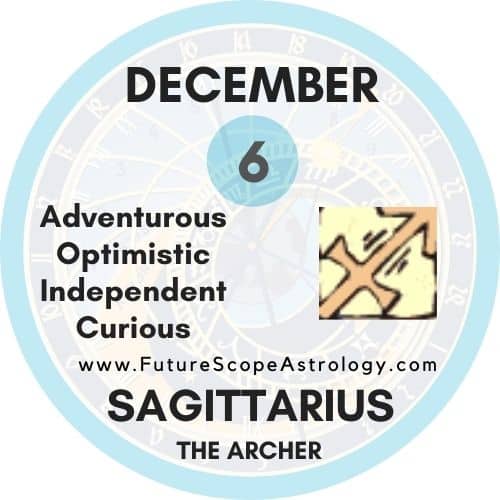 Is your Birthday on December 6 ? Know the Sun Sign, Personality, Compatibility and more….
6 December Zodiac sign
Sagittarius
6 December Birthstone
Topaz, Citrine
6 December ruling Planet
Jupiter
6 December Element
Fire
6 December Lucky day
Thursday
6 December Lucky Colors
Gold
6 December Lucky Numbers
6, 9
6 December Zodiac Stone
Turquoise
6 December Zodiac Compatibility
Most Compatible with Aries and Leo.
More about Compatibility
---
December 6 Zodiac Sign: Sagittarius
For People born on December 6, the Zodiac sign is Sagittarius.
---
December 6 Birthday: Personality
December 6 Birthday Positive Traits
December 6 Birthday Negative Traits
Independent
Optimistic
Risk-Takers
Honest
Adventurous
Curious
Reliable
Blunt
Judgmental
Impatient
Unforgiving
Inconsistent
Over Confident
December 6 Birthday Positive and Negative Traits
People born on this day are bold and love taking risk. They are smart and ambitious, practical. They are born leaders and leaders. They have great intuition.
Their life may well be beautiful, but it all depends on which direction they will go – a negative beginning or a positive one.
These people are fearless, they are lucky in life and. They can defeat their enemies and quickly overcoming all obstacles.
If those born on this day choose the path of self-improvement, they can attain great success, wealth, luck in all endeavors.
Those born on 6 December are able to make the most of any situation, it will not be difficult for them to see the diamond, even in a pile of dirt.
Many of them also have a truly amazing sense of financial profit – they can easily to notice a gap in the market. In the same way, they determine the prospects and potential of any company or team.
Seeing the light at the end of the tunnel, those born on December 6 always bravely rush towards action.
Those born on this day do not belong to the category of creative people, they are rather managers, organizers who are able to improve or change the existing order of things. They have a very developed understanding of what needs to be restructured.
However, they should be mindful of the danger of becoming a victim of excessive ambition, false values, or excessive control.
They rarely turn to initiatives that have lost their usefulness. However, if all of the above works in a career or business, then in personal relationships this does not work.
If they feel there is falsehood in friendship or love, they seek to get out of the situation and not wait for it to get worse. They express their feelings directly, bluntly, and this can be extremely painful in the hearts of their friends.
Friends or lovers who still hope for the continuation of many years of communication, they can ruthlessly leave.
They are literally obsessed with the desire to win. Therefore, it is better for their partner to have the same or at least a similar passion.
If born on December 6, are associated with people passive nature, the result can be more than tragic.
They need to cultivate tolerance for the weaknesses of others. They can even be advised to turn their efforts on themselves, so that later there would be no one to blame for the failure.
When they focus on their own energy, they will be able to achieve goals faster and become more creative.
---
December 6 Birthday Love and Compatibility
People with December 6 Birthday have Sagittarius Sun Sign. Click here to check the compatibility of Sagittarius with various other Zodiac Signs.
---
Advice for People Born on December 6
Born 6 December, as a rule, are too preoccupied with the fate of their projects and overly exert physical and mental strength. Smoking and alcohol as a means of suppressing stress should be excluded, as far as possible, since problems with blood vessels, lungs, and stomach are inevitable.
Excessive athletic stress is desirable to limit, as the pumped up muscles over the years can turn into excess fat. For the same reason, you should stick to a vegetarian diet.
---
Famous people born on December 6th
Those born on December 6th share birthday with there famous people:
Stefanie Scott, TV Actress (USA), December 6, 1996
Stormi Henley, Model (USA), December 6, 1990
Giannis Antetokounmpo, Basketball Player (Greece), December 6, 1994
Wesley Stromberg, Pop Singer (USA), December 6, 1993
Johnny Manziel, Football Player (USA), December 6, 1992
---
What Does your Birthdate Say About you
Jan | Feb | Mar | Apr | May | June | July | Aug | Sept | Oct | Nov | Dec
---
Tarot for Zodiac:
Tarot For Aries , Tarot For Taurus , Tarot for Gemini , Tarot for Cancer , Tarot for Leo ,, Tarot for Virgo , Tarot for Libra , Tarot for Scorpio , Tarot for Sagittarius , Tarot for Capricorn , Tarot for Aquarius , Tarot for Pisces
Know about Zodiac Signs:
Aries, Taurus, Gemini, Cancer, Leo, Virgo, Libra, Scorpio, Sagittarius, Capricorn, Aquarius, Pisces