Aquarius Man and Gemini Woman Compatibility (83%, good)
love, marriage, friendship, profession
---
Zodiac Element Compatibility
Gemini and Aquarius = Air + Air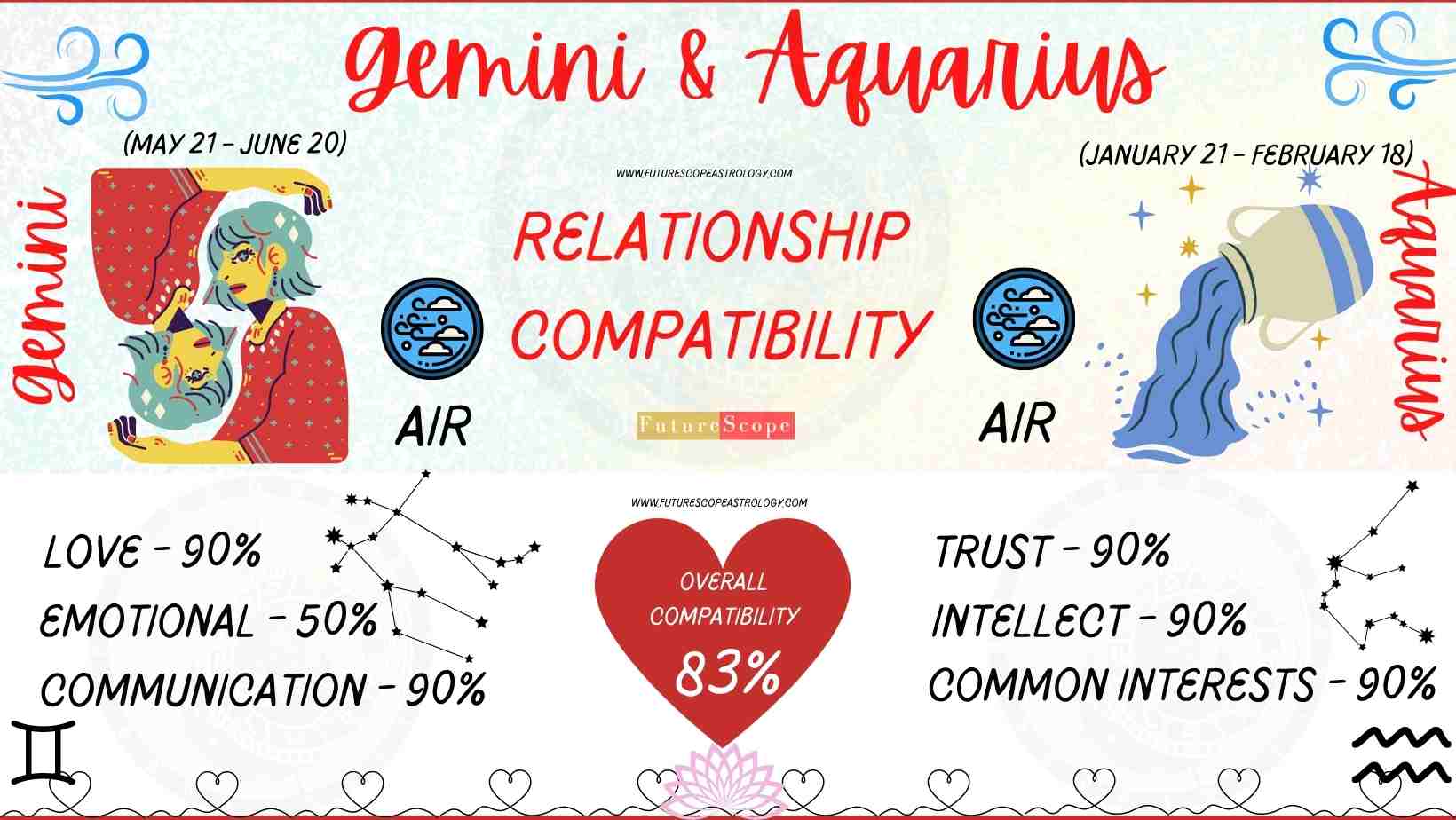 The compatibility between Aquarius and Gemini signs is very high, as they both hope to get more or less the same out of life.
The men of the Aquarius sign and the women of the Gemini sign present themselves as a wonderful couple. These two intellectual powerhouses are fervently gregarious, eliminating the balancing act that is often needed when you have introverted friends or partners.
The charm of the Gemini woman absorbs anyone, while few can pass up the genuine friendship and compassion of an Aquarius man. Together, these two signs feel that they can talk about anything, managing to start any friendship and turning it into a relationship with great potential.
---
Aquarius Man and Gemini Woman: Love Compatibility
Their intimate relationship will be satisfying, but they won't move mountains. Aquarians will have to learn to be more romantic and to trust their partner. The key to your happiness in your intimate relationship stems from your communication skills.
In intimate relationships, the Aquarius man always presents himself "as is", leaving no room for dishonesty. Gemini women are direct and honest too. Its inherent mutable quality means that it will likely change and there may be no rhyme or reason for it.
Fortunately, both signs excel at communication, being frank and open about their thoughts and beliefs. The most rewarding part of this union is that neither sign has to worry about compromise being the end of freedom.
Geminis and Aquarius hate being restricted and will never force their partner into a restrictive lifestyle. Although your partner's sex life is unlikely to be steeped in passion, rest assured that it will never be dull. By hating monotony, sexual intimacy will contain all the emotion that only this relationship could truly appreciate.
---
Aquarius Man and Gemini Woman: Friendship
Friendships are abundant for the Aquarius man, taking a real pleasure in meeting new people regardless of type. He's extremely outgoing and doesn't feel like himself when he's alone. He may have a horde of friends, but few are close, since he has a sensitive heart within him and hides this vulnerability.
His constant desire to help people earns him the love and respect of all. For their part, Gemini women are also magnets for friends, they enjoy having someone to talk to every hour of the day. They have a unique charm that attracts people, and they are usually good to those who understand them.
---
Aquarius Man and Gemini Woman: Compatibility in Work
In this area, both show off their intellectual abilities and interests, which is why Gemini women and Aquarius men tend to excel. Neither sign is lazy, but ambitious urges tend to surface at some point.
Working side by side is efficient, but neither side can be expected to take the lead. As in most cases, these two signs are so similar that the risk of conflict is almost non-existent. They will easily brainstorm and brainstorm solutions to common problems.
Overall, each of them is an asset to any team project, while still being fantastic workers when alone.
---
Aquarius Man and Gemini Woman: Problems and Breakup
Given their characteristics, these two signs may have a powerful and lasting friendship. Of course, romantic relationships are not all rosy, as there are aspects in which the couple can struggle when one of the parties wants a commitment.
The two signs are great communicators and will enjoy sharing opinions, thoughts, and reflections. However, the frivolous side of Gemini may get to annoy Aquarius who seeks some depth and commitment in her partner.
The Aquarius man makes his own rules and will break a heart rather than settle for a partner who imposes restrictions on him.
For their part, Gemini women are also known for their intellectual abilities and for their true love for good conversations. Gemini women are represented by contradictory conflicts that can occur with mood swings or just random.
They do not like emotional attachments, but then they will have phases of dire need when life does not go well for them. Like the men of the Aquarius sign, the women of the Gemini sign love emotions and new experiences.
The woman of the Gemini sign has an aversion to being alone, therefore, she will settle for anything as long as she is not bored. Endless routines and boredom are the two things that will make Gemini women and Aquarius men pack, pushing their hated stereotype away from commitment.
But everything has a positive side, they both love to talk, socialize, explore and experience the world without feeling bound by obsessive or oppressive companions, becoming similar enough to be perfect for each other.
We must remember that women of the sign of Gemini hate being alone and much more single while men of the sign of Aquarius simply do not like to be alone. Aquarius men are also clearly unwavering, and they can clash with Gemini women who are willing to adapt to whatever life throws at them.
The moods of Gemini women can scare the Aquarius man. It is worth noting that the lack of a partner who is more on the emotional spectrum brings few opportunities for growth.
It may, of course, be a personal preference for some couples, but many enjoy an ever-growing emotional bond.
---
In Conclusion
Aquarius Man and Gemini Woman Compatibility Percentage – 83%
| | |
| --- | --- |
| Aquarius and Gemini Intimacy and Love Compatibility Percentage | 90% |
| Aquarius and Gemini Emotional Compatibility Percentage | 50% |
| Aquarius and Gemini Communication Compatibility Percentage | 90% |
| Aquarius and Gemini Trust Percentage | 90% |
| Aquarius and Gemini Intellectual Compatibility Percentage | 90% |
| Aquarius and Gemini Common Interests | 90% |
| Aquarius and Gemini Overall Compatibility Percentage | 83% |
Gemini women who are looking for a friend or soulmate who shares their interests and values ​​will easily find the answer in an Aquarius man. They are arguably the two smartest zodiac signs, so you won't have to worry about finding a conversation partner who can relate on an intellectual level.
Neither of them make plans and take life as it comes, in all its beauty and spontaneity. Once the Aquarius man meets a charming Gemini woman, he will be satisfied with having a partner for the trip.
The most compatible Aquarians for this combination are those born between January 21 and 30 and February 9 and 18, and the most compatible Geminis are those born between May 22 and June 12.
---
Zodiac Compatibility:
Tarot for Zodiac:
Tarot For Aries , Tarot For Taurus , Tarot for Gemini , Tarot for Cancer , Tarot for Leo ,, Tarot for Virgo , Tarot for Libra , Tarot for Scorpio , Tarot for Sagittarius , Tarot for Capricorn , Tarot for Aquarius , Tarot for Pisces
Know about Zodiac Signs:
Aries, Taurus, Gemini, Cancer, Leo, Virgo, Libra, Scorpio, Sagittarius, Capricorn,Aquarius, Pisces