Gemini Man and Capricorn Woman Compatibility (20%, low)
love, marriage, friendship, profession
---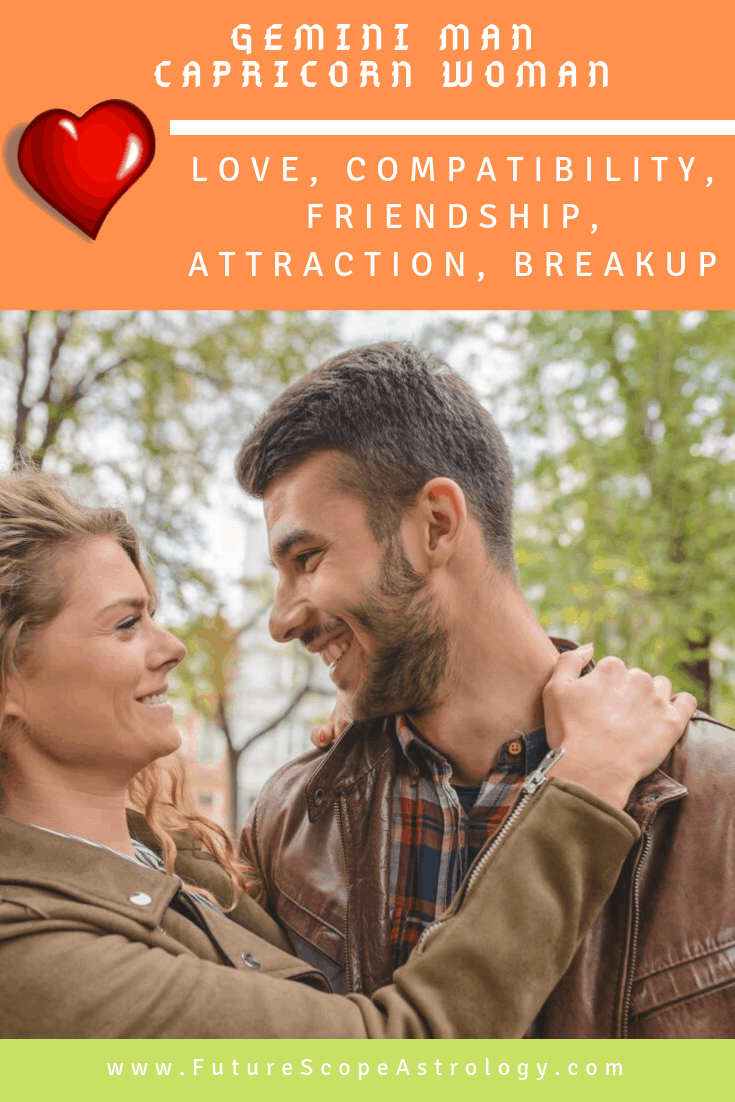 Gemini and Capricorn – Zodiac Element Compatibility
Gemini and Capricorn = Air sign + Earth sign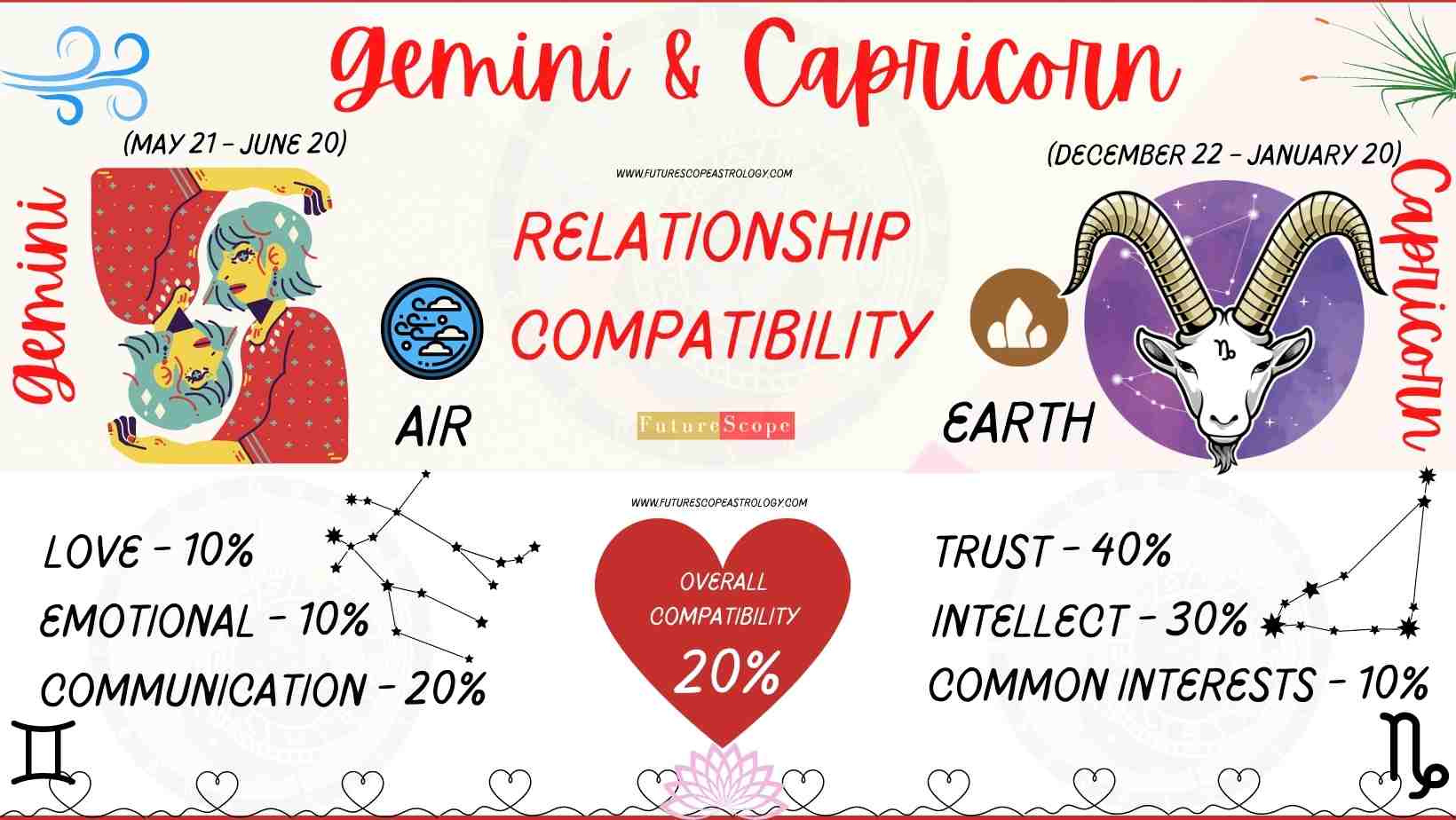 The compatibility of Capricorn with Gemini is quite low , given the very different way they have to approach life. Both signs will have to make a great effort to make the relationship work in the long term.
Capricorn and Gemini as a loving couple is a challenging combination. Capricorn is an old soul, who like a friendly grandfather is protective, calm, and wise, without being a crazy know-it-all. Gemini is a young, open, friendly, and restless soul who seems to be a crazy teenager know it all.
Earth and air raise dust
At first, these two signs are most likely intrigued by one another because they are opposite. Once the initial excitement becomes more comfortable and they have had time to get to know each other beyond the bedroom, the differences between them will begin to appear around the edges.
They will soon realize that there is a small gap between them that eventually turns into a deep abyss. It might help to understand how big the chasm can grow.
---
Gemini Man and Capricorn Woman: Love Compatibility
Capricorn, if their romance or marriage is over, begins to smile not so soon, and as for the bright tomorrow – it will not seem to her like that.
That is why she will try to maintain their relationship. Her love is able to withstand the hurricane of temporary contention, because Saturn is on her side.
In the section on intimate relationships, the combination between a Gemini man and a Capricorn woman is auspicious, as long as both are willing to work for the commitment to be together.
The combination of the great Capricorn sexual energy with the creativity and imagination of Gemini will make you enjoy your relationships intensely, even without developing a permanent romance.
Since both have a facility for verbal communication, they can confront ideas and feelings in this way and thus resolve their differences. However, for this relationship to have a future, both must do a lot of their part;
Capricorn must give in to his intransigence, while Gemini must control his social flirting and focus on the relationship, if he is truly interested in reaching the hidden heart of the Capricorn.
---
Gemini Man and Capricorn Woman Relationship: Benefits and Challenges
A Gemini man is a great talker and therefore he will like someone who listens to him more and who is innate to a Capricorn woman, which is a good sign of being in this unusual relationship.
Another benefit of this strange pair of Gemini men and Capricorn women is that they will never ask their man where he was until late at night. It is difficult for a Capricorn to fall in love, but if she falls deeply in love with a Gemini man, she will make sure to take steps to ensure that the relationship is strong and secure and therefore will bring strength and purpose to the relationship.
However, the relationship also faces some challenges, the most important being the clash of personalities of these Gemini and Capricorn signs, that is, of being naive vs. solemn, where she will feel that he is too childish and he will feel that she is too serious.
It becomes difficult for the relationship between the two to continue for a long time until they are ready to compromise and understand each other and it is very likely that for a period of time they may tire of each other.
Therefore, the relationship between the Gemini and Capricorn zodiac signs depends less on the location of the stars, but rather on how open they are to make it happen between the two and even though they have different social lives, as well as a different approach towards
Life depends solely on these two signs of the zodiac, on how open they are to make this trip a blending trip as a couple.
---
Gemini Man and Capricorn Woman: Friendship
It is easy to be friends with a twin man. He is cheerful, resourceful, easy. But it will be difficult for a Capricorn woman to put up with his main quality – inconstancy. For her, friendship is a long, time-tested relationship, it is a feeling of trust in a person and that you can rely on him.
The Twin Man believes that friendships do not oblige to anything, that freedom is the main condition of friendship.
He calls her when he wants to have fun, share something interesting or joyful, she is used to having some kind of common business with those with whom she has a long and close relationship.
We can say that the Capricorn woman and the Gemini man can become good friends if they have common interests, but it will be difficult to call them real friends.
---
Capricorn and Gemini: Problems and Breakup
Capricorn likes to move forward in life in a systematic way, following plans formulated to avoid surprises or unforeseen events on its way. And although it becomes a monotonous and tedious process, Capricorn will not stop moving forward towards its goal until it succeeds.
Gemini is just the opposite . It is one of the most impulsive signs of the Zodiac, and is capable of changing plans every day. It is very difficult to fix (and comply with) strategies and almost impossible to endure a boring situation (or life).
In financial matters , money is important to Capricorn and he is very prudent with all kinds of expenses – not because he is stingy, but because he is very concerned about economic stability. Gemini , on the other hand, is much more careless and tends to spend money on whims or gifts for his family and friends.
In a Gemini and Capricorn relationship, it is very important to lay a foundation on the management of the domestic economy to avoid possible problems in the future.
Capricorn loves to follow some rules and Geminis loves to break them . Capricorn is very cautious and careful in all aspects of his life. However, Gemini dares with everything.
Obviously these differences can be an advantage in a professional or business relationship, because the attributes of each sign complement each other. However, they can distort a relationship if the two do not make any kind of concession to assume, and respect, the differences of their partner.
Because both signs have very defined features, and they will feel insecure if the other tries to impose their way of being on the other.
---
In Conclusion
Gemini Man and Capricorn Woman Compatibility Percentage – 20%
| | |
| --- | --- |
| Gemini and Capricorn Intimacy and Love Compatibility Percentage | 10% |
| Gemini and Capricorn Emotional Compatibility Percentage | 10% |
| Gemini and Capricorn Communication Compatibility Percentage | 20% |
| Gemini and Capricorn Trust Percentage | 40% |
| Gemini and Capricorn Intellectual Compatibility Percentage | 30% |
| Gemini and Capricorn Common Interests | 10% |
| Gemini and Capricorn Overall Compatibility Percentage | 20% |
If you achieve this respect, built on a foundation of love, both signs can contribute favorably to your partner's life.
Capricorn will be able to teach Gemini the values ​​of perseverance and effort, while Gemini will be able to help your partner to enjoy life more and to have more confidence in his intuitive capacity.
If Capricorn manages to enter the space of the Gemini mind, it can give a new direction to your life.
The most compatible Capricorns for a relationship with Gemini are those born between January 11 and 20, and the most compatible Gemini for this relationship are those born between May 13 and 21 and June 2 and 12.
---
Gemini and Capricorn Compatibility
Zodiac Compatibility:
Tarot for Zodiac:
Tarot For Aries , Tarot For Taurus , Tarot for Gemini , Tarot for Cancer , Tarot for Leo ,, Tarot for Virgo , Tarot for Libra , Tarot for Scorpio , Tarot for Sagittarius , Tarot for Capricorn , Tarot for Aquarius , Tarot for Pisces
Know about Zodiac Signs:
Aries, Taurus, Gemini, Cancer, Leo, Virgo, Libra, Scorpio, Sagittarius, Capricorn, Aquarius, Pisces